Gazelle Sports, the Michigan-based running specialty shop and athletic and fitness lifestyle retailer, appointed Jennifer Brummitt as Gazelle Sports' first-ever CEO, effective immediately, as the company begins to transition its leadership structure from the original Partner Team.
Gazelle Sports has five locations in Kalamazoo, Grand Rapids, Holland, Northville and Birmingham.
The retailer said in a statement that Brummitt. who has been with Gazelle Sports since 2003, has been instrumental in guiding the development of the company's current executive team, which is a critical part of the transition for Gazelle's Co-Owners and Partner Team, Chris Lampen-Crowell, Ken Sung and Jean Sequite.
As CEO, Brummitt, who is being promoted from director of brand strategy, will continue to lead the executive team and formulate and guide Gazelle Sports' strategic direction.
"It is absolutely my pleasure to announce Jen as our new CEO," said Lampen-Crowell, who co-founded Gazelle Sports in 1985. "She has earned the confidence and trust of the Partner Team and every single Gazelle Sports employee she has worked with, led and managed throughout her nearly two decades with us."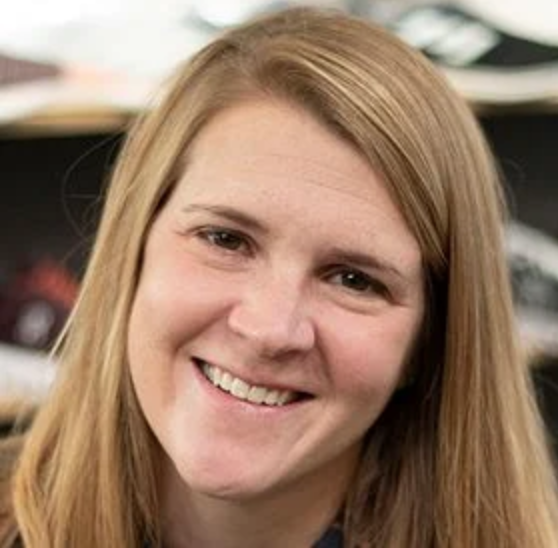 A 17-year Gazelle Sports veteran, Brummitt has worked at every level of the company, beginning as a part-time shipping and receiving staff member. She transitioned to the Holland retail floor while finishing her education at Hope College and transferred to the Grand Rapids retail floor in 2004 for a short time before taking on a role in account management for Team Gazelle (team sales division of Gazelle Sports). In 2007, Brummitt created and managed Gazelle's e-commerce business, which she continues to oversee today. She developed her leadership throughout the company becoming the director of brand strategy in 2013 and joining the Gazelle Sports executive team in 2018.
"I am honored to have the opportunity to lead Gazelle Sports into the future, and I am truly grateful for the foundation that has been built by our Partner Team," said Brummitt. "We have an incredible team and are uniquely positioned to be able to adapt in a rapidly changing retail environment while remaining steadfast in our commitment to our core values and providing an outstanding customer experience across our channels."
With Brummitt transitioning to CEO, Gazelle Sports is making additional adjustments to the structure of its Brand Team. Cara Zerbel will take over as director of brand with a focus on building the Gazelle Sports brand, community engagement, strategic partnerships and supporting the company's Equity, Diversity and Inclusion initiatives.  Christina Morrow will move into the role of marketing manager with oversight of marketing strategy and execution.
"Jen is a model of a brave leader who leads with courage, a whole heart and builds deep trust," said Lampen-Crowell. "She makes us a stronger and healthier company. I am confident, when the time comes, we will be leaving our business in very capable hands."
According to Crain's Detroit Business, the promotion of Brummitt, who has worked at Gazelle since 2003, was in the works prior to the emergence of COVID-19. The move is part of a plan that will see Co-Owners, Lampen-Crowell, Sung and Sequite, step away from daily operations over the next few years.
"We want the business to transition past the current Co-Owners," Lampen-Crowell told Crain's. "The percentages are about four-out-of-five founders have to be pushed out of their role instead of opt-out. I want to be part of that minority that chooses to leave and leave it in better hands."
Stores from mid-March until the end of May led in the temporary layoff of 164 employees but most have been hired back with the help of a PPP (Paycheck Protection Program) loan. Online sales, curbside shopping and the reopening of stores are helping sales recover but Lampen-Crowell said the business will not be profitable this year. Typical annual sales for Gazelle total $10 million but are down about 30 percent this year.
Photo/Logo courtesy Gazelle Sports