Macy's, Inc. announced that Adrian V. Mitchell has been appointed CFO effective November 2, 2020 replacing interim CFO Felicia Williams who is leaving to join CEO Action for Racial Equity as a Macy's, Inc. Fellow.
Mitchell will be responsible for leading all finance functions reporting to Jeff Gennette, chairman and chief executive officer, Macy's, Inc.
"We're delighted that Adrian is joining Macy's, Inc. at this crucial time in our company's journey and look forward to welcoming him on November 2," said Gennette. "In a retail environment where change is accelerating beyond what we could have imagined a year ago, Adrian's depth of financial and operational experience, coupled with his leadership in strategy, innovation and transformation, will help us on our path to emerge a stronger company."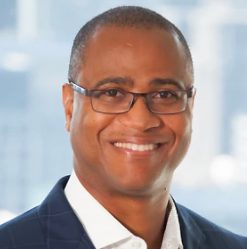 Mitchell has extensive retail, financial, operational, and strategic management experience. He joins Macy's, Inc. from Boston Consulting Group (BCG) where he is a managing director and partner in the Digital BCG and Consumer Practices. Since joining BCG in 2017, Mitchell has led client work with a wide variety of retailers working primarily with Fortune 500 companies.
Prior to joining BCG, Mitchell had wide-ranging retail experiences including serving as Board Director and member of the Audit and Finance Committee at Recreational Equipment, Inc. from 2016 to 2017; CEO, Arhaus LLC, from 2016 to 2017; Crate and Barrel in 2010 as CFO. In 2011, he took on the additional responsibilities of COO and from 2014 to 2015 he concurrently served as interim CEO. He held management positions at Target Corporation from 2007 to 2010 including director of strategy & interactive design for target.com and director of innovation & productivity for Target Corporation. Mitchell began his career and spent approximately 10 years at McKinsey & Company, Inc. where he Co-founded the NA Lean Operations Retail Practice.
Mitchell has a B.S. in Chemical Engineering from Louisiana State University and an MBA from Harvard University.
The chief financial officer transition will take effect on November 2.
Photo courtesy Adrian Mitchell/Macy's