There's no relaxing for Lululemon Athletica. The Vancouver-based yoga-themed retailer's sales vaulted 55.5% to $175.8 million in the third quarter, driven by a 29% comp gain in constant dollars.

With a margin lift from strong sales of technical yoga and run apparel, earnings climbed 82.7% to $25.7 million, or 36 cents a share. Results handily exceeded the targets LULU set when it released second quarter results calling for EPS between 22 and 24 cents a share with revenues ranging from $155 million to $160 million.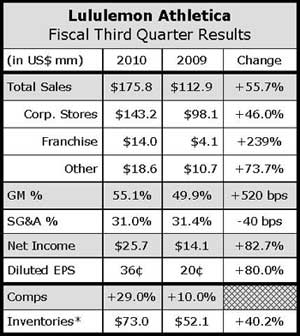 Store traffic increased in the low 20% range and conversion improved just about 10%. Units per transaction were up only slightly. All age classes of stores comped positive, led by 2008 and 2009 locations. On a conference call with analysts, CEO Christine Day said strength in core technical products, such as yoga pants and tops as well as newer run line, drove sales as well as gross margins since this product carries a higher merchandise margin than accessories and outerwear. More diversified fabrics in its tank lines and increased layers and technical features such as UV protection and reflectivity in the running line are driving sales, reported Day.

Running, launched last year, already accounts for 20% of sales. The collection's wicking, anti-sticking layering systems on its tops and tights, running accessories overall, and wool layers was said to be particularly resonating with serious runners. Said Sheree Waterson, EVP, GGM and supply chain, on the call, "The power of cozy is winning at Lululemon so the Running Luon tops that you see have been extremely strong at retail because of their wicking capability and because they are so comfortable to wear."

Day also said the stores benefited from an increased number of events and ambassadors at its stores as well as overall improved store level execution. "Our ability to stay focused on our brand strategy has resonated with our guests and is driving brand awareness and sales," said Day. "Again, we consider this to be a very high-quality increase in store productivity that validates our business model."

The top-line gains also reflect the addition of 13 corporate-owned stores in North America since Q3 last year, the Q2 acquisition of a majority stake in its Australian licensee, 33 new showrooms in the U.S. since Q3 last year, and a warehouse sale held in Hamilton, Ontario in September. A stronger Canadian dollar increased reported revenues by 2%.

Direct-to-consumer, which includes e-commerce and phone sales, grew to $14.0 million from $4.6 million a year ago. Improved inventory positioning allowed e-commerce "to jump closer to a natural level for this early stage business," said Day. E-commerce also boosted gross margins since its website carries and sells a larger mix of technical product and has proportionately fewer markdowns than the stores. Aviva, its newer kids business, performed well as the chain has begun to highlight general athletic wear with a focus on year-round athletic activities, such as gymnastics, dance and ice-skating. The Australian business saw its sales momentum near the strong trend in the U.S.
In the North American stores, a new class of stores "had an outstanding quarter" and Day attributed the success to the company's showroom strategy and talented managers.
LULU continues to plan for 20 to 25 new North American Lululemon stores in 2011 in addition to two in Australia and two Aviva stores. LULU ended Q3 with 134 total stores versus 119 a year ago. Its showroom strategy – in which it opens small community-oriented showrooms that often serve as low-cost trial locations – will continue across all geographies and concepts.

Corporate-owned stores contributed 81.5% of revenue for the quarter, direct-to-consumer, 7.9%; and Other Revenue – franchise, wholesale, showrooms, warehouse sales and outlets, 10.6%.

LULU said about 7% of its e-commerce growth is split between the U.K.., Germany, Hong Kong, Singapore, and Japan.

Gross margins jumped to 55.1% of sales from 49.9% of sales in Q3 last year. Leverage on non-merchandise costs contributed 340 basis points of the improvement; and a stronger Canadian dollar added 120 basis points. Another 60 basis points in the margin improvement was attributed to a shift in product mix to higher-margin core technical product margin and outerwear deliveries shifting partially into Q4. Rising product costs had a minimal impact on the quarter but management till sees a gross margin compression of about 150 basis points in 2011 coming from various inflationary pressures, such as fabric, pricing and labor in China.

For the fourth quarter, Lululemon expects sales to range between $210 million and $215 million, a comp gain in the high-teens in constant dollars, and EPS between 46 cents to 48 cents. In Q409, LULU earned 41 cents on sales of $160.6 million. Gross margins are still expected to improve as better expense leverage offsets rising product costs.