Lowa Boots has sweetened the pot for North American climbers in hopes more will register to compete in next months North American Ice Climbing World Cup event, which will be held Dec. 11-14 in Bozeman, MT.
While athletes will be competing for $15,000 in prizes and World Cup points, organizers has set aside an additional $3,500 in prize money, presented by Lowa Boots, specifically for the top-three placing North American men and women in both Lead Difficulty and Speed Climbing. As the host country, the U.S. is guaranteed up to 16-spots in the competition. Yet with two short weeks remaining, there are still many spots open to American competitors.
Money for athletes is just one means for generating excitement to
compete, adds Lowa General Manager, Peter Sachs. In addition to cash
on the barrel, North American Champions will receive a unique
handcrafted trophy by renowned local glass artist, Ona Magaro using
genuine Hyalite rock.
The Bozeman Ice Festival has hosted ice climbing competitions for years, but was not sanctioned by the International Climbing and Mountaineering Federation (UIAA) as an official UIAA World Cup event until this year. The decision resulted in the U.S. hosting the first stop of the World Cup tour.
As one of only six events in the world, the North American Ice Climbing World Cup is expected to draw more than 50 of the worlds best competitive ice climbers from more than half a dozen countries for a jaw-dropping display of Olympic-caliber mixed climbing and speed ascents.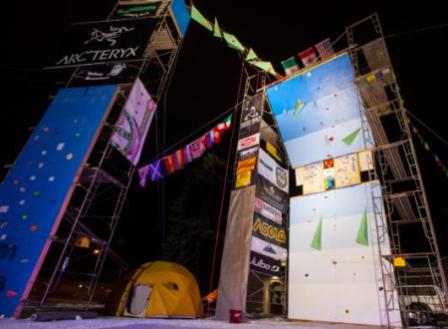 The competition will include two separate events for both Men and Women that will be held on a specially designed three-tower structure more than 15 meters high erected in downtown Bozeman, MT as seen in the adjacent photograph.
Speed Climbing, presented by Lowa Boots, will launch the World Cup on Friday, Dec. 12 on a 10 meter wall of vertical ice wall in the form of a head to head duel.
It is followed on Saturday, Dec. 13 with the "Lead Difficulty presented by The North Face which will test climbers against the hardest possible climbs designed by Russian climber Pavel Dobrinskiy.
The event ends on Sunday Dec. 14, with the public being allowed to test their skills on the
Photo credit: Ben Herndon for UIAA newsletter.
World Cup routes followed on Monday by a tour of nearby Yellowstone National Park for international athletes and event organizers.
The call is out for U.S. athletes to pick up their axes, leave their training grottos and find their way to Bozeman, said Competition Director Conrad Anker. The Bozeman Ice Festival is committed to supporting and encouraging all aspects of the sport from the wilderness experiences and traditional fundamentals we teach in Hyalite Canyon to the Olympic-caliber competitive side in downtown Bozeman.
2013 Defending North American Champions are:
Lead Difficulty Men: Will Gadd, CAN (2nd place overall)
Lead Difficulty Women: Sarah Hueniken, CAN (3rd place overall)
Speed Climbing Men: Adam Knoff, USA (1st place overall)
Speed Climbing Women: Kendra Stritch, USA (1st place overall)
Athletes have until end of day Dec. 1 to register to compete in the event through the American Alpine Club.
The Bozeman Ice Festival presented by Black Diamond Equipment embodies the world of ice climbing culture with four full days of clinics, classes, films, events and family fun. The festival began in 1996 and is dedicated to promoting and protecting the world-class ice and mixed climbing in Hyalite Canyon and also promoting Olympic-caliber competition. Proceeds from BIF directly support Friends of Hyalite, a 501(c)3 organization dedicated to funding winter road plowing in Hyalite Canyon, home to the longest season of accessible ice in America.