Loudmouth Golf has granted a license to iZone Group to launch a line of colorful sports and lifestyle sunglasses and accessories to match its outlandish apparel line, which features brightly colored patterns that would make even Jesper Parnevic.
The deal was secured by The Brand Liaison, the licensing agent for Loudmouth brands.

Under the agreement, the Spring 2014 arrivals will include several lightweight, flexible frames in a variety of popular Loudmouth patterns. The frames include an anti-slip nose pad, temple tips that give you a better grip when wet with sweat and lenses that offer Superior Optics with full UV protection.

"This partnership between Loudmouth and iZone will present a new and exciting line of performance eyewear that will not only help you excel on the golf course, but be the fun golf accessory that reminds you to play loud!" said Ken Bates, CEO of iZone Group.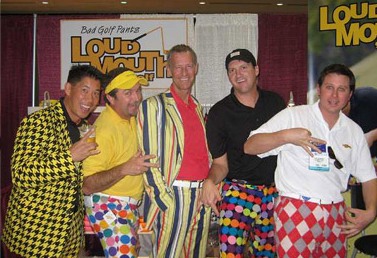 "Loudmouth is eye-xcited about this new partnership with iZone Group," says Larry Jackson, Loudmouth Golf CEO. "Our goal is to create eyewear that is technically superior by day and morphs you into a rockstar by night. Loudmouth's iZone eyewear and a Shagadelic suit — the perfect pairing."
IZone Group is an industry leader in designing, manufacturing and marketing sunglasses. IZone's sole objective is to provide customers with an unprecedented selection of affordable, high-quality sunglasses that reflect the latest fashion trends. Its flagship brands, UV3 and iDrive are seen by millions of people every day in travel centers, airports and other transportation hubs.
IZone Group joins a growing list of licensees that have teamed with Loudmouth to create exclusive lifestyle products.