Family owned L.L.Bean Inc. named a veteran of the supermarket industry with deep ties to Maine who has worked in England, Belgium and China as its first outside president and CEO.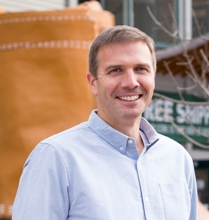 The retailer announced Nov. 3 that Stephen Smith will join L.L.Bean Jan. 4 and take over from Chris McCormick as president and CEO after a brief transition period. McCormick, who has served as president and CEO of L.L.Bean Inc. since 2001, had already announced plans to retire in February at the end of the company's fiscal year.
Smith was selected after a year long review of both internal and external candidates. He will be the fourth president in L.L.Bean history and the first one hired
from outside the company since its founding 103 years ago. He will initially report to the board through L.L.Bean Chairman Shawn Gorman.
"The crucial transition between Chris and Steve will be occurring as we finish our current fiscal year and finalize planning and budgeting for 2016," Gorman explained in an email to L.L.Bean employees shared by the company. "During this period, I will be acting in an executive Chair capacity to
provide leadership continuity. As Steve becomes more familiar with Bean
strategy, operations, and our leadership team, he and I will work
together with the Board of Directors to better define our respective
roles."
Homeward bound
While Smith comes from outside the company – and the specialty outdoor industry – he has deep ties to retailing and Maine. He moved to the state from New York in the late 1990s to join Resort Sports Network (RSN), where he rose to the position of vice president of sales and marketing. He later joined one of the state's other well-known family owned retail businesses – Scaraborough-based Hannaford Supermarkets – as director
of marketing.
After Hannaford was bought out by DelHaize Group of Belgium in 2000, Smith went on to work in executive level roles at DelHaize subsidiaries Sweetbay Supermarkets in Florida and Delhaize Le Lion in Belgium. He's also worked for Walmart International subsidiaries, including Sam's Club in China, ASDA in the United Kingdom, and Yihaodian, a pure e-commerce business located in Shanghai.
"Coming to Maine
enabled me to connect my work to my love of the outdoors and provided me
the opportunity to meet many Maine people who have remained my friends
and colleagues through the years," Smith wrote in his own memos to L.L.Bean
employees. "It is where my two daughters were born."
Omni-channel expertise impresses board
Gorman said Smith's consistent and collaborative approach to leading an omni-channel business and strong customer orientation across the diverse organizations where he has worked helped him clinch the job.
"He has a deep understanding and appreciation for customer needs in whatever venue the customer chooses to shop which is well- aligned with our approach here at L.L.Bean," Gorman said.
Smith reciprocated the praise.
"L.L.Bean sets the bar for the industry, and I have long looked to it as a model for how to do business the right way in terms of building long-term customer loyalty, developing outstanding products and standing behind them, and promoting company values," he wrote to the company's employees.
Smith's appointment comes
nine months after McCormick disclosed the board's plan to triple
L.L.Bean's U.S. store count to at least 100 stores by 2020. The company
has since opened, or announced plans to open, its first stores in Ohio,
New York and Kansas.
While L.L.Bean has not shared its international growth plans, it mails its catalogs to about 170 countries, has 20 sores in Japan and its products are
sold through dozens of mono-branded L.L.Bean stores in China. The
company earned $1.61 billion in revenues in the fiscal year ended Feb.
22, 2015 selling outdoor apparel, footwear and gear as well as home
furnishings.
Smith, who was traveling in Asia Friday, will join L.L. Bean Jan. 4 allowing for a period of transition before McCormick retires at the end of the company's fiscal year in February.