The Light Electric Vehicle Association (LEVA) presented Bosch eBike Systems with its Company of the Year award March 19 during the Taipei Cycle Show in Taiwan.
The award is in recognition of the company's position as the market
leader in e-bike drive systems and for its positive influence on the
e-bike industry.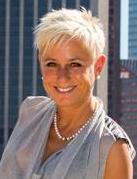 "Bosch this year was clearly the major influence on the thinking and designs of the industry. They have done many things not just right, but very well," said Edward Benjamin, Founder and CEO of LEVA, which is an interest group of manufacturers of battery-powered two- and
three-wheeler bikes. "Especially in listening to the customer and then offering what was asked
for. They have pushed the entire industry to higher levels of
expectation."
LEVA also recognized Claudia Wasko, pictured to the right, as Cross Cultural Leader of 2015 in recognition of her contribution to developing Bosch eBike Systems North America, which played a leading role in bringing e-bikes to the North American market in 2014.
The Light Electric Vehicle Association's aim is to bundle the strategic interests of manufacturers, dealers, and organizations involved with battery-powered two- and three-wheeler bicycles. It has 300 partners in 29 countries. The LEVA Award is made in different categories, such as Innovator of the Year or Bright Light of the Year.