The European Investment Bank (EIB) has loaned Austrian textile company Lezning AG €100 million to help finance research and development (R&D) activities and investment in Tencel fibre production.

Lenzing, which specializes in making cellulose fibers, is implementing a multi-year development program for new, high-quality Tencel products. The loan contract was signed by the EIB and Lenzing Monday in Vienna.

Lenzing claims it is the only manufacturer that has mastered the technology for producing this latest generation of cellulose fibers on a large industrial scale. Tencel has positioned Tencel as an ideal fiber for activewear and sports perofrmance brands because the fibers are strong whether dry or wet, are soft and offer optimum moisture absorption capacity. Tencel is also being positioned as more eco-friendly than cotton and other natural fibers. This means they can be blended with synthetic fibers to reduce a garment's environmental footprint without reducing performance – something of growing importance to running, outdoor, yoga and other performance brands.

The loan provided by the EIB will contribute to the financing of a multi-year R&D program undertaken by the company, which includes the construction and operation of new research facilities and pilot plants and the deployment of process innovations. Most of these activities will be carried out at the company's site in Austria.
The loan is being provided to Lenzing under a financing program implemented jointly by the EIB and the European Commission. This so-called Risk-Sharing Finance Facility is an innovative instrument for sharing credit risks. It is aimed at improving access to external financing for private companies and public institutions promoting projects in the fields of R&D, demonstration and innovation. The financing of R&D activities is one of the EIB's top priorities. In the past year alone, its total lending in this area amounted to €15.6bn.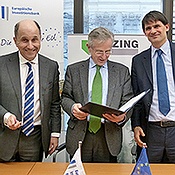 "Today, Lenzing is a technology leader in the field of man-made cellulose fibers, thanks in part to its ambitious research and development activities," said Wilhelm Molterer, EIB Vice-President responsible for lending operations in Austria. "It is companies like Lenzing that are making a decisive contribution to Europe's innovative and competitive strength. Financing of industrial research is one of the EIB's core tasks."
Lenzing is already operating three pilot Tencel plants in Europe in order to continue improving the technology and its range of applications.
Peter Untersperger, CEO Lenzing, Wilhelm Molterer, Vice President of the EIB and Patric Thate, Head of Finance Lenzing at the loan closing. 
"We still see considerable potential for growth in the future which must be explored now, as the demand for high-quality fibers manufactured in environmentally compatible processes will continue to increase," said Lenzing CEO, Peter Untersperger.
The European Investment Bank (EIB) is the long-term lending bank of the European Union. Its shareholders are the EU Member States. The EIB's prime task is to further the objectives of the European Union by making long-term finance available for sound projects. In addition to research, development and innovation, the Bank gives priority to the financing of strategic infrastructure, resource efficiency and small and medium-sized enterprises.