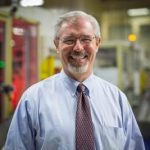 Leatherman, a manufacturer of high-quality multi-tools, appointed Fritz Kaufman to the role of vice president of manufacturing and development.
Kaufman started at the company in November 2016 and is responsible for both engineering development and implementation of new products, as well as the management and optimization of Leatherman's manufacturing facility to be globally competitive from the U.S.
Kaufman will lead new product engineering and implementation and will oversee quality, sourcing, manufacturing, engineering, production, and maintenance. Reporting to the president, the vice president of manufacturing and development will play a key role in the plans for growth and success.
"Fritz is a results oriented senior executive who brings more than 22 years of experience driving sales and profitability in key operations, manufacturing and engineering leadership," said Ben Rivera, president and CEO of Leatherman. "Perseverance, innovation, self-improvement, dedication to quality – Fritz shares many of Leatherman's core values. He is the right leader for our manufacturing and engineering teams as Leatherman continues to strengthen its connections to its fans around the world."
Kaufman said, "Leatherman is an iconic brand with great products. The company is committed to manufacturing domestically and keeping jobs here in our backyard of Portland, Oregon. I am excited to refine existing processes to maintain the brand's global competitiveness, oversee the introduction of new products, and help drive the future growth of the brand."
Before joining Leatherman, Kaufman worked from 1998 to 2013 as the vice president of manufacturing and engineering at Leupold & Stevens, a global manufacturer and supplier of premium sports optics including the Leupold and Redfield brands. He was directly responsible for engineering, manufacturing, supply chain management, and quality assurance. He also worked for Lewiston, Idaho-based BLOUNT in various engineering leadership roles from 1991 to 1998. He served in the U.S. Army as a Field Artillery officer from 1985 to 1990.
Photos courtesy Leatherman