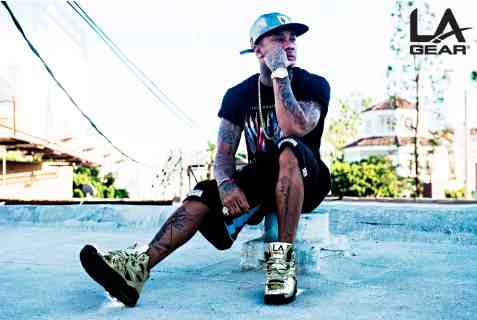 L.A. Gear is returning in stores for Spring 2015 with the re-launch of L.A. Gear Originals line with creative brand advisor, trendsetter and multi-platinum recording artist, TYGA.
Notorious for embarking outside of sports to find brand ambassadors and partnerships, L.A. Gear has worked with renowned icons including Michael Jackson, Kareem Abdul Jabar, Wayne Gretzky, Belinda Carlisle, Paula. Abdul, Joe Montana and many more. Like past collections, the re-launch will continue to merge the worlds of sports, pop culture and street wear. Tyga, the California native who takes pride in his California roots and the historic culture of Los Angeles, will represent a fresh and exciting voice and participate in the design process of the L.A. Gear Originals line. When speaking about his new design role Tyga describes what first drew him to L.A. Gear saying, "I wanted to do something different. Take my own path. Instead of doing a deal with an active brand in the market, I wanted to be part in something that felt original to "me". LA gear is iconic and represents a mindstate I relate to. And it gives me a chance to really put my fingerprint on something instead of just slapping my name on a design. Im excited to show the world my vision."
Since the brands inception in 1983 on Los Angeles famed Melrose Avenue, L.A. Gear found immediate success with famed-footwear collections including the blinking L.A. Gear Lights, Hollywoods, L.A. Tech Runners and the KAJ. Now, for the first time in years, fans of the brand can expect to see a fresh and fashion forward brand position with the re-releases of iconic sneakers in both classic and retro looks for men, woman and children and experience an updated, modern rebrand of the L.A. Gear legacy.
"I am thrilled to re-launch the iconic L.A. Gear brand," said Lance Jackson, Vice President of L.A. Gear. "Our loyal customers and sneaker collectors have been consistently buying out our existing L.A. Gear Originals inventory, and with the blending of vintage and modern style so on trend right now, it is the perfect time to remind everyone of the L.A. Gear Originals line-all while adding a fully updated and modern edge to each shoe design and to the overall brand." he adds, "it made perfect sense to collaborate with Tyga who is on the forefront of both music and fashion, to bring a fresh perspective to a brand that was born so many years ago with fashion as its core."
L.A. Gear will first launch the L.A. Gear Lights Liquid Gold limited edition sneaker, which not only represents the legendary L.A. Lights line, but Tygas album and Go Gold initiatives. The brand plans to release several new collections under the L.A. Gear Originals line throughout the year including the launch of the highly anticipated complete line of T-Raww sneakers. The T-Raww collection will feature athletic and lifestyle footwear and will include several limited edition releases throughout the year. The first release under the T-Raww name will be the 6am athletic sneaker available for both men and women. L.A. Gear Originals will embody the retrospective style that L.A. Gear fans are accustomed to, while engaging a new generation of trendsetting sneaker enthusiasts by offering innovative new styles and color ways for men, women and children. L.A. Gear will be sold at specialty sneaker stores, major department stores and on the L.A Gear Originals website and phone app.