By Eric Smith
Shares of Kohl's Corp. plummeted $11.38, or 20 percent, to $47.02 at market close Tuesday after the Menomonee Falls, WI-based retailer earlier in the day reported a 28 percent dip in earnings and subsequently reduced its earnings outlook for the remainder of 2019.
Revenue was flat at $4.36 billion, which were ahead of analysts' targets but down marginally from $4.4 billion, while same-store sales grew slightly at 0.4 percent. The company's adjusted diluted earnings per share for the third quarter were 78 cents, shy of Wall Street's expectations of 86 cents.
After the sluggish quarter, the company said it now expects adjusted annual earnings per diluted share to be $4.75 to $4.95, which excludes 22 cents per diluted share related to the extinguishment of debt and impairments, store closing and other costs recognized in the first nine months of 2019, compared to its prior guidance of $5.15 to $5.45.
Despite the soft quarter and lowered expectations for the remainder of 2019, Kohl's remains optimistic on a few fronts, including another solid performance from its active division, a strong back-to-school season and a nice close to the quarter with growth in October after an especially rough September.
"We are pleased to report that our business returned to growth during the third quarter, with a comparable sales increase of 0.4 percent," said Kohl's CEO Michelle Gass. "The quarter started off positive in August with another successful back-to-school season and ended strong in October. We enter the holiday period with momentum and are strategically increasing our investments to take advantage of the unique opportunity to fuel growth and customer acquisition.  We believe that investing in the short-term will support our strategies to drive profitable growth over the long-term."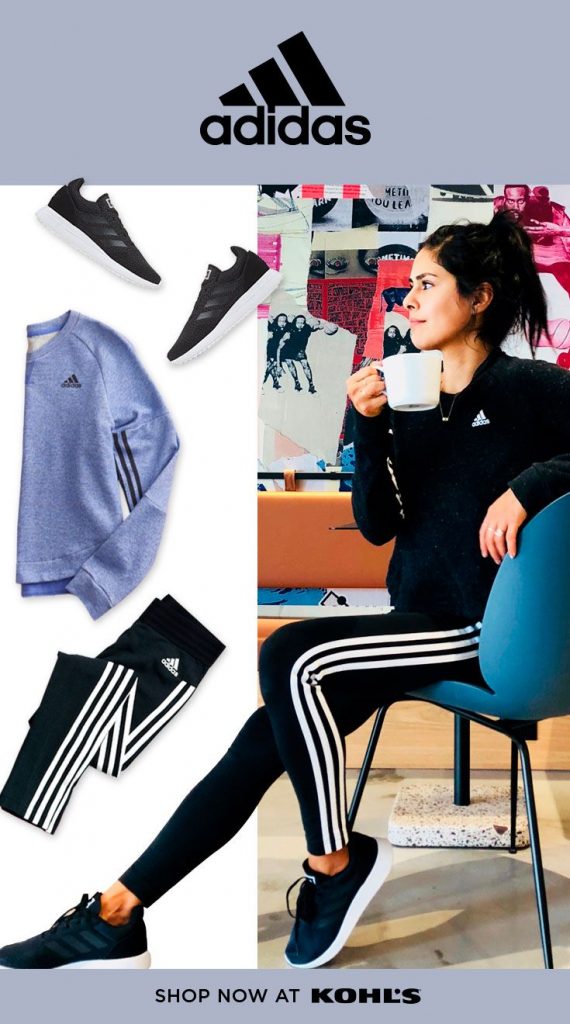 Kohl's reported that all lines of business were positive during Q3, except women's, which was down 1 percent. The company's active division led the way last period, posting 7 percent growth behind the strength in all three of Kohl's three key apparel national brands—Nike, Under Armour and Adidas—plus a return to positive growth in active, specifically Adidas, Under Armour and ASICS.
Beyond traditional sales figures, Q3 highlights among these brands included adding Under Armour big and tall and installing 100 Adidas shop-in-shops, which expanded the penetration to 175 doors from 75.
Kohl's "also increased active square footage by 25 percent in approximately 160 of our highest-performing stores," Gass said on Tuesday morning's earnings call with analysts. "These stores feature a wider selection across all zones, additional fixtures and unique items."
These points all underscore Kohl's strategic focus on its active division, which remains intact despite a companywide blip in Q3.
"Active continues to represent a centerpiece of our strategy and is another way our customers are experiencing modernized Kohl's," Gass said. "As I mentioned earlier, we have expanded the penetration of Adidas shop-in-shops to 175 stores. We have also increased active square footage by 25 percent in approximately 160 of our highest performing stores. These stores feature a wider selection across all zones, additional fixtures and unique items.
"Another example of how we're dedicating more to active is the expansion of our women's plus assortment. Building on the success of Nike Plus this quarter we're adding Adidas and Under Armour Plus. Based on the strong Q3 results and our ongoing tests with the customer we continue to see active as a long-term growth opportunity."
Something else that's driving the company's optimism despite a lackluster quarter is the company's Amazon Returns program. Kohl's announced in April that all Kohl's stores, starting last July, would accept free, unpackaged returns for Amazon customers.
Kohl's and Amazon first worked together in 2017 to pilot the returns program, which is ramping up across Kohl's footprint. Kohl's and Amazon will roll out the program to all of Kohl's nearly 1,200-plus locations across 48 states. Kohl's will accept eligible Amazon items, without a box or label, and return them for customers for free, providing additional service and convenience to Amazon customers.
While the Amazon Returns program is expected to contribute to an increase of 1.5 percent to 2.5 percent of SG&A expenses for the year—the company estimated earlier this year—reflecting the incremental store labor and reverse logistics costs to support and process the returns, the company is optimistic for a nice return on those upfront and ongoing investments.

And since this is the first holiday season that Kohl's has the program in place, Gass said she is bullish on it providing a boost to the company's fourth-quarter as customers returning Amazon goods in Kohl's stores tend to stay and shop.
"With the extension of the program, consumer research indicates that customers are very satisfied with the service," she said. "They find it simple and easy to use, and they intend to use it again. The program is driving incremental traffic into our stores and we are particularly encouraged by the disproportionate amount of new customers, which on average are also younger than the typical Kohl's customer. We are very much looking forward to the holiday season, which will be the first with Amazon returns in stores nationwide."
Like any retailer well into the fourth quarter, Kohl's is banking on a holiday bump. In addition to the Amazon Return program, the retailer feels emboldened by "more new brand launches than ever before," a "robust marketing plan," continued investment in "value and pricing to drive new customer acquisitions" and an expectation of "our strong double-digit growth in digital to continue," Gass said.
"The Holiday season is when Kohl's is at its best and this year will be no different," she added. "Our customers will discover new brands and be inspired by new gifting options literally at every turn. We're pleased with how we kicked off the holiday with our Black Friday preview event on November 1. As we now look forward to the holiday season, we are confident that we have the right plans in place as we move into the key shopping weeks including new brands, exciting collaborations, new partnerships and leaning into key gifting categories."
Photos courtesy Kohl's Corp.