What's driving the next generation of competitive climbers?
Writer: Carly Terwilliger
You've seen them at the climbing gym – those tenacious mini-crushers easily conquering the problem you've been working on for days. It's not news that kids like climbing things, but a recent uptick in the number of competitive kid climbers gives us pause. What drives them, why do they like it and why are they so good?
Emmett Cookson (pictured right), the head coach of the youth climbing team at Evo Rock + Fitness in Louisville, CO, said a number of things draw youngsters to the sport, and every kid is different. Part of the appeal is the excitement of doing something challenging and excelling at it. Compared to adults, who tend to specialize, "kids are more psyched on climbing in general," noted Cookson. From his perspective, young climbers want to try everything.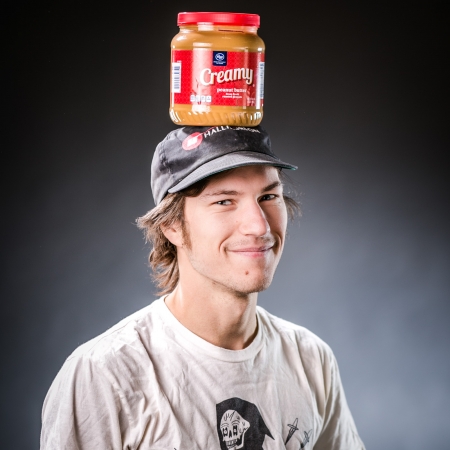 Although some kids discover climbing at the crag with their parents, "a little less than half" of Evo's youth team members have parents that climb. Just like adults, an increasing number of kids start out climbing in the gym. It's a great entry point, said Cookson, but he also wants the team to experience the kind of outdoor climbing that sold him on the sport after years of running and a stint as a computer software engineer. "Going outside is something I definitely want to do with the team," he said, and at least two outdoor outings are planned for the current season. Outside of team climbing trips, "any weekend they're not competing, I want them to be outside. You learn a lot outside."
Team Evo was also learning a lot inside during my visit, where members aged 10-14 warmed up and prepared for the evening's on-sight exercise, which "they love," said Coach Emmett. Warm-ups look a little like miniature Crossfit without the weights, then V0 and V1 problems. Earlier in the week, Cookson put the kids through a conditioning routine that they were still talking about two days later. But judging by the smiles as they tell me about the training sesh, it's nothing they can't handle. "These kids are working really hard – I don't want to break them," joked Cookson with a smile.
"Kids who climb well aren't just climbers; they're athletes," he continued. "That's the transition that's happening in the sport right now." He's helping the team master difficult maneuvers like dynamic moves because "you have to have that skill to compete these days." Still, he added, power isn't everything. "Strength is easier to train, but technique will help you the most." One girl on the team climbs "a lot of moderates" outside with her parents, which is different from training for a competition, "but it does help her technique."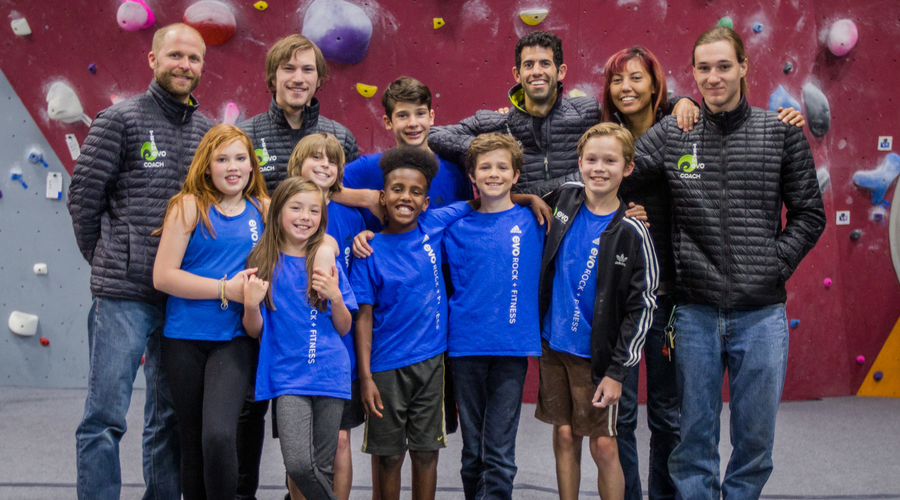 Youth teams are great for climbing gyms, not least because it's a useful revenue stream. When their kids are on the team, parents buy things like Evo shirts, Cookson observed. And when it's time to upgrade or replace gear, "they get a member discount, they get a team discount." Same deal with Evo's youth club, where the kids don't compete but do work hard on developing their skills. Climbing gym memberships aren't exactly cheap, but it ends up being good value because "youth climbers want to climb a lot," said Cookson.
Meanwhile, in the bouldering cave, one climber popped off a route and stepped back to give it another look. "What went wrong?" prompted Cookson. "I should have more control, I think," the serious young man replied with a frown. He nailed the problem on his next attempt. There's no lack of excitement from the team, but one thing Cookson works on – a lot – is patience. "Be sure to observe before you climb," he told them repeatedly during practice. "Take a break and think about what happened."
Photos courtesy Evo Rock + Fitness