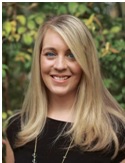 Outdoor
Retailer announced that Kenji Haroutunian will step down as show director
at the end of the month and will be succeeded by Marissa Nicholson, according to Emerald Expositions, which owns the biannual show.
Nicholson, shown to the right, has been named VP, Group Show Director of the Outdoor Group. In this new role, Nicholson will lead the teams execution of both the Winter and Summer Market Outdoor Retailer Shows, the 29th and 36th largest shows respectively in the US.
Emerald Expositions said Haroutunian will pursue other professional opportunities.
He has been in the outdoor industry for nearly 30 years and enjoys a personal passion for both the industry and outdoor recreation, including rock climbing.  Haroutunian joined the Outdoor Retailer show 15 years ago and spent the last seven as show director with Emerald and its predecessor Nielsen Expositions, which sold its trade show business to the Canadian private equity firm Onex in 2013.
The announcement comes just over a month after Frank Hugelmeyer stepped
down as President and CEO of Outdoor Industry Association, which derives
most of its income from endorsing the show. The two men worked  closely
together throughout their concurrent 15-year careers at the two
organizations to promote the industry and the show, which has emerged as
one of the most successful in the country. 
"Ive enjoyed the challenge of managing the shows for seven years, and with the Outdoor Retailer team poised for future greatness, the time is right for me to move on, Kenji commented. Im proud of my tenure with the team, and Im excited to move into my next role, in service to the industry I am so passionate about."
Nicholson has been with Outdoor Retailer for 11 years, most recently as Group Sales Director of the Sports Group. In this role she contributed toward overall strategy and led a team of 10 account executives dedicated to Outdoor Retailer, the Sports Licensing and Tailgate Show, and Interbike. In 2013, Nicholson was named, with other prestigious industry executives, to the SportsOneSource, SGBs 40 Under 40. Prior to her tenure with Emerald Expositions, Nicholson was with Advanstar Communications.
Marisa was an obvious choice to take the reins of Outdoor Retailer. She has been a key driver of growth and development of OR, and has an intimate understanding of the successes, the challenges and the future goals. She understands the needs of the exhibitors and brings an informed attention and focus on the needs of the industrys retail community, said Darrell Denny, EVP Sports, Apparel, eCommerce, Licensing & Business Development for Emerald Expositions. Kenji served the industry well. Having joined Outdoor Retailer after many successful years with Adventure 16, he never lost sight of the everyday challenges of the specialty stores, and worked to support and address their needs with programing. I am confident Kenji will be successful in his future pursuits.
Im grateful for the opportunity to further the growth of Outdoor Retailer and honor the traditions that Kenji so successfully shepherded, said Marisa Nicholson. I will call on the many outstanding leaders and mentors in the industry I know and those I will come to know better going forward.
Outdoor Retailer will continue to focus on the Backcountry core of Winter Market and will continue to support and grow the Paddle, Camping, Hiking and Climbing segments at Summer Market. The show has recently succeeded at growing Yoga, Running, Fly Fishing, and International attendance, after recognizing its value to the sustainability and growth of the industry.
 
In the 30 plus years I have been part of Outdoor Retailer weve seen a continual evolution of what constitutes the outdoor market and how we need to be structured to deliver on a growing and vibrant marketplace, said David Loechner, CEO of Emerald Expositions. Marisa is highly respected both inside and outside our company and she will do a great job leading OR forward.
Recognizing the comprehensive nature of the Outdoor Retailer show floor and large footprint, a focus to make the tradeshow more welcoming to first-time retail attendees by creating programs, and improving tools to assist in meeting planning, appointment setting and booth navigation, will be implemented in 2015 and beyond.
Emerald Expositions remains committed to meeting the needs of the growing outdoor market and its support of the Outdoor Industry Association. The Outdoor Retailer team is working diligently towards Winter Market 2015. We are focused on executing a show that provides an engaging business platform for the industry, continued Denny. The entire team and I look forward to welcoming the industry to Winter Market in January, and will continue to look to the industry leaders to provide guidance and feedback.
Outdoor Retailer Winter Market, is scheduled January 21-24, 2015 at the Salt Palace, Salt Lake City Utah. To attend Outdoor Retailer, visit www.outdoorretailer.com to register online.
###
About Outdoor Retailer
Outdoor Retailer (OR) brings together retailers, manufacturers, industry advocates and media to conduct the business of outdoor recreation through tradeshows, product demo events and web- based business solutions. Produced by Emerald Expositions and based in San Juan Capistrano, California, Outdoor Retailer also provides and promotes retailer education, advocacy, responsibility and critical face-to-face business initiatives within the outdoor industry.
Consistently named among Trade Show News Networks 25 fastest-growing tradeshows by attendance, Outdoor Retailer (outdoorretailer.com) connects approximately 50,000 attendees on a semi-annual basis for its Summer and Winter Market shows, and thousands more through its year- round online resources and platforms.