By Thomas J. Ryan
Speaking Thursday at CL King's 17th Annual Best Ideas Conference, Bob Dennis, chairman, president and CEO of Genesco Inc., said the continuing momentum at the Journeys chain, in part, reflects the fact that today's digital-savvy teenagers still "actually like to go to the store."
"There is no doubt that they do much more of their research online, and that research comes in all different forms, ranging from going to our website, going to Instagram and communicating with their friends and discovering," said Dennis.
Yet the teenager often comes to the store to make the purchase because they trust Journeys' staff to fit them with on-trend footwear.
"There's a lot of insecurity among kids," remarked Dennis. He recalled an insight about teenagers he credited to former long-time Journeys' president, Jim Estepa, "They want to be different, but just like all their friends."
As such, teens come to the store because of the "enormous respect" they have for the stores' staff, who rate "very high" for the service and advice they provide. Said Dennis, "Our average store manager is 24 years old, has a lot of tats, a lot of piercings, and your kids look up to them as fashion mavens. And they live that life, and it's a music and a fashion life. And they are extremely credible in the marketplace. So, one of our secret sauces is really what we do in the store."
The "other secret sauce" for Journeys is product. The make-up of Journeys' customer is about half male and half female and teens regularly cite Journeys as their number one destination for footwear, except for the "athletic boy" who gravitates to Foot Locker.
Driving Journeys' appeal is a rotating mix of brands that keep the assortment fresh. Dennis noted that a study conducted a few years ago showed that over a 10-year period only one brand was in the Top 10 all 10 years. Said Dennis, "That's a really good indication of how brands rotate and franchises rotate the look and feel of the store."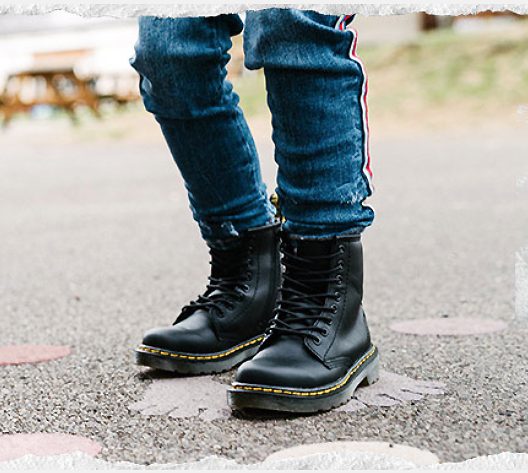 Many brands also rotate back into the mix. Dennis noted how Doc Martins, which defined the growth trend two decades ago, is making a strong comeback this year. He said, "Our merchants are always finding what's moving, what's working."
Currently, a "big athletic cycle" is leading trends. Said Dennis, "It's not performance-athletic. It's spread out over a wide range of brands, both brands that are known for being performance-oriented with a fashion component, and those that are more just driven by fashion. So, we're riding all of that."
Beyond athletic, some trends in sandals are "very important" from a trend perspective and Journeys is betting on a strong boot season as winter arrives.
Dennis' comments came as Journeys, Genesco's largest chain, recently reported its 10th consecutive quarter of positive comps, including a 3 percent comp in the second quarter. Companywide, Genesco achieved its ninth consecutive quarter of positive consolidated comps for its footwear businesses, which also includes the U.K-based Schuh footwear chain and Johnston & Murphy. With August continuing to show strong top-line momentum to support back-to-school selling, Genesco significantly lifted its earnings outlook for the year.
Genesco officials also spent time discussing potential acquisition targets at the CL King conference. Dennis said much depends on the synergies that may be realized between Genesco and any acquired brand or retailer, particularly given that "very strong brands still seem to be able to command a premium" in deals.
Any acquisition would have to fit into the new footwear-centric model that was developed following last year's sales of the Lids headwear chain. Dennis said the process of selling Lids gave Genesco an "even deeper understanding of exactly, quantitatively, what we're getting in terms of benefits between our various businesses and certainly, the sports business was the outlier."
Dennis provided a number of examples of synergies that emanate from its footwear-centric model. They include Johnson & Murphy sharing the retail systems of Journeys that would have been "very dilutive" to Johnson & Murphy's earnings on a stand-alone basis. Schuh has benefited from greater access to special make-ups and collaborations from vendors by leveraging the scale of Journeys' buying volume. Schuh also leaned on Journeys' learnings with Journeys Kidz in launching a Schuh Kids concept. Kids represent "tremendous white space in the U.K. market, according to Dennis.
As far as potential candidates, Dennis said a candidate could be a wholesale brand that's "aspirational to have a direct business," or any footwear company that shares a similar sourcing strategy. Added Dennis, "There are lots of ways for us to play."
Other insights from the CL King presentation:
Rent renegotiations

: About 15 percent of Genesco's leases tend to come up for renewal every year, and Genesco has been able to achieve between 8 and 11 percent in rent reductions annually on an accounting basis as leases are renegotiated. Dennis said Journeys will remain in underperforming malls because, in most cases, the company does not believe it's able to recapture all the lost sales online, and from other locations, from an individual store closing. Significant rent reductions are also often achieved because vacancy rates remain high and "any kind of rent is better than zero," said Dennis. Genesco has also been able to increasingly gain short-term leases.
Expense reduction: Expense control initiatives reduced operating costs by $32 million in its last fiscal year, and expense control measures continue. A significant part of the eliminated costs was rent reduction. Other savings came from workforce management investments at Journeys that better-matched labor to customer shopping patterns. Warehouse costs have also come down due to more cross-docking and other moves to handle less product at distribution centers. Eliminating stranded costs shared by Lids and the rest of the business also continues to remove expenses.

Tariffs

: Genesco has a "minimal amount of exposure" to tariffs, estimating the cost at $1 million for the current year. About 30 percent of Genesco's product comes from China. Of that, about 20 percent is directly sourced, and about half of that comes from China. Mimi Vaughn, COO, said factory partners have been willing to share as much as 50 percent of the tariff increase to date. The rest of the product comes from third-party vendors, and many athletic vendors have already diversified their sourcing away from China. Genesco said the company has not heard from any of footwear vendors asking for higher prices to cover the higher tariff costs. Officials suspected movements in currency, and assistance by the Chinese government may be holding off those pressures.
Photos courtesy Journeys