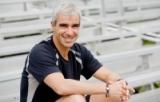 Jarden Corp. CEO Martin E. Franklin is among 17 C-level executives who will compete in the CEO Endurance World Championship, Challenge a grueling 3-day, 6-stage event hosted at Blackberry Farm in TN from Sept. 13-16 that will crown the winner the "Fittest CEO".

The event is hosted by Life Time Fitness' CEO Challenges division, and will be filmed and edited for an upcoming TV show ('The Fittest CEO®') on NBC, CBS, Fox, and other networks. Spartan Race is creating two of the six stages. One will be a team challenge requiring competitors to work together toward a common goal. The competition's final event will be a Spartan Trail Run, a six-mile race chock full of Spartan Race's signature natural and manmade obstacles.
Designed to test the CEOs' strategic acumen and endurance, competitors were hand-picked for their athletic abilities and their chosen charities. The overall winner will earn the coveted Fittest CEO title and the opportunity to donate more than $30,000 to their charities.
"We're proud to support the CEO Endurance World Championship. Everything about this event aligns with our mission of changing lives by ripping people off their couches, getting them active and fit – and supporting causes we believe in," said Spartan Race co-founder Joe Desena.
The competition will be packaged into "The Fittest CEO" TV show, filmed and edited by Ironworks Productions, a television production company that has produced 100+ sports-based television shows throughout North America since 1999. "CEOs crawling through the mud, fighting through six events that will challenge them both physically and mentally over three grueling days, is the ultimate hostile takeover – with the top CEO's charities being the true winners," said Ironworks President Greg McFadden. "Money and competition – the battle awaits!"

CEO Challenges is the world leader in sport competitions designed specifically for CEOs, with the goal to find the world's best CEO in several sports. Founded in 2001 with the CEO Ironman Challenge, CEO Challenges has expanded to include CEO Endurance, Triathlon, Cycling, Driving, and Marathon Challenges in spectacular settings worldwide. Sponsors include Chartis Insurance, Forbes, Zeal Optics, XTERRA Wetsuits, and Boulder Coaching. CEO Challenges is a division of Life Time Fitness (NYSE:LTM) – The Healthy Way of Life Company.