The brainchild of a former Adidas and Deckers brand manager and a cross-country athlete, the newest name in running apparel goes local to manufacture and sell.
By Jahla Seppanen
Monica DeVreese and Jill Deering set out on their standard bi-weekly group run through Santa Barbara, CA when the idea struck to create their own running apparel brand — Rabbit.
Pulling from DeVreese's marketing, branding and buying experience with Adidas and Deckers, along with the knowledge of owning a specialty running shop, Santa Barbara Running for more than a decade, DeVreese and Jill Deering (an attorney and former Division I cross-country athlete) designed, sourced and delivered their first line of Rabbit running apparel in less than two years. Initial backers of their Kickstarter campaign opened their mailboxes in Spring 2016 to find the Made In California collection for men and women.
From its ideation in 2014, DeVreese and Deering committed themselves entirely to the project (while maintaining their group runs and steady jobs), taking pre-orders in December 2015 instead of saying, "give us money." They knew the only way to gain attention was to get the product in the hands of customers. And their market engine is rolling, with fall samples ready to ship and specialty retailers making rack space for their collection alongside Nike and Adidas.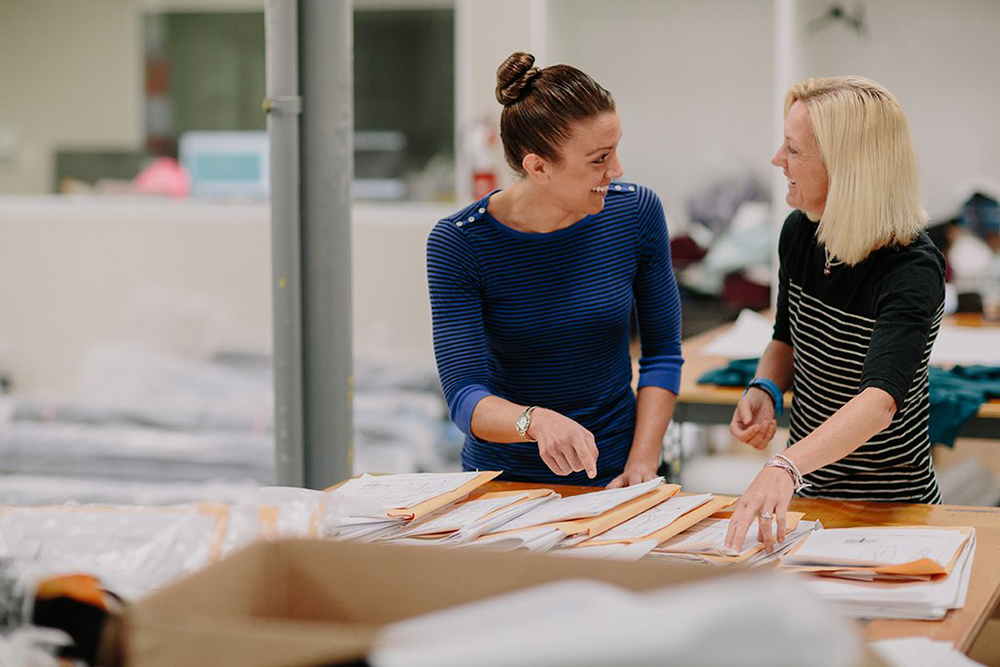 Retailers, Rogue Running (Austin, TX) and West Stride (Atlanta, GA), to name a few, took the risk on Rabbit, and Deering hinted that this is just the beginning as spring 2017 and holiday 2016 signal a shotgun push into the specialty channel.
"People can easily say apparel is not doing well, but the options are so limited," DeVreese said. "It's an easy add-on sale. Retailers just need to try something new." From her own experience co-owning Santa Barbara Running with her husband, DeVreese has seen a trend of big brands clogging the local space.
"Overall, the shift in brick-and-mortar, acquisitions and bankruptcies happening at retail mean you have to work harder and smarter," Deering added. The Rabbit solution: take local to the next level.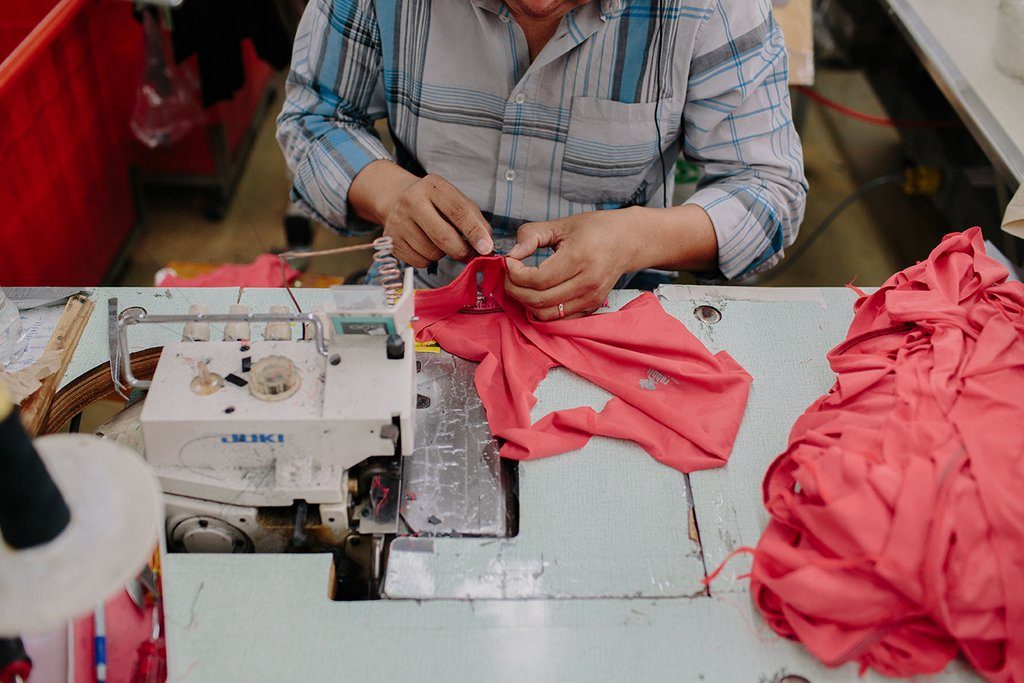 Going Back To California
Rabbit designs and manufactures in Los Angeles, sourcing fabric from local and overseas vendors. "In my former life, I was traveling to Asia all the time," said DeVreese, "and now we can hop in the car and be at the factory in two hours."
"We know 100 percent that manufacturing ethically aligns with our brand values," Deering said.
The co-founders believe they're ahead of a slow-moving trend that is bringing manufacturing back to the United States. "These factories are preparing for growth. In fact, one of the factories we use is brand new. The technologies, capabilities being made available, stitching and construction, all show a renewed commitment," added DeVreese. "It's pretty wild how many options are available right at home."
SGB asked what secrets the brand could share for other up-and-comers wanting to keep production local. They said finding a factory is mostly through word of mouth and recommended a subscription to Maker's Row —  an online marketplace founded in 2012 which helps connect U.S. manufacturers with smaller brands.
Hey, Neighbor
Sure, Deering and DeVreese want Rabbit to grow into the Number One apparel brand on the market, but only if that title comes with the qualifier "in specialty" (hence the unyielding commitment to Made in the USA).
"It all ties back to the local running shop," DeVreese said. Driving Rabbit through specialty will allow the brand to become a part of each local group of runners, giving the term 'local' broader applicability, while maintaining the heart of its message. Rabbit can be local to Cleveland, Dallas, Orlando, you name it, by finding a space in the specialty retail assortment.
"There is so much power in these local communities," Derring added. "Retailer-sponsored group runs will always be a social outlet, especially for those who work all day and look forward to meeting with their group. It becomes your social life. The runners are your closest friends."
This month Rabbit took its local message to the streets of a very different "town": Facebook Main Street. While the massive social headquarters hosts some 2,000 additional summer interns, pop-up stores line the main drive of the campus with everything from barber shops, banks, lending realtors and Rabbit. This year, Facebook Co-founder Mark Zuckerberg challenged his company to run one mile a day, and Rabbit told us it would definitely rally a group run with employees during its time on the campus.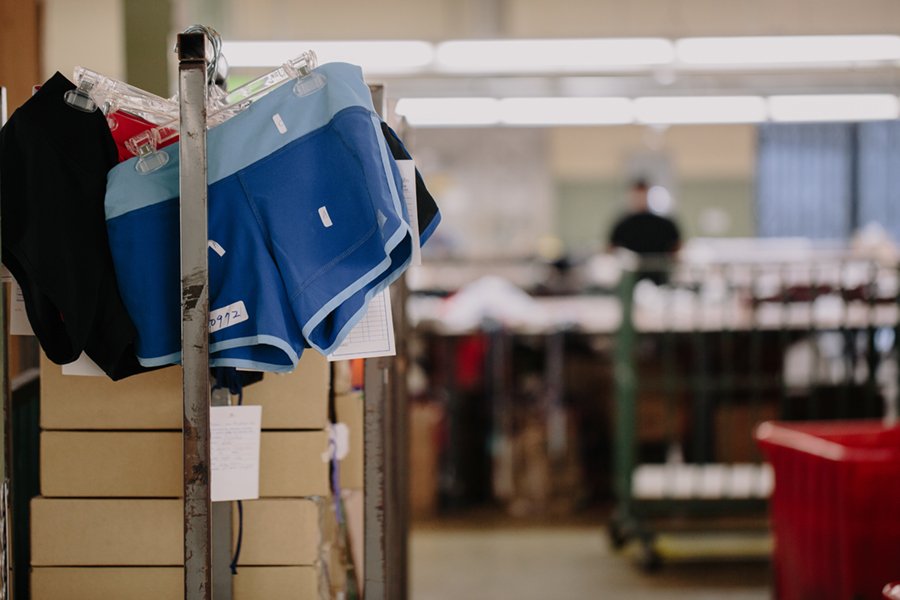 We Are Blistered, We Are Chafed
If you're thinking Deering and DeVreese are doing a lot, you're right.
From attending the Fleet Feet Conference in Huntington Beach, CA to Facebook Main Street to their factories in L.A., they still always find time to return to the source — their weekly runs along the California coast. After all, it gives them a chance to relax, talk business, and remember why doing a lot is a part of their beings. "We are runners. We are blistered, we are chafed, we are sore, but we never give up."
Breaking into specialty will be a steep climb, but leaning on the local stitching of Rabbit indicates they might clear passage in record time.
"Right now, the state of retail is definitely a challenge, with the shift to the Internet and online. On the direct piece, as long as we create that community, that tribe, and support local, Made in California production, retailers will know where our heart is."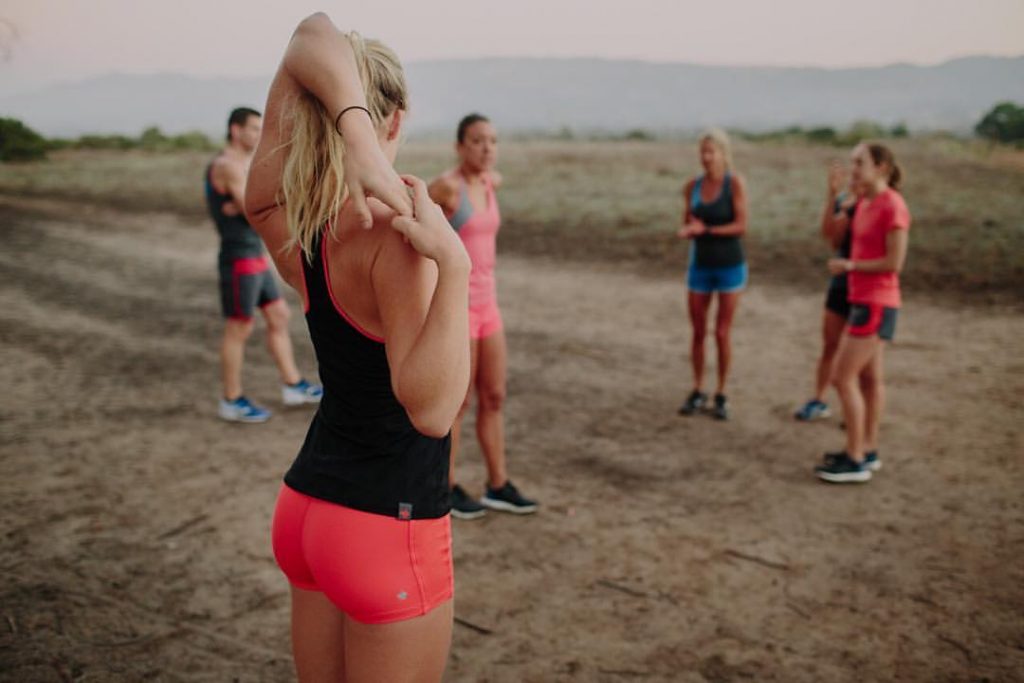 Lead photo Rabbit founders Monica (left) and Jill (right). Photos courtesy Rabbit and Robert J Hill Photography