Flexibility, moisture management, anti-microbial benefits and demand for instant built-in comfort, are supporting new levers for insole sales.
Not so long ago, athletes used to buy insoles for injury prevention or in many cases to help recover from one. Now, comfort has become the primary selling point. Consequently, after-market insoles are now available across a variety of densities, elasticity, arch shapes and heel cups to assure the proper fit.
But providing adequate cushioning and support has become just a starting point for insoles. Features such as breathability, moisture management and odor control that used to be included in only premium brands are now a standard feature. Aesthetic considerations like sublimation and artwork, that once were used to surprise, have also become the norm. Beyond their use in athletic pursuits, insoles are increasingly being used to support the foot in casual, dress, lifestyle and work shoes, expanding the category's reach.
More Flexible, Less Rigid
Insole construction is again being influenced by running footwear trends. In this case, it's the shift away from motion control running shoes as well as stability models to a lesser degree.
"Many shoe companies are moving away from always seeking to 'correct' how people run via shoes," observed Lutz Klein, CEO CurrexSole Americas. "Insoles like CurrexSole are already designed in this way. It's about enhancing the comfort of the runner's footwear to help prevent injuries and enhance performance."
Klein also noted that the shift comes as studies from Germany's University of Cologne and Canada's University of Calgary have found choosing running footwear based on comfort is the best way to prevent injury.
Advanced materials are enabling insole companies to develop more flexible insoles that lend themselves to more efficiency in running yet still packing support.
For example, Spenco's 3-POD Modulation System positions pods of varying degrees of firmness beneath key areas of the foot, helping insoles change the ground forces reaching the foot during activity. "This tunes the ride for increased performance and comfort while helping to reduce over-pronation – a common problem that causes foot, leg and back pain," said Jeff Antonioli, vice president and head of global sales and marketing at Spenco.
Mike Baker, founder and CEO of Sole, said the movement from minimalist to maximalist has given the industry a greater understanding of foot health and under-foot conditions. But the most recent shift to more neutral midsoles in running shoes has been favorable as footbeds integrate and better compliment neutral shoes compared to a control shoe. "The pendulum swung to both extremes and has settled in a logical place (for the moment)," Baker said.
David Church, president of Sorbothane, agreed that while there's a healthy shift away from "very rigid support systems" to more dynamic-flexible construction, insoles still need to offer proper arch support and padding to absorb shock.
"Many doctors agree that there is no 'one insole fits all' answer when it comes to insoles," Church said. "Insoles need to be comfortable along with functional."
Viva Variety
Beyond flexibility, insole buyers are looking for a wide range of options for different shapes and materials — from soft to firm and thin to thick — to try on to ensure their insoles personalize the fit and feel of their shoe.
"The perception of comfort is something that is highly individual," noted Matt Gooch, Superfeet's product development and education manager.
Ideally, the insole should help adapt the relatively flat inside of the shoe to the three dimensional foot, effectively personalizing the fit and feel of the shoe. Gooch said that's why Superfeet has moved towards developing products that are specifically developed to fit the needs of consumers in specific retail/footwear environments and/or for specific types of activities. For example, Superfeet's new Flex line of insoles comes in three ranges —Flex, FlexMax and FlexThin — varying by thickness of the foam, enabling a simplified fit and selection process.
"Many athletes today don't fall into the traditional silos of activities, rather they engage in an multitude of activities on a weekly basis," Gooch said. "The goal is to truly provide a comfort focused insole that enhances the comfort of a wide range of athletic footwear by providing the opportunity to tune the fit and feet of shoe."
The shift from technical footwear towards more lifestyle and casual options in the sporting goods channel is also creating opportunities for insoles supporting a broader range of shoes. "The trend is more around how an insole can provide benefits to anyone regardless of their footwear choices," said Drew Davies, Sof Sole's national sales manager.
With insoles looked on as a point of differentiation with running footwear models in many places, it's become more important for retailers to carry more than one insole brand to maximize the category's potential at retail.
"Insole users tend to be brand-loyal, so offering multiple brands can drive more repeat business," said Brett Jewell, sales representative, Powerstep. "In turn, these repeat customers will be more likely to purchase more expensive items (shoes, apparel, and other gear) in-store."
Chris Bevin, vice president and head of specialty retail sales at Implus LLC, the parent of Sof Sole, said that due to a broadening range of customers with different needs and footwear choices, it has become increasingly important to find the right shoe, footbed, and sock combination. He added, "People use everything from a simple sock liner to more corrective orthotics, and we see a big opportunity in being able to accommodate those people in between."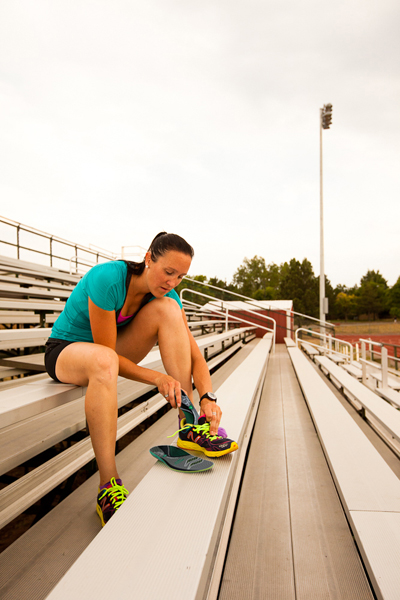 Photo courtesy Sof Sole
Custom Fit
As in many other categories, customization is also feeding a stronger fit message around insoles with the aid of new technologies.
As an example, Pam Gelsomini, OrthoLite's president, pointed to a strong trend toward "memory foams" that offer "a cloud-like feel when stepping into the shoe" as the footbed material shapes to the foot for a customized fit.
She agreed on the need to provide a wide range of choices for consumers and the need for an insole to work with the shoe likewise promises a customizable option. For instance, a minimalist or low-profile shoe might require an ultra-thin insole with foam that has high performance in thin applications while a maximalist shoe may require a thicker insole with high rebound properties.
Spenco offers more than 40 types of insoles, including not only ones with varying degrees thicknesses and firmness but Race and Train versions under its Ironman sponsorship as well as a Walker/Runner insole, a Cross Train and Spenco for Her.
"No two athletes are the same," Antonioli said. "The ability to choose a product for specific needs helps increase performance and customer satisfaction."
At a more advanced level, FootBalance offers customized molding in-store through a ten-minute process, as well as a moldable option that molds in an oven. "We see runners wanting their products custom-tuned to their feet," said Steve Sheridan, senior vice president of sales at Hickory Brands, which last year took over U.S. distribution of FootBalance.
Sole's Baker finds heated moldables becoming a sub-category of insoles with many other moldables now in the marketplace. For its part, Sole is launching its first custom-moldable product with a metatarsal pad to help with Mortons Neuroma and other major forefoot problems beyond plantar fascia strain. 
Beyond Fit and Function
Ortholite's Gelsomini said visible technology is a buzzword in insoles.
"We have the ability to customize every OrthoLite mold design to create optimum performance through contour, raised padding, massage bumps, air flow grooves, etc. … so the consumer can immediately 'see' and 'understand' that there is something special inside the shoe," she said.
An eco-message is also increasingly being used as a differential among brands and expected to become a louder message in the years ahead.
Overall, insoles sales remain healthy in part due to the improved quality of insoles in the marketplace.
"The chasm between doctor-made custom orthotics and quality over-the-counter insoles has closed," said Sole's Baker.
Baker also credited that insole's momentum to the exposure of Dr. Scholl's pressure-mapping system across the mass channel, the similar mainstream success of Dr. Scholl's three-fourth's length custom orthotic inserts, and the lessons Vibram Five Fingers and minimalism taught runners about proprioception and proper biomechanics.