VF Corp. predicted that all four of its big brands—Vans, The North Face, Timberland, and Dickies—would not only recover revenue lost during the pandemic but deliver strong growth relative to prior peak levels. On its fiscal fourth-quarter call, Steve Rendle, chairman, president and CEO, outlined the path for Vans, the current laggard, to return to double-digit growth.
Vans' sales were down 16 percent in constant dollars in its fiscal year ended May 1. Vans' sales in constant dollars were up 10 percent in the fourth quarter against year-ago pandemic-depressed sales, but the recovery was much softer than VF's other brands. Vans is VF's largest brand.
Specifically addressing concerns about Vans' growth prospects, Rendle said Vans, during the pandemic, has been impacted by the disruption caused by supply chain delays, the outsized impact of store closures given the brand's large store base and the cumulative impact of inventory and marketing investment constraints. Rendle said, "These issues are all short term and episodic, which has no impact on the long-term runway for this brand."
He cited three near-term catalysts expected to reaccelerate demand to return Vans to the low double-digit growth rate goal initially laid out in 2019 as part of VF's five-year growth plan.
First, he said, Vans' stores drive "deep connectivity" with fans of the brand and higher loyalty member enrollment, greater purchase frequency and higher average order value. Said Rendle, "Our return to in-store shopping will restore this advantage in growing the Vans' community while driving a higher annual spend per consumer."
Second, the return to normal social usage occasions is expected to accelerate purchases from depressed levels Vans experienced during the pandemic. Rendle elaborated, "This is not just to return to in-person schooling for younger consumers; this is a return to seeing family and friends, dining out, attending concerts and sporting events, and traveling. We know Vans has remained top of mind for its core consumers who are ready to re-engage with the brand as they return to a normal cadence of lifestyle activities."
Finally, beginning in June, Vans will initiate a globally coordinated weekly-drop cadence that marries product and experiential demand creation to drive energy, excitement and brand heat.
"A key learning from the past year has been the importance of flowing new product and associated storytelling to deepen engagement with existing consumers and attract new consumers to the brand," said Rendle. "This will be accompanied by an elevated Vans.com experience to enhance the consumer journey around these exciting drops."
Overall for Fiscal 2022, Vans is expected to generate between 26 percent and 28 percent growth year-over-year, representing a 7 percent to 9 percent increase relative to prior peak revenue for the brand.

Outside of Vans, VF forecasts healthy momentum across its portfolio.
"There is tremendous momentum at The North Face and Dickies, which we expect to accelerate," said Rendle. "We believe Timberland has reached an important inflection point. And Supreme is off to a strong start, and its path for sustainable long term growth and value creation could not be more clear."
"Taken together, I'm entering this year with a strong sense of optimism," he added. "We have a best-in-class portfolio of brands with momentum and a leadership team across our brands and enterprise that possesses the skills and capabilities to lead our teams and deliver on our commitments. There are tailwinds from both a strengthening consumer across the globe and in the categories where we are most present. And inventory levels are in good shape. Each of our brands is uniquely positioned to thrive in the coming year and return to their respective long-range plans to re-emerge from this crisis as a stronger company."
Companywide Sales Led By APAC And Digital
In the quarter, sales increased 23 percent (up 19 percent in constant dollars) to $2.6 billion. Wall Street's consensus estimate was $2.51 billion.
Excluding the impact of acquisitions, revenue increased 16 percent (up 12 percent in constant dollars) driven by VF's largest brands, e-commerce growth and an increase in the APAC region, which experienced a significant negative impact from COVID-19 in the prior-year period. The latest quarter also benefited from an extra week compared to a year ago.
Gross margin decreased 100 basis points to 52.1 percent, primarily driven by elevated promotional activity to clear excess inventory and the timing of net foreign currency transaction activity. On an adjusted basis, gross margin decreased 120 basis points, including a 60 basis point positive impact from acquisitions, to 52.7 percent.
Operating income on a reported basis was $122 million against a loss of $256.8 million a year ago. On an adjusted basis, operating income increased 98 percent to $173 million, including a $34 million contribution from acquisitions. Adjusted operating margin increased 260 basis points, including a 100 basis point positive impact from acquisitions, to 6.7 percent.
EPS was 16 cents on a reported basis. On an adjusted basis, EPS increased 169 percent (up 150 percent in constant dollars) to 27 cents, including a 6 cents contribution from acquisitions. Wall Street's consensus estimate was 29 cents.
The overall growth was supported by 16 percent combined growth from its big four brands and growth acceleration for many of its emerging brands, highlighted by 53 percent growth from the Altra running brand. Supreme, acquired in December, contributed over $140 million of revenue, exceeding expectations.
By segment, Outdoor revenues grew 25 percent in the quarter to $1.06 billion and gained 20 percent on a currency-neutral basis. Outdoor operating profit came to $58.68 million against a loss of $9.02 million a year ago. The segment includes Altra, Icebreaker, Smartwool, The North Face, and Timberland.
Active segment revenues reached $1.26 billion, up 22 percent on a reported basis and 19 percent on a currency-neutral basis. Active operating earnings rose 17.0 percent to $180.0 million. The segment includes Eagle Creek, Eastpak, JanSport, Kipling, Napapijri, Supreme, and Vans.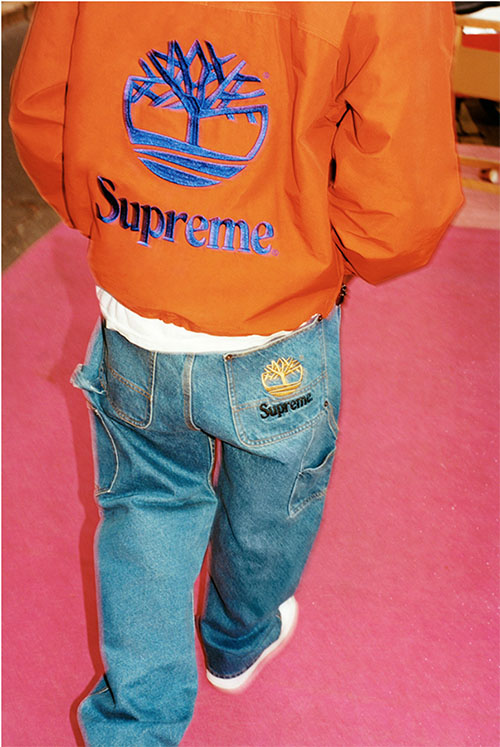 Work sales were $259.5 million, gaining 23 percent on a reported basis and 20 percent on a currency-neutral basis. Work posted an operating profit of $13.5 million against a loss of $1.75 million a year ago. Brands include Bulwark Protection, Dickies, Horace Small, Kodiak, Red Kap, Terra, VF Solutions, and Walls.
Vans Sales Expand 10 Percent
Among its four big brands, Vans' 10 percent currency-neutral gain in the quarter reflected strengthening in the Americas and APAC regions that more than offset larger-than-expected headwinds from store closures in Europe. Sales gained 13 percent in the Americas, declined 4 percent in EMEA, and jumped 24 percent in APAC.
Matt Puckett, VF's recently appointed CFO, said that globally, Vans sees balanced momentum in performance across its heritage and progression footwear segments. In the fourth quarter, Sk8-Hi, shown below, Authentic and Old School heritage styles grew double-digits, while the Pro Skate and MTE progression lines each grew more than 30 percent. Apparel also performed well, including mid-teens growth in women's.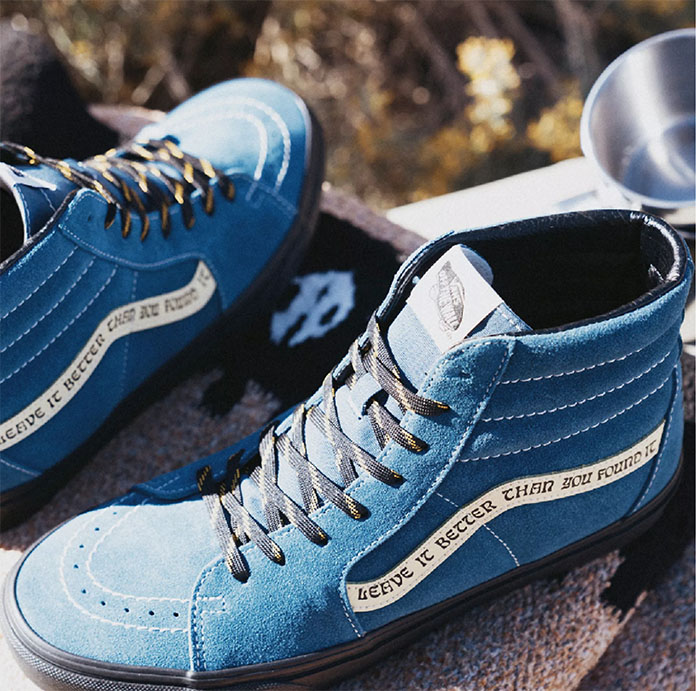 Vans' digital growth accelerated to 52 percent in the fourth quarter, including the growing contribution from omnichannel sales, representing over 10 percent of digital revenue in the Americas. Vans stores also returned to growth globally after sequential quarterly improvement throughout fiscal 2021.
"Vans' direct-to-consumer (DTC) returned strongly during March, both in stores and online and across both existing and new consumers," said Puckett. "The Vans Family loyalty program added 1.2 million members in the U.S. in the last four months and now has nearly 15 million enrolled globally. With the reopening of Vans store fleet, new membership growth has accelerated in March and April."
The North Face Sales Advance 23 Percent
North Face delivered 23 percent currency-neutral growth in the quarter, led by 56 percent growth in digital. Sales grew 12 percent in the Americas, 19 percent in EMEA and 93 percent in APAC. Said Puckett, "The brand achieved double-digit growth across all regions and channels as outdoor category tailwinds remain robust globally."
From a product standpoint, the brand experienced relative strength from several on-mountain categories, including outerwear, led by the Futurelight offering, and footwear, led by its new Vective line. Puckett noted that Outside Magazine's 2021 Summer Buyers Guide featured features six products from The North Face with the Vective trail running and hiking shoe awarded Gear Of The Year.
In the off-mountain product portfolio, strength is being seen in logo wear and iconic franchises such as the Nupsie, which increased more than 75 percent. The North Face's collaboration with Gucciranked as the largest earned media campaign in the brand's history, with more than 17 billion impressions.
For the full fiscal year, The North Face's sales were down 11 percent. The brand's digital business increased 63 percent, including 49 percent growth in new paid customers, while adding 1.6 million new loyalty members in the Americas.
For fiscal 2022, The North Face's revenues are expected to increase 25 percent to 27 percent, representing 14 to 16 percent growth relative to fiscal 2020 and surpassing $3 billion in global brand revenue.
Timberland's Sales Expand 19 Percent
Timberland increased 19 percent on a currency-neutral basis with continued momentum behind outdoor footwear, apparel, Timberland Pro and an accelerating Classics business. Gains were seen in all regions. Sales increased 21 percent in the Americas, 2 percent in EMEA, and 57 percent in APAC. Digital increased 96 percent with additional strength from key digital retail partners.
Timberland successfully rolled out several new product stories, including Green Stride, which has garnered strong early reads. Said Pucket, "Timberland delivered 54 percent global digital growth in fiscal 2021 and is entering this year with broad-based momentum across the product portfolio."
For fiscal 2022, Timberland's sales are projected to increase between 16 percent and 18 percent, implying revenue is in line with prior peak levels.
Dickies achieved 19 percent growth with continued strength across regions, channels and categories. Sales gained 9 percent in the Americas, declined 3 percent in EMEA and jumped 107 percent in APAC, including more than 120 percent growth in Greater China.
Work-inspired lifestyle product increased at a double-digit rate across all regions and represented 40 percent of total revenue. Despite headwinds from the pandemic, Dickies delivered 7 percent growth in fiscal 2021 through strong execution against the strategic pillars of digital, China and work-inspired product categories.
For fiscal 2022, Dickie's is expected to deliver growth between 10 percent and 12 percent, which implies revenue up about 20 percent from fiscal 2020.
U.S. Sales Expand 25 Percent
Exploring regional performance, each of VF's largest brands returned to double-digit growth in the Americas. The U.S. was ahead 25 percent on a currency-neutral basis overall while non-U.S. Americas was down 19 percent.
Pucket said the U.S. environment continues to improve with vaccine distribution easing lockdown measures and a strengthening consumer. 
VF started the quarter with 15 percent of doors closed in the region, mainly in California. Nearly all are now open. While store traffic remains depressed, conversion and AUR (average unit retail) have been strong. Sequential improvement is being seen across the brick & mortar fleet with a notable acceleration in March.
The DTC business increased 16 percent, led by 57 percent growth from digital. Said Pucket, "Wholesale channel inventories remain clean, particularly across the outdoor categories, which will provide a strong backdrop to the U.S. wholesale business as we progress through fiscal 2022."
For fiscal 2022, the Americas region is expected to see greater than 20 percent organic revenue growth.
EMEA's Sales Increase 2 Percent
EMEA sales were up 2 percent on a currency-neutral basis. Rolling store closures have impacted the region throughout fiscal 2021, with half of its doors closed at the start of the quarter and 60 percent closed at the end of the quarter. Key markets such as the UK and Germany were fully closed throughout the fourth quarter.
Lockdowns are expected to ease for most countries except Germany and France, although a slower start to vaccine rollouts will likely hinder the pace of recovery in the coming months. A bright spot for EMEA is digital, running up 99 percent in the quarter with gains from Vans, up 92 percent; The North Face, 118 percent; and Timberland, 122 percent. Strong growth was also seen with digital partners such as Asos and Zalando. The strong underlying digital momentum is expected to translate into accelerated growth in fiscal 2022.
For fiscal 2022, including Supreme, EMEA is expected to grow about 30 percent, representing about 15 percent growth relative to prior peak revenue.
APAC Sees 62 Percent Growth
The APAC region saw 62 percent growth in the quarter. The China business surpassed the $1 billion milestone in fiscal 2021, growing 20 percent for the year, capped off by 70 percent growth in Q4. All VF brands achieved growth in the region, led by 93 percent growth at The North Face and 107 percent growth or Dickies.
Said Pucket, "We continue to view China as the leading indicator of the broader recovery in our business. And as our largest growth opportunity, we remain focused on maintaining momentum and continuing with investments focused toward our distort to Asia strategy."
For fiscal 2022, the APAC region is expected to see continued momentum with close to 20 percent organic growth led by growth in China that is expected to exceed 20 percent.
Owned inventory at the close of the year was down 18 percent due in part to inventory discipline.
"Globally, our supply chain teams continue to navigate port congestion, capacity constraints, transitory cost pressures, and elevated volatility across the network," said Pucket. "Our teams are working tirelessly to monitor the impact of these challenges. However, we expect volatility and certain headwinds to continue for the foreseeable future. Fortunately, we have one of the strongest supply chains in the industry and are prepared for this challenge, having successfully navigated the unprecedented disruption over the past year."
The fiscal 2022 outlook calls for:
Total revenue to reach $11.8 billion, reflecting growth of approximately 28 percent, including an approximate $600 million contribution from the Supreme brand. By segment, revenue for Outdoor is expected to increase between 23 percent and 25 percent; revenue for Active is expected to increase between 34 percent and 36 percent; and revenue for Work is expected to increase between 10 percent and 12 percent.

International revenue is expected to increase between 25 percent and 27 percent.

DTC revenue is expected to increase between 38 percent and 40 percent, including Digital revenue growth of between 29 percent and 31 percent.

Adjusted gross margin is expected to exceed 56.0 percent, which represents an estimated increase of more than 270 basis points.

Adjusted operating margin is expected to approximate 12.8 percent, which represents an estimated increase of approximately 480 basis points.

Adjusted EPS is expected to approximate $3.05, including an approximate 25 cents contribution from the Supreme brand. That compares to adjusted EPS of $1.31 in fiscal 2021, including a 6 cents contribution from acquisitions.
Photos courtesy Vans, Supreme