Nike Inc. said demand for the Nike Brand remains robust, but the combination of port congestion and COVID-19-driven factory shutdowns in Vietnam will cause sales for its current fiscal year to come in well below targets. Inventory shortages are also expected to continue until the second half of the calendar year 2022.
Shares of Nike were trading down about 6 percent in early Friday trading on the news.
"Consumer demand for Nike remains at an all-time high, and we are confident that our deep consumer connections and brand momentum will continue," said CFO Matt Friend on a conference call with analysts. "However, we are not immune to the global supply chain headwinds that are challenging the manufacturer and movement of product around the world."
Friend said Nike had expected transit times to remain elevated for the balance of its fiscal year ended May 31, 2022. However, the situation deteriorated further in the fiscal first quarter, with North America and EMEA seeing increases in transit times due primarily to port and rail congestion and labor shortages.
He noted, for example, that before the pandemic, it would have taken approximately 40 days to move product from Asia to North America. Due to container shortages, port and rail congestion and labor shortages impacting the industry, it now takes 80 days.
Also, several of its factory partners in Vietnam and Indonesia were required to abruptly cease operations in the first quarter due to COVID outbreaks. As of Thursday, Indonesia was fully operational, but nearly all footwear factories in Vietnam remain closed by government mandate.
In fiscal 2021, Nike sourced 51 percent of its footwear and 30 percent of its apparel from Vietnam.
Friend said Nike's experience with COVID-related factory closures suggests that reopening and ramping back to full production would take time. Given the loss of 10 weeks of production in Vietnam since mid-July, the phased reopening of Vietnam factories beginning in October with full ramp-up is expected to take several months and continued elevated transit times, consistent with current levels in the quarters ahead, Nike now expects FY22 revenue to grow mid-single-digits, down from its prior guidance of low double-digit growth.
For the current second quarter, revenue is expected to be flat to down low-single-digits versus the prior year as factory closures have impacted production and delivery times for the holiday and spring seasons. Said Friend, "Lost weeks of production combined with longer transit times will lead to short-term inventory shortages in the marketplace for the next few quarters."
Nike expects all geographies to be impacted by these factors, but Asia, with less in-transit inventory at the end of the fiscal first quarter, will experience a disproportionate impact beginning in Q2, with North America feeling the bigger impact in Q3.
"For the balance of fiscal 2022, we expect strong marketplace demand to exceed available supply," added Friend. "We are optimistic inventory supply availability will improve heading into fiscal 2023 against the backdrop of a very strong brand and healthy pull market across all geographies."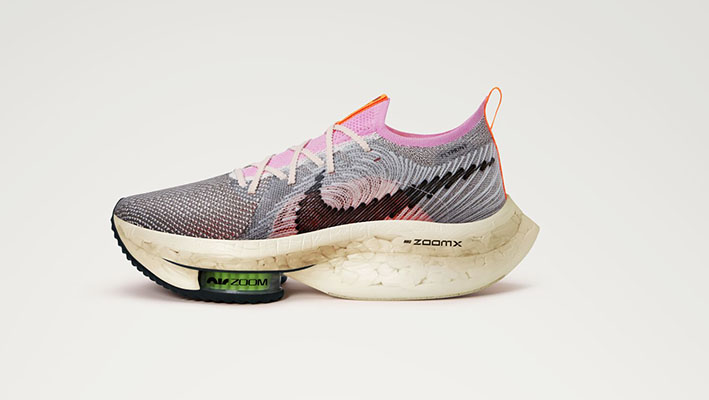 First-Quarter Revenues Miss Wall Street Targets Despite Healthy Demand 
The reduced outlook comes as Nike reported first-quarter sales jumped 15.6 percent to $12.2 billion and expanded 12 percent on a currency-neutral basis. However, results were below Wall Street's consensus estimate of $12.46 billion. Friend said, "Consumer demand for Nike, Jordan and Converse remains incredibly high, and our first-quarter financial results would have been even stronger if not for supply chain congestion resulting in lack of available supply."
John Donahoe, president and CEO, detailed areas of momentum for Nike outside supply chain hurdles. He said the company continues to benefit from its accelerated shift to digital. He said, "Today, we're in a stronger position relative to our competition than we were prior to the pandemic."
Digital saw a 25 percent currency-neutral growth in the quarter, led by North America growth at over 40 percent, and came despite the reopening of stores. Digital is now 21 percent of total Nike brand revenue, increasing two points versus last year. Friend said the company remains "well-positioned to reach our vision of a 40 percent owned digital business by fiscal 2025."
Donahoe talked up the benefits of "an incredible summer of sport," including the Tokyo Olympics, where Nike ambassadors captured 226 medals, including 85 gold. The return of sports is expected to remain a tailwind for Nike in the quarters ahead. Donahoe also believes Nike will benefit from "the expansion of the definition of sport," noting the excitement around skate being in the Olympics for the first time and its relevance to younger generations. He said that the pandemic has caused more people to embrace working out regularly in their homes.
"The definition of sport is getting to how every athlete aspirates in different ways," said Donahoe. "Just the concept of movement and health and the fact that sports can happen in your living room, as well as going to the gym or the yoga studio or the basketball court."
Among category highlights, Nike kids saw sell-throughs of almost 30 percent in the quarter, led by digital growth of nearly 70 percent. Donahoe said kids have benefited from Nike Brand's "new consumer construct" that separated the kid's opportunity and kid-specific designs and content, such as its Playlist series on YouTube.
He highlighted the success of apparel, which grew at a 16 percent pace on a currency-neutral basis in the quarter, exceeding the brand's 12 percent pace and footwear's 10 percent gain. Women's growth stood out in apparel, led by its yoga business that nearly quadrupled over the past two years and the bra category.
Digital growth has supported outsized member buying, which saw a penetration increase of 14 points since last year. Said Donahoe, "Our membership strategy is working as we increasingly use data and analytics to personalize member product offering and experiences. And we're seeing this come to life as repeat buying members grew more than 70 percent in the quarter."
With many stores closed in the year-ago period, Nike's inline fleet grew over 70 percent in revenue, approaching pre-pandemic levels, and is benefiting from extending online features to physical retail. Said Donahoe, "We're seeing over-index growth from members, not just in digital, but also in physical retail with member buying penetration up double-digits since last year. And, so, we'll continue expanding these compelling experiences across our fleet in fiscal 2022, driving that interplay between physical and digital retail."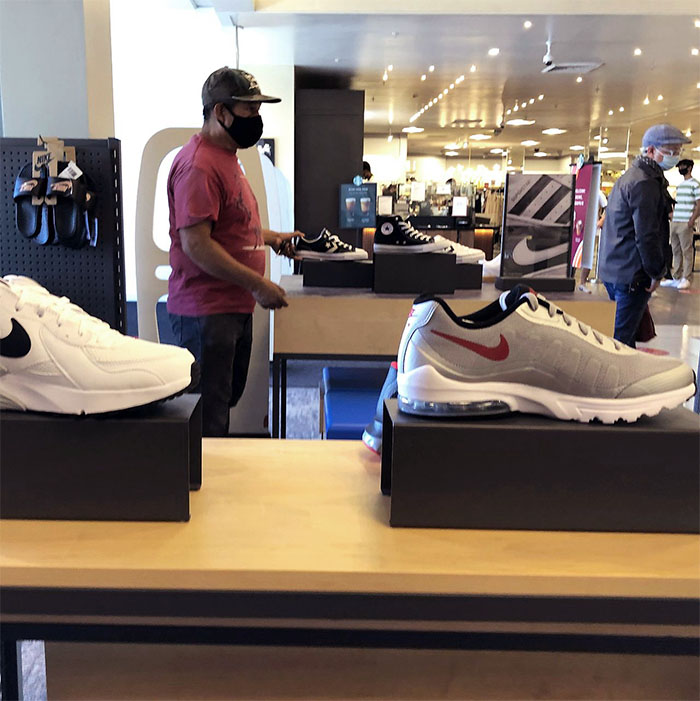 North America Gains Held Back By Inventory Availability
In North America, sales for Nike Brand rose 15.5 percent to $4.88 billion and grew 15 percent on a currency-neutral basis. Operating earnings in the region grew 10 percent to $1.43 billion from $1.3 billion.
"Demand for Nike remained incredibly strong for the fifth consecutive season, energized this quarter by back-to-school and the return to sport," said Friend. Retail sales for Nike's Performance business grew strong double-digits during the fall season, led by running, fitness and basketball, supported by excitement from the Olympics, the new WNBA season and the NBA finals.
Nike Direct grew more than 45 percent in North America, with Nike Digital now representing a 26 percent share of the business. Digital grew more than 40 percent, increasing market share with strong growth in traffic and repeat buying member activity. The return to physical retail accelerated Nike-owned store growth of over 50 percent.
Nike-owned inventory in North America increased 12 percent year-over-year, driven by highly elevated in-transit inventory levels as transit times in North America deteriorated during the last quarter, now almost twice as long as pre-pandemic levels. Friend said, "This impacted product availability across the marketplace and our ability to serve strong levels of consumer demand, particularly in the wholesale channels. Closeout inventory was down double-digits versus the prior year."
EMEA Boosted By European Championship
In the Europe, Middle East & Africa (EMEA) region, revenues for Nike Brand improved 13.6 percent to $3.31 billion and gained 8 percent on a currency-neutral basis. Operating earnings in the region grew 26 percent to $875 million from $692 million.
"This region was energized by the Euro this summer, where Nike players scored more goals than all other brands combined and more than half of those goals were with our Mercurial boots," said Friend. "We saw a strong consumer response to both the Mercurial boot and replica jerseys during the tournament."
Nike Direct grew 10 percent on a currency-neutral basis, led by Nike-owned stores. Following reopenings, traffic increased by double-digits versus the prior year with better than expected conversion rates. Nike Digital grew 2 percent. Demand for full-priced products grew nearly 30 percent versus higher liquidation levels in the prior year.
Said Friend, "Transit times to EMEA have also deteriorated over the past 90 days, causing higher levels of in-transit inventory and negatively impacting product availability to serve strong consumer demand."
Greater China Sees Modest Gain In Line With Expectations
Greater China's Nike Brand sales grew 11.3 percent to $1.98 billion and gained one percent on a currency-neutral basis. Operating earnings in the region inched up two percent to $701 million from $688 million. 
Friend said the results were "in line with our own recovery expectations" as retail sales were impacted in late July and August due to regional closures and lower levels of foot traffic due to COVID containment. 
Before late July, physical traffic had been approaching prior-year levels. Nike Direct declined three percent on a currency-neutral basis, partially impacted by retail closures. Nike Digital declined six percent as it faced elevated year-ago sales due to liquidation efforts. Friend said, "Our experienced local team continues to navigate through marketplace dynamics. We finished the quarter with healthy marketplace weeks of supply and inventory normalization is on plan."
APLA Sees Strongest Regional Growth
In the Asia Pacific & Latin America (APLA) region, sales for Nike Brand were up 33.3 percent to $1.47 billion and rose 31 percent on a currency-neutral basis. Operating earnings in the region grew 72 percent to $481 million from $280 million. Revenue growth was led by Soko, Japan, Mexico, and Korea, with more muted growth in Pacific and Southeast Asia and India due to COVID restrictions and government-mandated store closures. Nike Digital surged more than 60 percent on a currency-neutral basis, highlighted by the expansion of the Nike app.
Net Income Expand 23 Percent 
Net income in the quarter reached $1.9 billion, or $1.16 a share, up 23 percent year-over-year and topping Wall Street's consensus estimate of $1.12.
Gross margin improved 170 basis points to 46.5 percent, led by margin expansion in its Nike Direct business, a higher mix of full-price sales, and favorable changes in foreign currency exchange rates, partially offset by higher product costs primarily due to increased freight costs.
Selling and administrative expenses increased 20 percent to $3.6 billion. Marketing expenses jumped 36 percent to $918 million, primarily due to the normalization of spend against brand campaigns as the company annualized marketplace closures in the prior year and continued investments in digital marketing to support heightened digital demand. Operating overhead expenses grew 15 percent to $2.7 billion, primarily due to increased wage-related expenses, higher strategic technology investments and Nike Direct variable costs.
At the quarter's end, inventories were $6.7 billion, flat compared to the prior-year period, driven by consumer demand during the quarter, offset by elevated in-transit inventories due to extended lead times from supply chain disruptions.
Photos courtesy Pymnts, Nike, Getty