Nautilus Inc. reported breakout third-quarter results, but the report came on the same day very positive news broke regarding progress with a COVID-19 vaccine. That news had a negative impact on stay-at-home stocks and NLS took a hit, falling more than 21 percent for the day to close at $21.86 a share. The vaccine news, announced by drug maker Pfizer, is seen as a breakthrough against the novel coronavirus and had a very positive effect on retail stocks while hurting many stocks that have posted meteoric share price gains during the pandemic lockdown.
"We awoke today to positive news of progress on a vaccine and are uplifted by it," said company CEO Jim Barr on a conference call with analysts. "While we are sensitive to the devastating impacts it has had, the resulting trend towards home fitness has continued to boost demand for our products and brands." Barr appeared to be anticipating questions from analysts about the long-term effects of a return to normalcy when he stated that "no one can predict the magnitude and duration of the at-home fitness trend."
Barr said that as the third quarter evolved, the company's results and research reaffirmed previous statements that "there will be both, short-term temporary effects and longer-term to permanent impacts from COVID-19 at-home trends." He said that more states reopened gyms as the quarter progressed, but the demand for home fitness "did not waver." He said Nautilus continues to see signs of a prolonged and permanent new normal for the home fitness market and its brands and products.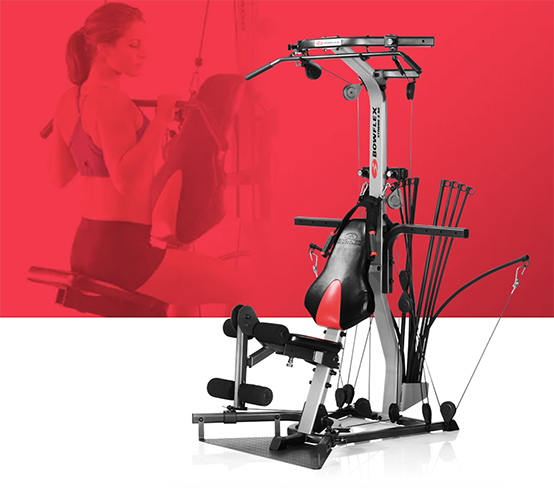 "First, a significant percentage of gym-goers, 12 percent to 30 percent, said they would never return to the gym," Barr continued. "Even if only partly true, this will have a profound permanent impact. Second, the majority of the rest said they would stay away until the vaccine has been administered at scale, or when they feel safer. We believe we will see long-term impacts from this group as well with lasting changes in workout habits and spending."
Barr said many more people were exposed to both the convenience of at-home fitness and the benefits of connected fitness during the pandemic. "This group will minimally balance gym and at-home workouts in a new normal, similar to the way we suspect many will change the way they are balancing being in the office and working from home," he suggested. "We do not think they will choose either-or but, instead, balance at home and gym workouts differently." He went on to say Nautilus had feedback that in the event of a resurgence of COVID-19, or if another virus or strain emerged, that people would "not ever want to be caught again without an option to work out at home."
Barr also made a point that more people have been exposed to the company's brands and products than ever before. He also suggested that as retailers see the acceleration of their own digital transformation toward online ordering, both e-commerce growth and greater use of in-store and curbside pickup, NLS stands to benefit as an omnichannel seller from current retail trends and the relaxation of traditional store space and price point restrictions,and from more retailers carrying fitness products.
"The final point I'll mention is that the growth and resulting cash generation can be used to fuel our increased investment on what we believe will matter most in the long run — brand, marketing and consumer insights, technology and digital experiences, and new capabilities and talent in targeted areas," he concluded.
Still, the company saw operational issues challenging its results even as they posted the best numbers in the last decade.
"Our team performed extremely well to meet an extended period of heightened demand," said company CFO Aina Konold on the conference call. "And though we continue to expand production and invest in expedited shipping, supply remained insufficient to meet the demand in the quarter."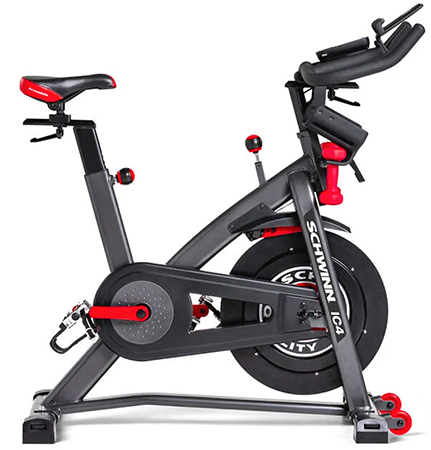 Nautilus Inc. saw total company net sales jump nearly 152 percent to $155.4 million in the third quarter, compared to $61.7 million for the comparable period last year, despite the supply chain issues. Wall Street's consensus estimate was $115.67 million in net sales for the period. The growth was said to be driven primarily by strong demand for the Schwinn IC4 and Bowflex C6 connected fitness bikes, Bowflex Home Gyms, and SelectTech weights. Despite increased factory capacity, NLS entered the fourth quarter with $72.8 million in backorders including $5.2 million in "certain held-for-sale orders."
Direct segment net sales surged nearly 278 percent to $61.2 million in Q3, up from $16.2 million in the comp period last year, driven primarily by cardio equipment, which grew over 256 percent, led by the Schwinn IC4 and Bowflex C6 connected fitness bikes. Strength product sales reportedly grew 349 percent in the quarter, led by the SelectTech weights and Bowflex Home Gyms. The company said it launched the Bowflex VeloCore in September, and early results have "exceeded expectations."
The Direct segment's backlog totaled $23.0 million at quarter-end, compared to $20.6 million at the end of Q2, representing "unfulfilled consumer orders net of current promotional programs and sales discounts."
Retail segment net sales grew nearly 108 percent to $93.2 million in Q3, compared to $44.8 million in the year-ago quarter. Cardio sales reportedly increased almost 103 percent driven by bikes, particularly the Schwinn IC4 connected fitness bikes and ellipticals. Strength product sales grew nearly 128 percent in the quarter, led by SelectTech weights and benches. Excluding sales related to the Octane Fitness brand, third-quarter net sales for the Retail segment grew almost 132 percent versus the third quarter of 2019. The Retail segment's backlog was $45 million at quarter-end, compared to $14 million at the end of the second quarter.
Konold said that the Retail segment typically makes up the vast majority of third-quarter sales, but this year was different with Direct penetration at 39 percent of total sales versus just 26 percent in Q3 last year.
Total company gross margins expanded to 43.7 percent of sales in Q3, compared to 30.9 percent in Q3 last year, driven by "increased full-priced selling in Direct, improved wholesale margins in Retail and fixed costs leverage, partially offset by increased transportation costs driven by global logistics disruptions." NLS saw a decline in operating expenses in the quarter due in large part to items related to the sale of the Octane Fitness business.
Direct segment gross margins were 57.2 percent of sales in Q3, up substantially from 38.3 percent in the year-ago comp period, primarily driven by "increased full-priced sales and favorable fixed costs leverage, partially offset by higher transportation costs."
Retail segment gross margins expanded 720 basis points to 34.3 percent of sales in the third quarter, versus 27.1 percent of sales in Q3 last year, primarily driven by "favorable customer mix and fixed costs leverage, partially offset by higher transportation costs."
Selling and marketing expenses were down to 12 percent of net sales in Q3 versus 28 percent in Q3 last year. "We spent $19 million this quarter versus $17 million last year, and the increase was in advertising to support the launch of the new VeloCore bikes," explained Konold. Advertising spend was said to be $8 million this year compared to $6 million last year. R&D costs were down to 3 percent of net sales versus 5 percent last year. Costs increased by $1 million to $4 million this year primarily driven by investments in JRNY and in product development targeting gym-goers. G&A expenses were reportedly down to 6 percent of sales versus 11 percent in Q3 last year. Costs increased by $2 million to $9 million, driven by the increased bonus in stock comp due to improved performance and initial investment in capabilities for the transformation related to the company's NorthStart strategic plan.
Operating income came in at a historical high of $44.0 million in the third quarter, a $52.3 million improvement from a loss of $8.3 million for the year-ago period.
Direct segment contribution income was $17.6 million in Q3 compared to a loss of $8.7 million last year. The $26.3 million improvement was primarily driven by higher gross profit partially offset by increased media spend. Advertising expenses were $8.0 million for the third quarter of 2020 compared to $5.8 million for the comparable 2019 period. The $2.3 million increase was said to be driven by the company's investment in the launch marketing of its Bowflex VeloCore bikes.
Retail segment contribution income was $23.4 million in Q3 compared to $4.8 million in the prior-year period, primarily driven by higher gross profit and leveraging of fixed costs.
NLS swung to profitability in the quarter posting net income of 33.8 million, or $1.04 per diluted share, compared to last year's third-quarter loss of $8.8 million, or 30 cents per diluted share.
"It's notable that we produced these results while fighting through a constant series of operational challenges, including intermittent port closures, inbound shipping delays due to an imbalance of shipping containers in China, outbound shipping constraints imposed by domestic carriers, and launching new products at factories, despite travel restrictions," said Barr.
Cash was $72 million at quarter-end, $61 million higher than the year-end 2019. Debt of $14 million was flat to year-end, and NLS had $49 million available for borrowing on its Wells Fargo credit facility.
Inventory was down 38 percent to $34 million at quarter-end, compared to $55 million at year-end. The decrease is due to $11 million of inventory being re-classed into the Octane held-for-sale disposal group and the continued heightened demand.
"Even though we have significantly expanded our factory capacity, demand is still outpacing supply," explained Konold. "To guarantee capacity in our suppliers' factories, we further increased our PO commitments. At the end of Q3, we had about $227 million of open POs for our Bowflex, Schwinn and Nautilus products. We haven't seen any indication of waning demand or saturation, and the POs have committed to our perennial best sellers. Should demand slow down, we believe we will still be able to sell through these units just at a slower pace."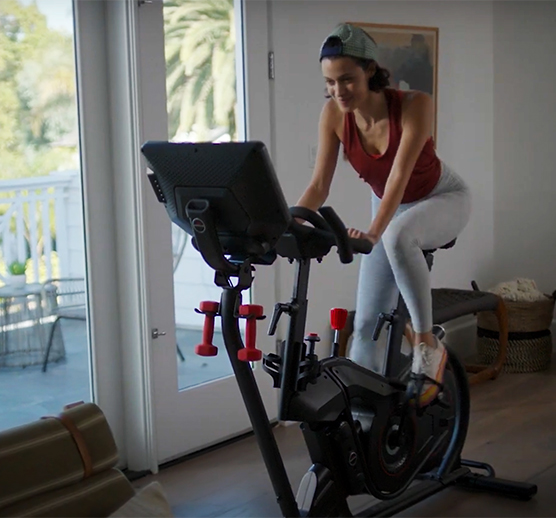 Barr said the company is investing heavily in inventory for the next few quarters. "We have an ambitious goal to no longer be supply-constrained by sometime in Q2 of 2021," said Barr. "We have increased production across our portfolio for bikes by as much as 5x and for strength products by 2x to 3x," he outlined later on the call. "We added a second supplier in late September for our incredibly popular SelectTech dumbbells and are working to further increase capacity for kettlebells and our newly launched barbells." The company sold out of the Bowflex VeloCore bike, which Barr described as "the industry's first unstationary dual-mode bike that combines leaning technology with digital connectivity."
In closing, Barr walked analysts through the progression over the last year. "The past four quarters have been a real journey for our company," he began. "We endured a devastating 2019 and lost 22 percent of our revenue base, resulting in a 13 percent cut of our workforce. Morale was low, but people could see a change on the horizon. A moderate change in the trajectory of our business began at the end of Q4 as we rolled out new products, hired key members of our executive team, began to take action against the root causes of the company's decline, and focused on personalized connected fitness. Q1 was shaping up to be a good quarter and then COVID hit, and it turned into be a great quarter. We had our first top-line growth since 2018 and began selling out of product, with the team quickly responding to meet the surge in demand. What started out as a temporary surge, became longer-term in Q2 and was a historical blockbuster quarter for the company. All channels delivered historic results. We sustained that performance and response which led to Q3 being our most profitable quarter in history."
Photos courtesy Nautilus