Lululemon Athletica reported same-store sales climbed a better-than-expected 21 percent in the fourth quarter as online sales continued to vault. Robust sales guidance is again seen for the current year as Lululemon officials expressed confidence that the pandemic has accelerated growth opportunities.
"When looking back at 2020, the fundamental drivers of our performance have been the same for the past three years, and the pandemic has only accelerated their importance in the lives of our guests," said Calvin McDonald, CEO, on a conference call with analysts. "In addition, the trends that existed before the pandemic are even more important now and will only continue to grow post the pandemic. For example, people wanting to live an active and healthy lifestyle, combined with the growth in demand for technical athletic apparel that performs and, finally, the innate need to feel part of a community and to share a human connection."
Indeed, he noted that despite the strong trends toward its Casual and On The Move offerings amid the stay-at-home economy during the pandemic, products designed for performance represented approximately 67 percent of Lululemon's total merchandise mix in 2020, a four-point increase in penetration from the previous year. McDonald added, "Consumer and health trends are only increasing, and we are in the early innings of our growth potential across channels, across regions, across genders, and across activities."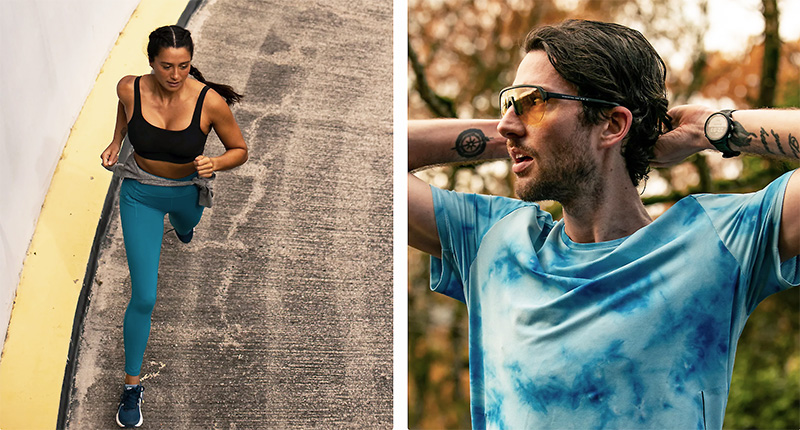 Digital Sales Expand To 52 Percent Of Sales
In its fourth-quarter ended January 31, total revenue increased 24 percent to $1.7 billion, above expectations for a mid-to-high-teens increase, which included a 21 percent increase in North America and a 47 percent increase in its international business.
The gains were driven by its digital channel, where comps grew 92 percent on a currency-neutral basis in addition to a 41 percent increase last year. E-commerce contributed approximately $900 million of revenues, or 52 percent of total revenue, up from 33 percent in the year-ago quarter. LULU saw continued strength in online traffic and conversion. Traffic was driven by channel shift, coupled with digital marketing investments, while conversion continues to benefit from strong customer response to product and investments to improve its online experience.
In its store channel, comps were down 29 percent on a constant dollar basis. Lululemon had 88 percent of its stores open on average and saw a productivity of 71 percent of last year's volume, in line with expectations. Overall, the fourth quarter was impacted by more COVID-19-related store closures and capacity constraints than initially anticipated.
Women's Led By Wunder Under And Align Franchises In Q4
Among categories, the women's business grew by nearly 20 percent in the quarter, fueled by strong performance across all categories.
Sun Choe, chief product officer, said on the call, customers responded well to its holiday merchandise offerings, which included special edition products across its Wunder Under and Align franchises in women's and its City Sweat and In My franchises for men. Choe said, "We saw broad-based strength across all of our major merchandise categories with high-teens revenue growth in women's, men's and accessories. Drilling down,, outerwear, shorts, bras, underwear, and equipment were strong classifications, all experiencing revenue growth in excess of high-teens."
Choe added that Lululemon's men's business continued to strengthen, with Q4 being the strongest quarter of the year. She added, "The resurgence we saw in our fixed waistband bottom toward the end of Q3 continued, and as men generally prefer to shop our brick & mortar channel, we look for further strengthening as our stores remain open and capacity constraints subside."
Gross margins in the quarter improved 60 basis points to 58.6 percent. Occupancy, depreciation and product team costs provided 190 basis points of leverage and a favorable foreign-exchange added 20 basis points to the margin. Those factors offset an 80-point decline in product margins due to higher airfreight costs related to COVID-19 and higher markdowns and 70 basis points in lost leverage from DTC costs, predominantly associated with COVID-19.
SG&A expenses grew to 31.5 percent of revenue, compared to 28.2 percent. The deleverage resulted predominantly from marketing investment associated with at-home fitness startup Mirror, which it acquired for $500 million last year. The higher costs also reflected the impact of store closures, capacity constraints and COVID-19-related costs, partially offset by leverage on corporate overhead due to 2020 expense reduction initiatives and its top-line growth.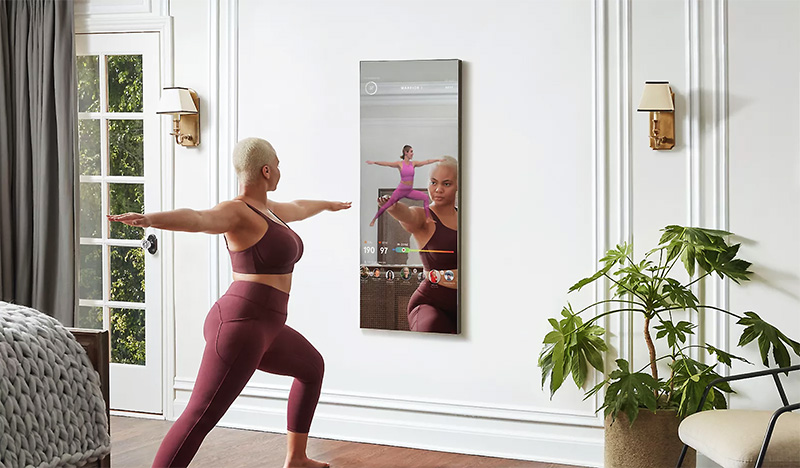 Q4 Earnings Top Wall Street Targets
Adjusted income from operations increased 12 percent to $465.7 million. Net earnings reached $329.8 million, or $2.52 a share, compared to $298.0 million, or $2.28, in the fourth quarter of 2019. On an adjusted basis, net earnings advanced 13.2 percent to $337.4 million, or $2.58, topping Wall Street's consensus estimate of $2.49.
In the year, revenue increased 10.6 percent to $4.4 billion. DTC revenue increased 101 percent on a constant dollar basis to represent 52 percent of sales. Company-operated store net revenue decreased 34 percent. Net revenue increased 8 percent in North America and increased 31 percent internationally.
Inventory grew 25 percent and is expected to be up approximately 15 percent at the close of the first quarter. Meghan Frank, CFO, said, "While we see some delayed inventory receipts due to the issues at the ports, we are comfortable with the level and composition of our inventory, and we are well-positioned as we enter the spring season."
Q121 Guidance Tops Wall Street Targets
For the first quarter, revenues are projected to be in the range of $1.1 billion to $1.13 billion, above Wall Street's consensus estimate of $991.5 million.
The sales target represents a gain of about 70 percent compared to pandemic-restrained sales of $652.0 million in the year-ago period. On a two-year CAGR basis, sales are expected to be up 19 percent at the midpoint. On a two-year CAGR basis, stores are expected to be flat to slightly negative, with e-com growing at approximately 50 percent.
First-quarter EPS is expected in the range of 81 cents to 85 cents and adjusted EPS in the range of 86 cents to 90 cents, against earnings of 22 cents a year ago. Wall Street's consensus estimate had been 82 cents.
For fiscal 2021, Lululemon expects revenue to be in the range of $5.55 billion to $5.65 billion. The guidance range implies a two-year CAGR of 19 percent at the midpoint, in line with the company's three-year revenue CAGR of 19 percent leading up to 2020 and ahead of the low-teens CAGR contemplated in its Power of Three growth plan.
The full-year guidance assumes e-com business grows modestly against the outsized strength experienced in 2020 with most stores being open in 2021. By quarter, the first quarter is expected to see the strongest online growth, followed by a decline in the second quarter and modest growth in the third and fourth quarter.
EPS for 2021 is expected to be in the range of $6.10 to $6.25 and adjusted EPS to be in the range of $6.30 to $6.45. The adjusted EPS range is below Wall Street's consensus target of $6.70 due to accelerated investments to expand Mirror as the business has exceeded initial expectations.
Five Strategic Focus Areas For 2021
FMcDonald provided an updated plans on five key strategies for 2021: stores, e-commerce, product, international and Mirror.
On stores, a focus will be on accelerating store productivity as operating constraints are further removed with the spread of the vaccine. One focus will be reengaging with customers who only shop stores while introducing many new customers who discovered Lululemon online over the last year to the stores. He said, 'We are focused on extending our omni-relationship with them so they can more fully experience the brand and community connection our stores offer."
Globally, 40 to 50 new mainline Lululemon locations are set to open globally, up from a net addition of 30 openings in 2020. Offerings such as curbside pickup, virtual waitlist and appointment shopping introduced to manage the in-store constraints were well received will continue.
Online, key strategies include elevating the guest experience by introducing more immersive category and franchise shops, investing in product details and enhanced storytelling "to bring the Science of Feel to life with new types of content and creative." Further enhancements are planned to enhance search, browse, checkout, personalization and payment methods. The gains during the year and fourth quarter were significantly ahead of initial expectations and enabled the retailer to achieve its 2023 goal of doubling e-commerce revenue from 2018 levels three years early.
In product, new technical advancements will continue across assortments for both men and women. Specific programs include a Dual-Gender Run campaign launching this week, the introduction of new tops within Train and On The Move, further expansion of core franchises, including Align. Its technical footwear is being planned for an early 2022 launch. Said McDonald, "We expect another strong year of growth in 2021, with exciting launches planned across men's, women's, key categories and activities, all driven through innovation."
International remains on track to quadruple in size from 2018 levels in 2023 with penetration still at only 14 percent of sales. A new EVP of International, Andre Maestrini, will focus in expanding across three regions: EMEA, Asia Pacific and China.
In EMEA, strong online growth was seen in 2020 with the initial focus on key markets such as Germany and the United Kingdom. In Asia Pacific, the opportunities include growing key markets such as Korea and Japan and further development in long-established market of Australia and New Zealand.
In China, 15 to 20 stores across both Tier 1 and Tier 2 cities in the mainland are planned. Said McDonald, "The health and wellness trend is growing in this market, yet remains nascent. So there are considerable opportunities ahead for us."
Finally, Mirror generated $170 million in revenue in 2020, including the period prior to our acquisition and the platform outperformed during the pandemic. Said McDonald, "We started the process to purchase Mirror  before the global pandemic began because we believe in the opportunity to strengthen our community, further connect with our guests in their homes and provide new solutions for their workout needs. I don't expect the pandemic tailwinds to disappear once mass vaccinations have occurred."
He touted Mirror as "the most versatile at-home fitness platform available on the market today" with more live classes across more workouts than any other product.
The device is being used by more than two users per household and the average member taking over six different types of workouts each month. More live classes across more workout options will be added.
To accelerate the expansion, two more production studios are being added to bring the total to three and providing Mirror with the capacity to triple the number of live classes.
Community engagement initiatives will be added. A recently-added feature, Community Camera feature, allows members and instructors to see each other during the workout. A Face-off feature added in March allows two members to compete head-to-head during the class.
Mirror shop-in-shops inside Lululemon locations will be expanded to more than more than 200 locations in North America this year and the device will be introduced to Canada in time for holiday selling. For 2021, Mirror's revenue is expected to increase 50 percent to 65 percent to $250 million to $275 million. McDonald said, "I'm very pleased with the performance of Mirror, a business that launched only three years ago. We see the opportunity to strategically invest in the business further by continuing to innovate the guest experience, drive guest acquisition and leverage the Lululemon ecosystem for further market expansions.
Photos courtesy Lululemon