Hanesbrands Inc. said Champion continued to regain its momentum in the second quarter since taking a hit in the early months of the pandemic's emergence and is now delivering double-digit gains against the second quarter of 2019. The brand is also making progress under Hanesbrands' Full Potential plan to become a $3 billion brand.
On its conference call with analysts, Hanesbrands' officials focused their analysis of second-quarter 2021 results against Q219 figures rather than Q220 given the short-term volatility of last year's comparisons due to the impact of the pandemic.
In the 2021 second quarter ended July 3:
Global Champion sales increased 21 percent over 2019 on a reported basis and 18 percent on a constant-currency basis;
Champion sales in the U.S., which include all Champion brand sales in activewear, innerwear and other segments, increased 25 percent over the second quarter of 2019;
Champion sales in its International segment increased 15 percent on a reported basis and 9 percent in constant currency as compared to the second quarter of 2019.
"We were pleased to see continued growth in the Champion brand," said Steve Bratspies, CEO, Hanesbrands, on the call.
He provided an update on the company's Full Potential plan released in May that includes, in part, a goal to build Champion into a $3 billion brand by 2024, up from $2 billion expected for 2021. The growth forecast represents a 14 percent CAGR.
Bratspies said Champion is making progress on all of its three growth priorities—growing the core sweats business, increasing its women's and kid's offerings and expanding into adjacent categories, such as footwear.
"In the U.S., we're introducing several new products in our core fleece category," said Bratspies. "We've added a number of new performance and lifestyle products in our women's line and in footwear, in the first half, we've more than doubled our points of distribution and the number of pairs sold as compared to 2019. We believe the initial momentum in our footwear business underscores the consumer's affinity for the Champion brand and their brand interest across product categories. We feel good about the momentum we're seeing in Champion, and there's a lot to be seen around the globe. We remain confident in our Full Potential plan to grow this brand to $3 billion."
Asked by an analyst in the Q&A session to elaborate on what's driving the strong growth in the quarter and the brand's long-term growth prospects, Bratspies said, "we're seeing growth across all different pieces of the business."
He said Champion's core sweats business is showing gains with the aid of some new innovation. Women's continues to grow and strong "early results" are being seen in its footwear revamp.
"I think you should think about it as innovation working," the CEO said. "And in the back half, we have new innovation coming in our core fleece business. Our Defender Series is going to launch, which is an example of our expanding usage. It's a product that's in the sweats category but is used for extreme weather. As I said earlier, we're focusing on women and different products that are focused on unmet needs. And then we have products with new benefits that are coming out in sweats. The way we think about innovation is how do we expand usage, how do we meet new needs and how do we bring new benefits to the category. All those things are coming and seem to be working well."
In China, Champion's progress "has been going well," said Bratspies. While early in expansion efforts in China, Hanesbrands is pleased the Champion's partners in the region and stores continue to open. Champion's footwear launch with Tmall has "gone well" and will roll out the stores in China in its third and fourth quarters. In other international markets, Champion is "just getting started" in Australia.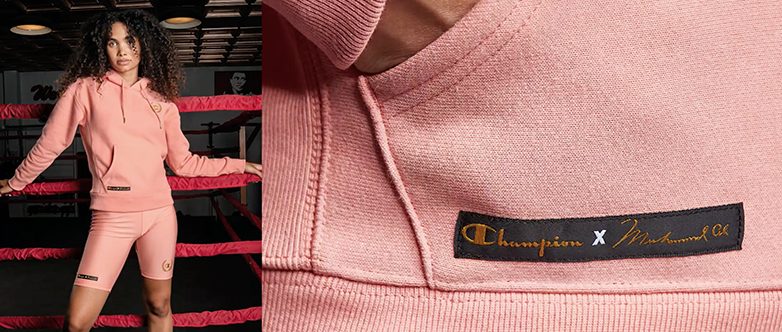 The brand also recently launched the "Be Your Own Champion" marketing campaign that's expected to drive awareness. The campaign was launched Wednesday with a partnership on a limited-edition capsule with Muhammad Ali Enterprise. The campaign's message is around "not allowing others to define who you are." Bratspies said the campaign is "steeped in consumer insight" and will be amplified by a strong digital push.
"So a lot of different things are working," Bratspies said on Champion. "We have work to do, obviously, and we're keeping that challenger brand mentality and always going after the opportunities."
Asked to elaborate on the footwear expansion, Bratspies stressed Champion isn't aiming to be a performance footwear brand but will be targeting "that lifestyle, casual wear space where the brand plays extremely well." The footwear range extends across men's, women's and kids.
"I had the opportunity two weeks ago to go out to our New York Design Center and do a walk-through of all the different products that are being developed for a global basis, "Bratspies said. "And it's exciting to see the breadth and range of our product that we're getting into. So, very focused, very driven by our consumer understanding of the products that we have."
Companywide in the second quarter, Hanesbrands increased its outlook for the remainder of the year as revenue, operating profit, operating margin, and EPS exceeded the high end of its guidance range.
For the quarter, sales and operating profit increased 15 percent and 14 percent, respectively, compared to the second quarter of 2019. Revenue momentum continued to build across its innerwear and activewear businesses globally.
In the U.S. Activewear segment, sales increased 15 percent, led by a 20 percent gain in activewear for Champion. The sports and college licensing business increased significantly from last year; however, it remains below 2019 levels as on-campus attendance in the spring was still below pre-pandemic levels.
Hanesbrands' activewear segment makes t-shirts, fleece, sport shirts, performance t-shirts and shorts, sports bras, thermals and teamwear under Champion, Hanes, Alternative, JMS/Just My Size, Gear for Sports, and Hanes Beefy-T.
Activewear's operating margin of 10.2 percent declined 290 basis points compared to 2019 as the leverage from higher sales was more than offset by higher expedited and distribution costs to meet the higher-than-expected demand and increased investments in brand marketing.
In the U.S. Innerwear segment, sales were 19 percent higher than second quarter 2019. Over this period, innerwear gained 160 basis points of market share with gains in each product category across basics and intimates. The innerwear category also experienced above-average growth due to certain transitory items such as retailer inventory restocking, government stimulus, and pent-up consumer demand.
The Innerwear segment makes men's underwear, women's panties, children's underwear, and socks under Hanes, Champion, JMS/Just My Size, Bali, Maidenform, and Polo Ralph Lauren.
In its third segment, International, sales were 11 percent higher than 2019 with double-digit growth in Champion and high single-digit growth in innerwear.
Looking ahead, Hanesbrands raised its second half and full-year expectations for sales, operating profit and earnings per share to reflect stronger-than-expected momentum in its business and benefits from the Child Tax Credit Payments in the U.S.
Photos courtesy Hanesbrands/Champion x Muhammed Ali