By Eugene Buchanan
Bikes, camping gear and backpacking food aren't the only outdoor products seeing sales inflate during this year's COVID-19 pandemic.
With their ease of use and ability to roll up and store away in an urban apartment back home, many people are turning to inflatable paddle craft as the million-dollar solution to getting fresh air while social distancing in the Great Outdoors. Sales are burgeoning in most categories, from rafts and inflatable kayaks to diminutive pack rafts (some of which weigh just 4 paltry pounds). The reason: they're easy to store, rig and paddle, making them perfect as an escape to the outdoors with friends and family.
According to the NPD Group, dollar sales of all paddlesports increased 56 percent in June 2020 versus the same time last year, with inflatables leading the charge. In June 2017, inflatables represented 19 percent of paddleboard unit sales and 9 percent of recreational kayak unit sales, with those numbers jumping to 66 and 26 percent, respectively, this June.
"We're seeing a big uptick in sales for all types of inflatable watercraft," confirmed Mark Demming, marketing director for Moscow, ID, inflatable manufacturer NRS. "With our STAR and NRS lines, we specialize in mid-range to high-end inflatable watercraft and have seen a higher demand across the board."
The reason is simple, he added: "Paddling and rafting are tailor-made for social distancing, and these smaller crafts are a great way for people to get started in the sport. And being on the water is great therapy."
Demming added that the growth has come from both their extensive retail network and direct sales. "Both have risen at roughly the same proportion," he said. "With high demand and limited supply, customers seem to be buying inflatables wherever they can find them. It's been great to see many of our specialty retail partners bounce back and have strong seasons after the lockdowns. We've always said that our business is only as strong as our customers' businesses."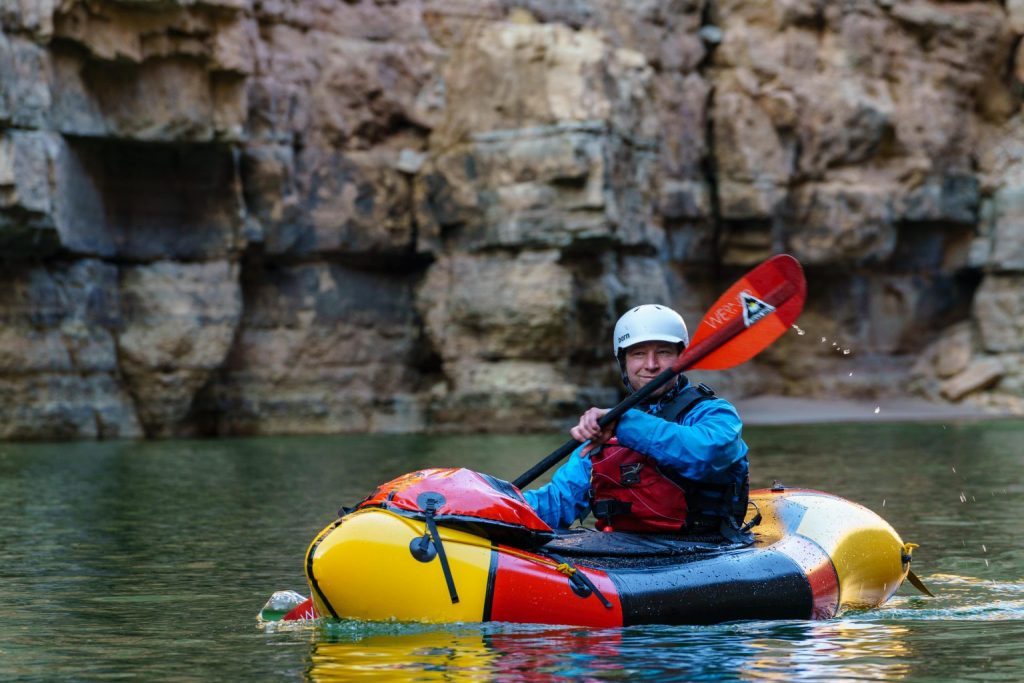 To that end, in the early days of the pandemic, NRS decided to do everything it could to support its retailer and outfitter partners. "We allowed buyers the flexibility to change and cancel preseason orders and waived finance charges," he said. "We also adjusted our MAP based on retailer feedback, provided resources on navigating the CARES Act for small businesses, created guidance to help outfitters operate safely, and offered masks and other protective equipment at fair market prices to help our partners protect their employees and customers."
All this led to increased sales for everyone — with the only downside concerning supply. "This increased demand, combined with industry-wide supply chain challenges, has led to scarcity in the market," Demming said. "In talking with our retailers, the consensus is that, if you have inflatables in stock, they are going to sell."
Echoing this is inflatable kayak-maker Advanced Elements. "Things went from a normal year to crickets in March, and then to full speed ahead," said Marketing Director Clay Haller. "I've never seen anything like it. Dealers that normally would sell 25 kayaks in a year were selling six by noon on a Tuesday."
The reason, he added, is paddling's user-friendliness and the therapeutic properties of being on the water. "It is one of the few ways that people can currently recreate," he said. "For now, we're just trying to keep up."
So is IK manufacturer SOAR out in California. "Last year was a banner year for us in sales," said Owner Larry Laba. "Then sales started slowly this year but began to pick up in mid-April. Then they went absolutely crazy in May, June and July. Right now we are almost caught up to our entire 2019 sales revenues."
While SOAR and Advanced Elements specialize in one- and two-person craft, larger inflatables with more carrying capacity are also flying off shelves. Rocky Mountain Rafts reports sales up significantly since last year, to the tune of about 40 percent overall.
"We saw sales really pick up in June and July, which were up 63 percent and a surprising 157 percent, respectively," said president Denny Hugo.
He added that the company's more affordable, small boat market like IKs has been especially strong. "The new IK we just released sold out within weeks," he said. 'I wish we would've made more. But, all of our products are selling extremely well."
Backdoor Sports, RMR brick & mortar retailer, is on the front line of this sales boom. "We've sold more rafts this year than we ever have before," said Owner Peter Van de Carr. "People are realizing that floating a river is the perfect way to get outside."
Indeed, Hugo credits the pastime's proximity and easy learning curve — at least for mild whitewater — as driving the boom. "People aren't traveling to exotic places this summer, but they still want to get out of the house and do something, and getting out on a river is safe and fun," he said.
He added that despite today's high unemployment rate, many people likely spent some of their $1,200 government stimulus check, or even unemployment funds, on ways to get outside. "Some of that money might well be going to that boat they always wanted," he said.
Colorado online retailer Colorado Kayak's (CKS), the state's largest, is also riding a wave of inflatable sales, from youth products like the 7-foot price-point AIRE Spud IK to IKs NRS Star Viper. "They're easy to use, durable, portable, and easy to store," said the retailer's J.R. Jennings. "Plus, they have a very shallow learning curve, which lets people get out on them right away, just like a bike."
A final inflatable category seeing a sales surge is pack rafts — a lightweight, portable, one-person craft that has opened up paddling to hike- and bike-to-takes and rivers. It's proved perfect for those looking to get away from the masses.
"We've been fortunate in many ways this year," said Thor Tingey, president of Alpacka Rafts, based in Mancos, CO. "March and April were significantly down, but then sales just exploded. We've been running fairly long lead times with high demand all summer." He added that while they're currently backed up in production, with 8-to-10 week lead times for delivery, "We feel incredibly fortunate that we've had such strong sales through this time."
Tingey hopes the demand carries through to next spring and is glad his company manufactures in-house. "Colorado has had excellent leadership during the pandemic, and we haven't had to face a second closure," he said. "Our supply chain has also stayed strong. We've been able to respond to the increased demand. Companies with overseas manufacturing have had more supply chain disruption."