The National Football League's Indianapolis Colts, Indianapolis Parks Foundation and Indy Parks debuted a new to the public fitness park on the city's northwest side, September 6.
The park, which includes an NFL Play 60 Challenge Course, 40-yard dash and exercise equipment, is just one part of a larger partnership between the city and its football team to encourage youth fitness and market the NFL beyond just the game of football, which has seen some declining participation numbers amid head-injury concerns.
"With more than 5,000 square feet of play space, the project provides a safe and fun place for families and children to exercise and spend time outdoors together," officials said.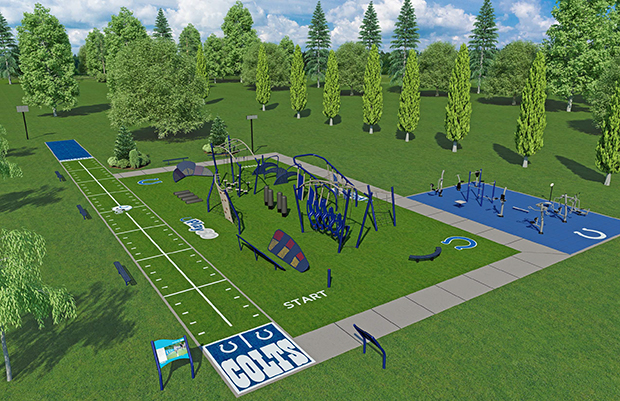 "We are very excited to open the first fitness park of its kind in the Midwest," said Colts Vice Chair and Owner Kalen Jackson. "This project at Riverside Park provides a safe play space for children and families in the Riverside community."
The Play 60 campaign is part of the NFL's commitment to encourage kids and families across the U.S. to be active at least 60 minutes every day. Since 2007, the Colts have activated a variety of Play 60 programs on a local level, including bringing 100 Play 60 shows to Indiana schools, more than 40 free football camps, free fitness clinics, wellness programs, fitness grants for school fitness programs and an annual playground build.
The new Colts Fitness Park project was funded by the Indianapolis Colts Foundation through the team's 50/50 Gameday Raffle and the NFL Foundation to support the health and wellness of the communities served by Riverside Park and the surrounding areas. The park was constructed east of the Riverside Family Center within Riverside Park and will serve more than 30,000 individuals annually.  
Photos courtesy Indianapolis Colts