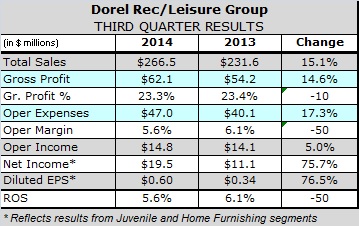 Dorel Industries Inc. reported organic revenue from its bicycle segment grew 6 percent in the third quarter, but profits were stunted by write offs of an ill-fated pro cycling venture at Cannondale.
DII reported sales at its Recreational/Leisure segment grew 15.1 percent to $266.5 million compared with the third quarter ended Sept. 30, 2013. Cannondale Sports Group (CSG), which caters to independent bicycle dealers (IBDs), and Pacific Cycle, which sells to mass merchants, both contributed to the organic growth.
CSG saw its best growth in Europe, the United Kingdom and Japan, while Pacific Cycle's growth was driven by North America. The gains were attributed to favorable weather, gains in market share and growing sales of mountain bikes and e-bikes, including electric versions of Cannondale's Contro commuter bike, which went on sale in Europe this month.
"The U.S. is still much more sluggish for [CSG], at least than it is in Europe and some of the overseas markets," EVP and CFO Jeffrey Schwartz said. "[Dealers] dont want to take the chances that they used to take before 2013 and buy a lot of inventory yet. So, I think theyre waiting again to see what the weather is going to be like the spring."
In addition to Cannondale, CSG designs and markets GT, Mongoose and Schwinn bikes and Sugoi cycling gear to the IDB channel. DII CEO Martin Schwartz disclosed CSG is now operating three concept stores.
Pacific Cycle's growth was attributed to strong consumer demand for bicycles as well as electric ride-on toys that are catching with shoppers in the mass merchant channel.
In Brazil, the company's Caloi subsdiiary contributed to operating profits after two consecutive quarters of losses despite a weak economy. Caloi's sales in Brazil are starting to benefit from the introduction of Cannondale, GT and Schwinn bikes assembled at its plant in Manaus.
The segment's strong sales growth, however, was outpaced by growth in operating expenses due to CSG's decision to exit a troubled, two-year partnership with Brixia Sport. Cannondale made an equity investment in Brixia in September 2012 to boost the profile of its pro cycling team, but was forced to take over team operations 13 months later when its partner pulled out of the venture.
"We were kind of forced to buy the rest of Brixia if we still wanted to have any type of sponsorship and thats kind of where we got stuck owning all of Brixia," explained DII's EVP and CFO Jeffrey Schwartz.
In July of this year, CSG announced it was investing in U.S.-based Slipstream Sports LLC to launch a new Cannondale team in 2015. Last week, DII disclosed it wrote off CSG's $3.4 million equity investment in Brixia during the quarter. DII also reported CSG spent another $1.1 million supporting Brixia during the quarter, while the company searched for new sponsors.
The new partnership with Slipstream will allow CSG to get the marketing benefits of being a title sponsor without the expenses of owning and managing a team, something CSG never wanted to do, according to Jeffrey Schwartz explained.
In addition to the costs at Brixia, the segment also recorded restructuring charges of $900,000 in the quarter, and $3.1 million for the nine months ended Sept. 30, related mainly to the closure of its Bedford, PA assembly operation.
Segment operating margin came in at 5.6 percent, down 50 basis points from a year earlier, but were up about 150 basis points excluding the one-time charges.
CSG and Pacific Cycle are both expected to deliver much better earnings in the fourth quarter than they did a year ago. Calois, which earns about half its profits in the fourth quarter, also stands to benefit from the addition of Cannondale, GT and Schwinn. Schwartz said that puts DII's Recreational/Leisure segment on track for a much improved year.