Hydration systems are doing more than keeping their users hydrated on the trail and road. They're also helping retailers' bottom line with improvements targeting a wide range of outdoor consumers. Innovations like hip hydration packs, retractable hoses, quicker reservoir drying, and easier filling mechanisms have combined to grow the category. Throw in a new marketing push toward versatility, including features making them useful for a range of activities, and it's moving from niche to a must-have on retailers' shelves.
"We're seeing the emergence of multi-purpose packs that are convenient and easy to use," said Matthew Connors, product line manager, Gregory Mountain Products. "Specific single-activity products like for running have their place, but the versatility of a hydration pack to use to hike with one day, cycle with another, and then take to the Farmers Market on Sunday morning, provide the versatility people are looking for in a daypack."
CamelBak echoed this versatility trend, rolling out models that accommodate everyone from commuters to recreational and diehard riders and hikers, all with the same design.
All this has led to robust sales in the category. According to the NPD Group, from January 2021 through July 2021, year-to-date sales in the wearable hydration category, including backpacks, fanny packs and bottle holders, are at $48.4 million, up 10 percent over the same pre-pandemic period in 2019 and up 13 percent over last year so far.
 Hydration accessories, including reservoirs, caps and lids, are clocking in at $49.8 million year to date, up 5 percent and 16 percent, respectively. Add hydration bottles and insulated containers to the category mix, which most hydration pack companies also make, and total sales are at $419 million, up 18 percent and a robust 29 percent year to date over 2019 and 2020, respectively.
 "It's a booming category," said Peter Van De Carr of Colorado retailer Backdoor Sports. "People of all outdoor disciplines are coming in to buy them."
Reservoirs, or bladders, are one portion of this uptick that has benefitted from recent innovation, with R&D efforts fine-tuning how to make the process easier, from filling and cleaning to hose management.
"Everyone is used to a water bottle, and a reservoir that provides that simplicity seems to be attractive to everyone," said Gregory's Connors, touting such innovations as screwcap closures, 3D forms for rinsing and drying, quick-release hoses, and refill handles all mimicking water bottle simplicity. "That familiarity makes a lot of sense to people."
Versatility and "water bottleness" aside, however, the bike market remains a cornerstone for hydration pack sales.
 "We've seen a strong increase in demand for bike hydration products over the past year," said Thule product designer Eric Hassett, touting young riders getting into mountain biking and a trail-building boom as fueling the category. He also credits COVID for increasing sales.
 "When the pandemic hit, mountain biking became the perfect escape to get exercise and safely connect with friends outdoors," he said. "It's a very dynamic market with new trails, new events and evolving technology, and we're confident that this growth isn't going to fade any time soon."
 Better bike designs, he added, have also bolstered pack sales. "With the increasing popularity and capability of long-travel trail bikes, riders are accessing longer routes that require carrying a pack, but they don't want to compromise their downhill performance," he said, making a case for packs that hug the torso and move with the users' bodies.
 A new wave of hip hydration packs for riders and hikers is also turning heads at retail. "We've seen especially strong sales of our new hip pack model in the bike category," Hassett said. "They keep the weight low at the rider's center of gravity while also keeping the heat off the back. With warmer temperatures seeming to be a trend, they've been difficult to keep in stock."
 A few hydration systems retailers are stocking for the coming season include: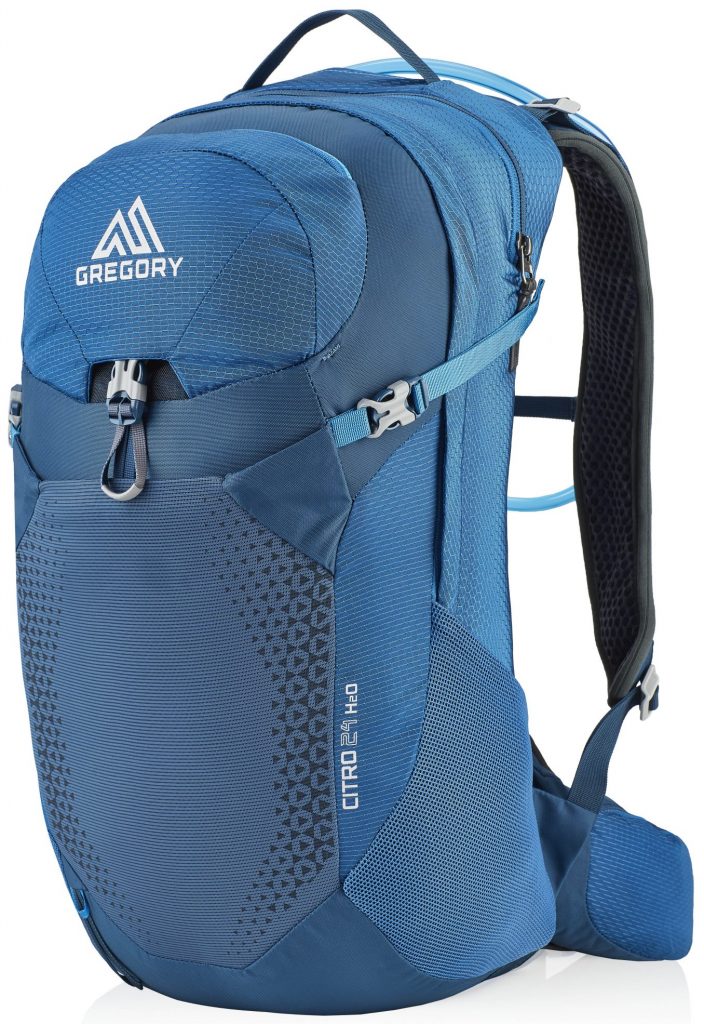 Gregory Citro, shown right, features a quick-dry, soft-molded 3-liter reservoir designed to dry like a water bottle. It comes with a drying hanger, integrated handle for a one-handed snap-and-go connection and three-quarter zippered hydration sleeve. Other features include a breathable ActiveFlex shoulder harness with magnetic sternum buckle and hose clip; VaporSpan ventilated suspension with moisture-wicking mesh and perimeter alloy frame; 3D cradle padded and pocketed hipbelt; QuickStow sunglass system; and dual-sided mesh pockets.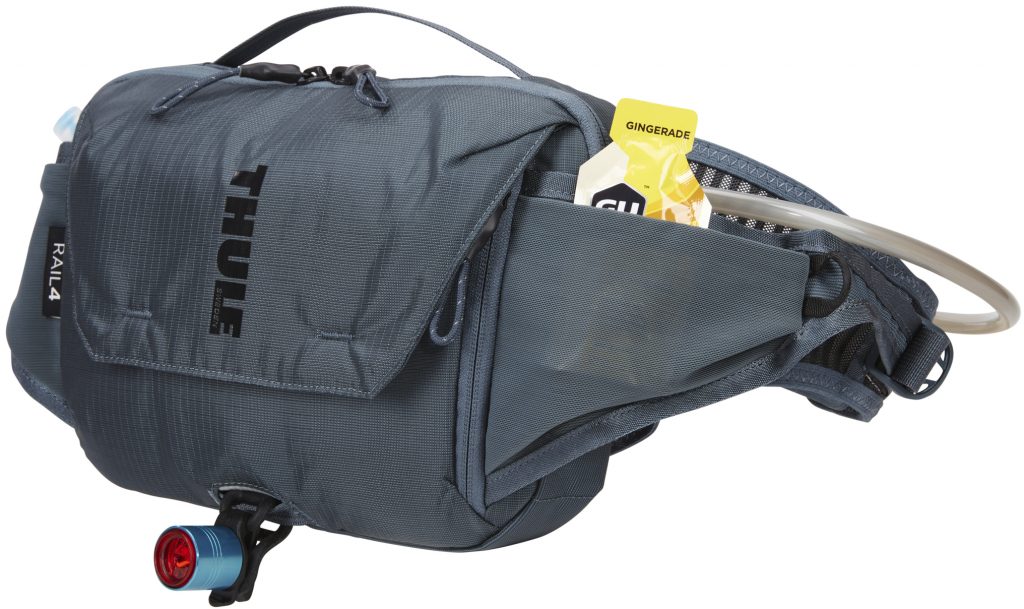 Thule Rail hydration pack line, shown left, includes models with a 4- to 12-liter storage capacity, each with a ReTrakt magnetic hose system to secure and stow the drink tube. ReTrakt technology is also integrated into its Rail hip hydration packs for freedom of movement.
CamelBak bike commuting packs include the M.U.L.E Commute 22L, with a single compartment that features a weatherproof laptop sleeve, side pockets, bike light loop, and 360-reflective detail, body-mapped Air Support back panel for air circulation, an adjustable Command Center harness with storage for small items. Also new is the larger H.A.W.G Commute 30L with the same features but designed for longer hauls with an easy-access clam-shell design and removable waist belt.
Photos courtesy Gregory, Thule