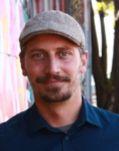 Hydrapak welcomes Jordan Phillips as its new director of sales; focusing on consumer products.

Phillips, pictured at right, has over a decade of executive management and consulting experience in a range of markets and with companies large and small. He served as national sales manager and director of sales for Gregory Mountain Products and Overland Equipment, as well as advised many top-ranking brands in the outdoor industry. Most recently with Levi Strauss and Co., he consulted with globalization practices and guided merchant business for the Americas.

"Jordan has long standing retail relationships and strong customer oriented business practices; critical for our overall growth" said Hydrapak President and CEO Matt Lyon.
"I could not be more excited to be joining a company with a history of innovation and creating leading hydration technologies. Hydrapak is entering a new phase of the business with its 'first to market' products like the SoftFlask and I think retailers will be energized with the new opportunities we're bringing to the table" says Phillips.

Hydrapak was created to satisfy the growing demand from athletes for personal hydration systems. The Oakland, CA company produces a line of hydration reservoirs, flasks, bottles, and backpacks, for a variety of sports, including running, biking, hiking and skiing/riding. Founded in 2001, Hydrapak globally distributes consumer and military products and is the leading supplier OE supplier for the world's top hydration brands
.