— Sponsored Content — 
The global supply chain is pushing into three straight years of turmoil with ongoing cost headwinds, the pandemic and geo-political disruptions. Few suppliers have successfully navigated these unprecedented times.  
OrthoLite, the largest manufacturer and supplier of sustainable, comfort insole technologies to the world's leading footwear brands, is an exception. 
Despite these challenging market conditions, OrthoLite is coming off of two back-to-back, record-setting years. Thanks to a vertically-integrated organizational structure, which the company initiated in 2007, OrthoLite has reliably provided over 400 brand partners with uninterrupted, on-time deliveries. 
Vertical Integration Is A Localized Strategy On A Global Level
OrthoLite owns and operates numerous chemical system houses and manufacturing facilities across six countries and three continents. The company has complete control and ownership of its raw materials and capacity output. When the global supply chain is functioning smoothly, this creates incredible efficiency and operational advantage. These unique points of difference from OrthoLite help the leading footwear brands mitigate supply chain risks or successfully avoid COVID-related or geo-political disruptions. When the supply chain is disrupted, the advantage of vertical integration is amplified; this is when the strategic locations of OrthoLite's factories come into full focus and benefit.
Most Tier 1 factory partners of the world's biggest shoe brands are in China, Vietnam, India, Indonesia, Spain, and Brazil. By design, these are the locations OrthoLite chose for its production facilities. OrthoLite's global footprint is conveniently located to support the production needs of the T1 factories and also it enables these brands the flexibility of allocating their production needs based on current supply chain requirements. 
While footwear brands nominate their preferred ingredients and components, their T1 factory partners coordinate and place the orders directly with each of the OrthoLite regional production facilities. In the case of OrthoLite, the company's factories are in the same country, and often the same city, as many of footwear's most prominent factories. When a manufacturer needs an order fulfilled, OrthoLite is a local provider with global reach and scale. This "local-for-local" approach allows OrthoLite to be agile, responsive and accurate in capacity predictions and empowers OrthoLite to be a reliable and worry-free supply partner for both footwear brands and their factories. Planning capacity effectively in cooperation with the brand and its T1 factory partners has also resulted in positive capacity utilization rates.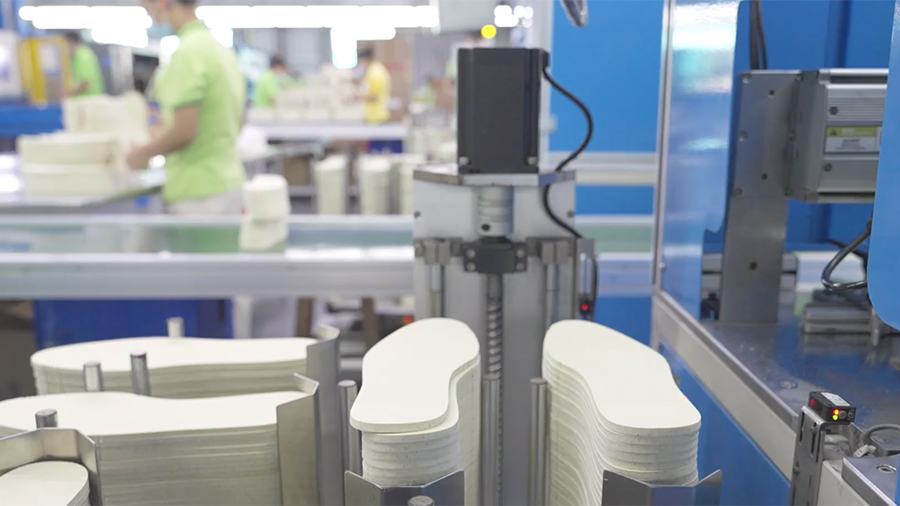 Higher Levels Of Quality Control And Cost Controls
"Owning the means of production provides OrthoLite a unique leadership position. From our proprietary chemistry to owning our production facilities, we have full control to ensure premium quality, world-class service and on-time deliveries across multiple regions," said CB Tuite, chief sales officer for OrthoLite. These disruptive past few years have normalized various uncertainties in the supply chain. But as Tuite reaffirmed, "At OrthoLite, we deliver on our promises, and we have been able to normalize the risk mitigation process for our brand partners. They can trust OrthoLite to successfully manage capacities and to successfully navigate any turbulent headwinds to meet both their needs and the needs of their T1 factory partners. We minimize risk and deliver quality on time."
OrthoLite has been working hard to continually contain costs through a variety of initiatives and investments, most notably investments into automation and other operational efficiencies, which have resulted in better resiliency and price stability for brand partners.
"Delivering value and minimizing the impact of cost increases is critically important," Tuite said. "We must deliver consistency and the best overall value from price, to quality, to on-time delivery, to customer service, to innovation, to sustainability, to our brand partners and T1s. Our Operational Excellence Team is continually making improvements and evaluating this ever-changing landscape to effectively manage our financial health as well as to provide pricing stability to our brand partners," he continued.
Maintain Consistency Of Values
Operating its own factories has another advantage. The company can live up to one of its central values by implementing best practices in sustainability. From a zero waste initiative to operational efficiencies, solar panels, wastewater treatment, to its owned and operated recycling facilities, to leading-edge research and development, and beyond, OrthoLite's factories have earned scores above the 90th percentile from the HIGG Index. 
"I mentioned risk mitigation from an operational standpoint; however, we also assess risk mitigation on the macro level around our environmental impact," Tuite noted. "We're investing in innovation and more sustainable products and processes, including new innovations, to reduce and reuse our post-production waste; this all feeds a coordinated effort to support our people, the planet and our partners."
Currently, OrthoLite offers the footwear industry the largest portfolio of proprietary eco-technologies for insoles with formulations ranging from 5 percent to 98 percent eco-content. OrthoLite can adjust the formulations to spec, giving brand partners the option to customize their own performance requirements and eco-stories.
When OrthoLite Cirql enters into initial development with brand partners in 2023, the company will also be positioned to actively help footwear brands elevate their sustainability efforts through cleaner manufacturing and a game-changing, soil-to-soil, circular product solution.
Investing In Strong Partnerships And Scalable Benefits
The essence of OrthoLite's local-to-local, vertical integration is the ability to be the most reliable and consistent supplier in footwear. As OrthoLite continues to invest in expanding its global footprint, the company's values are front and center.
"Being a great supply partner is important, but being the best partner is our top priority," Tuite stated. "This goes from our brand partnerships to our T1 factory relations. We are continually investing in our global business strategy to meet and exceed expectations." 
The company can handle the growing demand. Tuite said its factories have been meeting or exceeding expectations around lead times, capacity expansions, and on-time delivery. 
"I'm proud of our global teams and how we have demonstrated resilience through some of the most challenging years in memory for the global supply chain. And we're just ramping up," Tuite said.
OrthoLite is planning for another record year in 2023. Current projections from brand partners support volume assumptions across all categories.
Photos courtesy Ortholite