What the @#$% to drink when you run 100 miles.
By Don Reichelt
There's an old saying in ultrarunning that should clue participants into the challenges ahead:
"If you're feeling good in an ultra … don't worry, it will pass."
A lot of things can go wrong when someone commits to running
100 miles, and even the best plans will likely go awry at some point. The best you can hope for is to create a plan that delays those issues for as long as possible. The most important aspect of that plan for me is hydration.
I've learned that the hard way that when I fail with my hydration, the rest of my day quickly unravels with it. Without adequate hydration I lose the desire to eat, the motivation to combat negative thinking and I drastically slow down as a result of the lack of calories and fluids.
On June 17, 2016, I toed the starting line of the Bighorn Trail 100 Mile ultra race — a rugged and mountainous track coving 100 miles through the Little Bighorn —Tongue River areas of the Bighorn National Forest with roughly 36,000 feet of elevation change. With a 34-hour time limit to finish the event, temperatures during the day were expected to exceed 100 degrees Fahrenheit during the day in the canyons, while the night would bring a polar dip into the 30s. Having had some serious dehydration issues at a 50-mile race the month prior, I knew hydration was going to make or break my performance.
Sweaty Beast
Leading into the race, I relied upon a sweat test I took by Precision Hydration. The test involved a device that electrically fired up my sweat glands. I got a shocking wake-up call. I was sweating at a rate much higher than I was fueling for. I was losing approximately 1535mg of sodium per liter of sweat.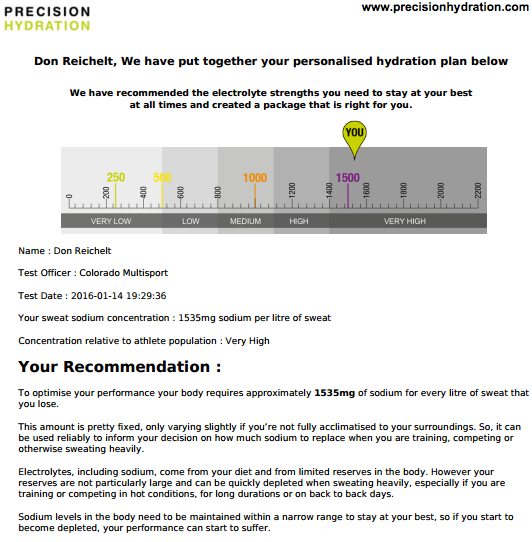 Knowing what I would face at Bighorn Trail, and on a recommendation from my coach, I turned to Skratch Labs for a new hydration strategy. Before switching to Skratch Labs, I was using an entirely liquid calorie method focused solely on calories consumed, and it was restricting my fluid and sodium intake. Making the switch away from liquid calories allowed me to focus my attention on the appropriate amount of fluids and electrolytes my body needed to sustain an endurance run. Bonus: it allowed me to eat more tasty foods along the way!
Skratch Labs Hyper, which features an astounding 1700mg of sodium per packet, replaces all the sodium I was about to lose through sweat. As their campaign says, its "for when you're about to spend some serious time and energy in the pain cave."
My new strategy heading into the 100-mile race was to chug down a bottle of Hyper 30 minutes before the start of the race and then drink 32 ounces of their exercise hydration mix every hour thereafter.
Using this strategy the month leading up to race, I had some of the most successful training runs to date. I planned all of my long runs to be lap runs, so I could reload my fluids at my car every hour while relying on my Ultimate Direction vest to hold my fluids during the laps. With this new strategy, I had confidence heading into the Bighorn 100.
Let The Games Begin
It was 11:00 a.m on June 17 and the race was on.
For the first half of the race, I nailed my nutrition strategy of two bottles of Hyper per hour while running and at least one glass of water per aid station. The weatherman was right about the 100-plus degree heat and because of it, I was working in an extra bottle of Hyper every hour to replace what I was putting out. My body felt good.
Midway though the race, it was getting dark and cold when I finally picked up a pacer. For the next 34.5 miles my pacer, Leo, knew how important my hydration strategy would be, so he set his watch alarm to go off every 15 minutes. A simple reminder that no matter how much I hurt, I needed to replenish my fluids regularly.
The strategy worked well through the night but I was still hurting a bit. Fast forward a few hours and the sun was rising. The heat followed quickly — another scorching day. My mind was exhausted from running through the night (at this point I'm around mile 70), and I began to stop drinking. Leo's alarm would sound off, and I'd only take a small sip. It wasn't enough to keep my momentum.
Over the next hour, I stopped sweating completely (not a good sign). My skin was pale and cool to the touch. We had one big, final climb until Leo's final stop and the last big aid station before the last 18-mile stretch to the finish line. At the aid station an EMT pulled me to discuss my lack of sweating… oh, and the sheet-white skin!
25 Hours Later…
To safely finish the race, the EMT recommended that I drink 20oz of Hyper and eat a fatty snack (avocado) and gave my new pacer, Nicole, signs to watch for to keep my safe. Off we went!
Within an hour, I felt better. I was drinking fluids again and Nicole was cracking the whip. We took off down the final decent, stopping only briefly to refill water bottles at the aid stations, and passing five or six other competitors as we flew down the canyon and onto the road marking five miles to the finish. It was at this aid station that I drank a glass of beer (SERIOUSLY DELICIOUS) and committed to suffering through the final push.
Leo and my Mom rode bikes alongside Nicole and me for the last leg. And I finished 30th in 25 hours and 13 minutes!
This Big Horn 100 was a challenge for several reasons: the course was brutal, and the heat was brutal. But I found success not because of willpower or running shoes, not my pacers or the rocky track. I found success because I had a solid plan to stay hydrated throughout the entire race. Hydration is the key to racing success.
Don Reichelt grew up in Iowa, and after graduating from University of Iowa, dabbled in triathlon, including a handful of Ironman finishes. When he made a dream move to Boulder, CO, Don began running more in the mountains and discovered his true passion for running countless miles through the backcountry.
Lead photo:
Don running the 2016 Bighorn Trail 100 Mile Ultra Race
Photos courtesy Don Reichelt