The race came as both Nike and Adidas late last year launched initiatives to break the two-hour marathon mark.
Writer: Thomas J. Ryan
Yesterday's 121st running of the Boston Marathon was a big day for American runners as well as for Nike, but most of the major running brands saw their key ambassadors finish strong.
While the event is officially sponsored by Adidas, Nike earned the biggest exposure on race day with its athletes ending up the three top finishers for both men and women.
On the men's side, Geoffrey Kirui of Kenya pulled away from American Galen Rupp with about two miles to go to win in 2 hours, 9 minutes and 30 seconds.
Rupp, a three-time Olympian making his Boston debut, was 21 seconds behind. Overall, Americans had six of the top ten finishers in the men's race. Rupp, running his first marathon since earning a bronze medal at last summer's Olympics, was the highest-placing American-born man since Gary Tuttle's runner-up finish in 1985.
In addition to Rupp, the American men in the top 10 were Shadrack Biwott (fourth), Abdi Abdirahman (sixth), Augustus Maiyo (seventh), Luke Puskedra (ninth) and Jared Ward (10th). It was the biggest showing in the top 10 for American men since seven of them finished there in 1985.
On the women's side, Edna Kiplagat, of Kenya, won in 2:21:52 in her first try at the Boston Marathon after wins in Long, New York and Los Angeles. Coming in third was Oregon native Jordan Hasay in her first-ever career marathon. Hasay's performance marked the fastest debut by an American woman in the marathon. The previous mark was held by Olympian and Skechers ambassador Kara Goucher's 2:25:53. Goucher and Deena Kastor, the 2004 Olympic marathon bronze medalist who works with Asics, had been the only American women to debut faster than 2:27 before Hasay.
Des Linden, running for Brooks, finished fourth. It marked the first time since 1991 that two American women finished in the top four. No American woman has won here since 1985.
While disappointed about her own performance, Linden remained optimistic about the progress of America's marathon running. Said Linden at a press event, "When the Americans break the tape, it's going to be a very great day. We're getting close."
The race came as both Nike and Adidas late last year launched initiatives to break the two-hour marathon mark. The current world record time stands at 2:02:57, a feat achieved by Kenya's Dennis Kimetto at the Berlin Marathon in 2014. Adidas also counted several of its athletes nearly reach the podium while few athletes working with Brooks, Saucony, Mizuno, Skechers, New Balance, Janji and Altra also landed among the top-20 finishers.
Skechers star runner Meb Keflezighi, the winner of the 2014 Boston Marathon, ran his 25th career marathon and last competitive Boston Marathon in 2:17:00 for 13th place on Monday. He will run November's New York City Marathon and retire at 42 years old – 42 years for 42 kilometers, the number of kilometers in a marathon. Keflezighi is the only American man to win since 1983.
On the women's side, Skechers athlete Esther Atkins came in 13.
Besides a fourth place finish for Linden, Brooks won a 12th place for Danna Herrick and 14th place for Dot McMahan. In men's, Luke Humprey, also on the Hansons-Brooks team, came  in at 24 with a time of 2:23:12.
Saucony athlete Jared Ward, who also ran in the Olympics, finished tenth with a time of 2:15:28. On Saturday, Ben True, another Saucony athlete, broke his own American record in the 9th annual B.A.A. 5-K in Back Bay. His time was 13:20, two seconds better than his previous record set here in 2015.
In her debut marathon, Liz Costello, with New Balance and the winner of the Ivy League mile title in 2008, finished at 18 with a time of 2:38:21.
Hoka One One athlete Mike Wardian, at age 42, finished at 40 among men finishers with a time of 2:27:35.
Altra Elite Tommy Rivers Puzey scored a 16th place finish in just over 2:18, an Olympic Trials Qualifying Time. Brother Jacob Puzey ran a 2:26:52, becoming the fastest Canadian to run the Boston Marathon. Altra Co-Founder Brian Beckstead negative split his signature #BostonDouble. He starts at the finish line at 4:30 a.m., runs the course backward to Hopkinton start line, puts on his bib, then runs the actual race. His official marathon time was 3:35 and his total time for the #BostonDouble was 7:38.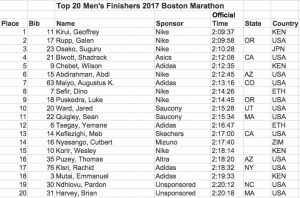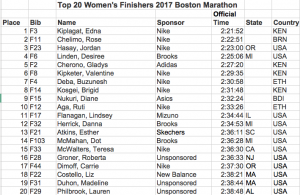 Photo courtesy Nike