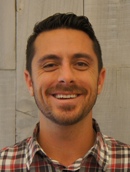 Horny Toad promoted David Duron, pictured at right, to national sales manager.
"David has been a key driver of Horny Toad's success over the past 3 years," states Brian Thompson, global director of sales and marketing. "He has strong relationships with our key retail partners and has a deep understanding of the challenges they face in the ever changing retail landscape Combined, these two strengths position David to be the ideal advocate for our mission to help support our specialty retail partners success as they transition into this new world of retailing."
Duron joined the Horny Toad family in 2008 to work with the marketing team at then sister brand Nau. Shortly after, he moved to Santa Barbara, CA and transitioned to dealer services. Duron has held many roles within this team since 2009 and most recently was the dealer sales manager for Horny Toad, a lifestyle apparel brand based out of Santa Barbara.