Conversation with Colin Ingram, Hoka One One, Director of Product
By Teresa Hartford
In 2010, Hoka One One disrupted the run category with the Mafate Trail Running shoe. While Vibram FiveFingers was leading a radical rethinking of run footwear design around a less-is-more approach, Hoka was proving that natural running motion shoes could come in a much bigger package and were seen by many as the antithesis of minimalist running.
For Hoka to come out with a maximal shoe was a zig and made everyone uncomfortable, including Colin Ingram who had just started working for New Balance in their technical run product department. He, too, questioned what Hoka was selling.
In an interview with SGB Today, Colin, who recently was appointed Hoka One One's Director of Product, said he brings a unique perspective to his role having seen Hoka from both an outside and now an inside view. He believes Hoka's visionary design and undeniable performance have made it a coveted brand among some of the best runners in the world including Jim Walmsley, pictured below, who won his second straight Western States Endurance Run this year, breaking his course record by more than 20 minutes, wearing Hoka's Evo Speedgoat trail racing shoe.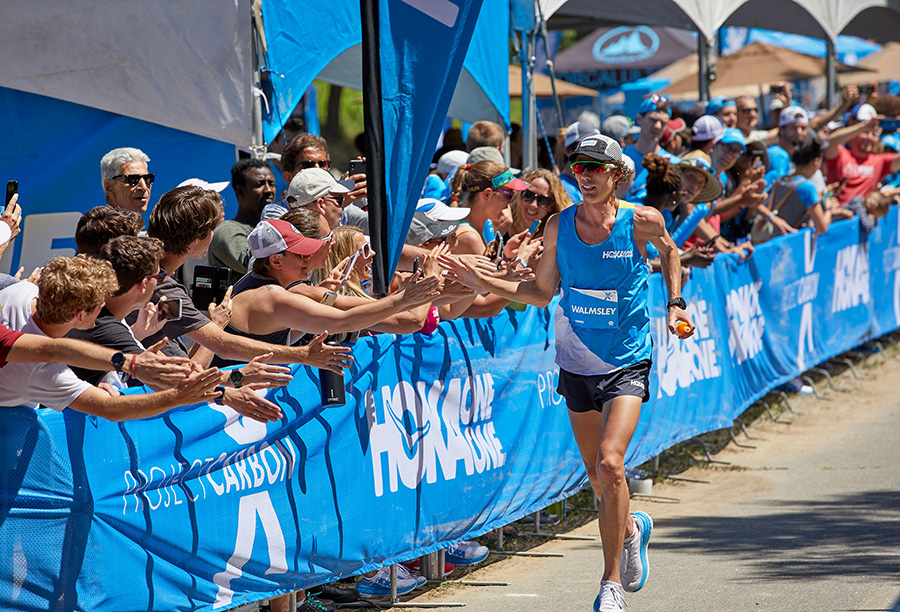 "HOKA is excited to be leading the conversation in what footwear does for athletes everywhere. We're happy to be evolving into a brand that's not the Outlier and more the trend-, fit- and feel-setter of what technical running footwear is. It's an exciting time because there is lots to talk about as the brand continues to develop," said Colin.
Jean-Luc Diard and Nicolas Mermoud founded Hoka One One, both adventure racers personally looking to create a trail running shoe that would allow them to fly downhill even if they were heel striking. Driven by trending popularity in outdoor recreation, namely, trail running, the two noticed that athletes were becoming increasingly faster and that variation in performance was most noticeable during descents. Downhill running is often synonymous with fatigue, impact and muscle strain.
At the same time, the two saw the benefits of over-size design techniques in skis while working at Salomon. Diard had formerly been president and CEO of Salomon while Mermoud was his former marketing manager. The whole oversize was created to alter the user experience and to make the activity or sport more enjoyable as it became more comfortable for the runner.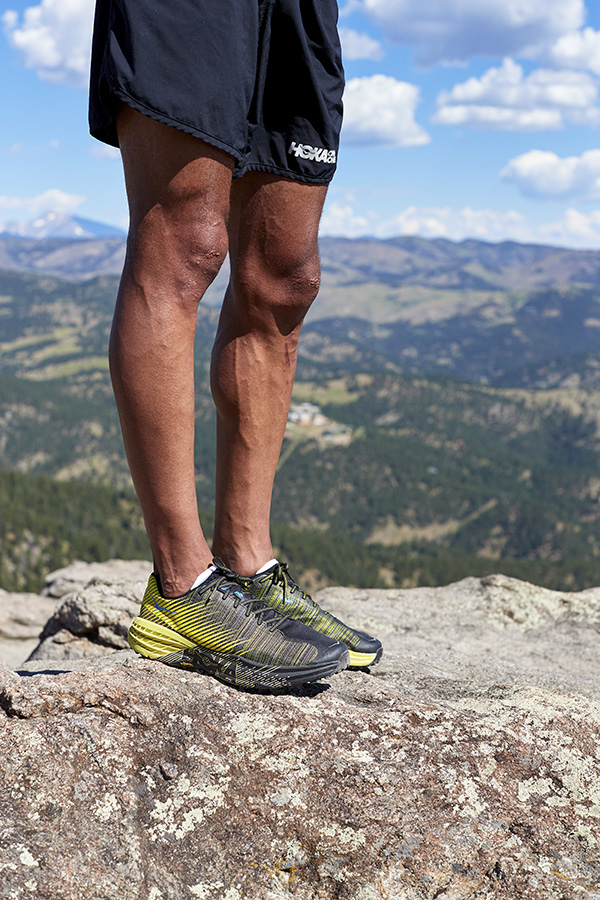 "When you try on a Hoka shoe it surprises you, and it gives you an experience that you never had in running. It changes the conversation. It's that concept and that tenant that we want to be sure we hold on to, and that we are always providing a unique 'ah-ha' moment for someone who has been wearing our product for a while. We want to be sure we're progressing that way as well," said Colin.
For 2020 and beyond, Hoka will continue to move the conventional bounds outside the norm with upcoming product launches that celebrate the Hoka point-of-view—very mid-sole focused and under-the-foot experience-driven while taking a fresh approach to cushion and how the shoe cushions the foot during stride.
"There will be concepts that will make people uncomfortable, but there will also be commercialized versions that will make the entrees more accessible to further the smooth, super-cushioned Hoka ride," said Colin.
When asked if the shoes would be for the ultra runner Colin said, "we will continue to have silhouettes geared toward our ultra athletes and where the brand was born within that space, but we can translate those findings—from the sheer number of feet we're on—and drive products for in-line consumption where the beginner runner, or an experienced runner, can have a Hoka feel underfoot derived from the original concept. It's always going to be a part of the brand DNA as to how far, how buffered and how cushioned the shoe can take you, but we also need to make that translatable into the mass market."
Does Hoka have plans to transition from a high stack to lower stack running shoe? "There are certain pieces of Hoka DNA that the brand is proud of and the cushion factor is part of that. Another is just how you stride within that cushion." He went on to say that "some of our highest stack shoes have the most encapsulated feel. You don't feel you are standing on top of a massive platform. It feels like you are sitting into a platform that helps you stay cushioned and smooth as you translate through the gate cycle. Although we are not driving toward lower stack shoes, specifically, if the Hoka DNA points are there, then there is some variability between all of the products."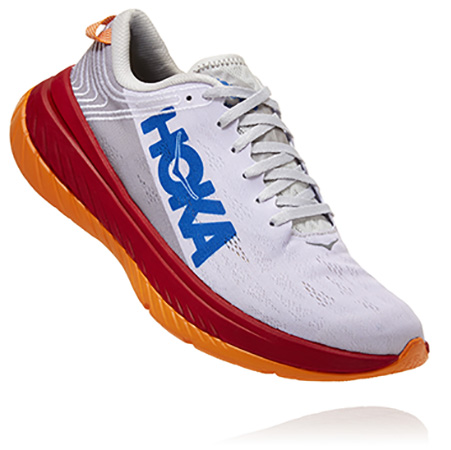 The Carbon X, shown left,  is an example of a shoe that's not a lower stack height, but it's the translation of having a Hoka stack and Hoka feel under your foot with a plate that makes the shoe fast when it comes to shorter distance trail races. Similarly, the Fly collection is built around the idea of a shoe that anyone can feel fast, and feel a more efficient version of themselves, when running in it.
Hoka is paying attention to stack heights, but the brand is more focused on the experience of what the height gives the runner from what they're used to and where Hoka can take them.
Asked if Hoka would transition into other categories, Colin said 'yes,' he sees expansion within the Sky collection.
Hoka has three collections within the brand's portfolio—Glide, highly-cushioned Hokan feel shoes; Fly, extends the cushion idea to make shoes faster and more efficient underfoot but still keeps some of the Hoka DNA and Sky, fast all-weather hikers for the ultra-athlete/trail runner.
Earlier this year, Hoka debuted three new shoes in the hike category that promise to push conventional boundaries visually as well as technologically—and another opportunity where there's a very specific end-use product where Hoka can offer a unique point-of-view.
Although the trend started last year, retailers are releasing more chunky kicks this year than last, and that sits right in Hoka's wheel-house. Recent collaborations with Outdoor Voices, shown below, and Engineered Garments have given Hoka a refined and new view on the consumer and whom they can talk to that wouldn't necessarily look at an athletic shoe. The successes they've had with the collaborations have allowed Hoka to think outside the box.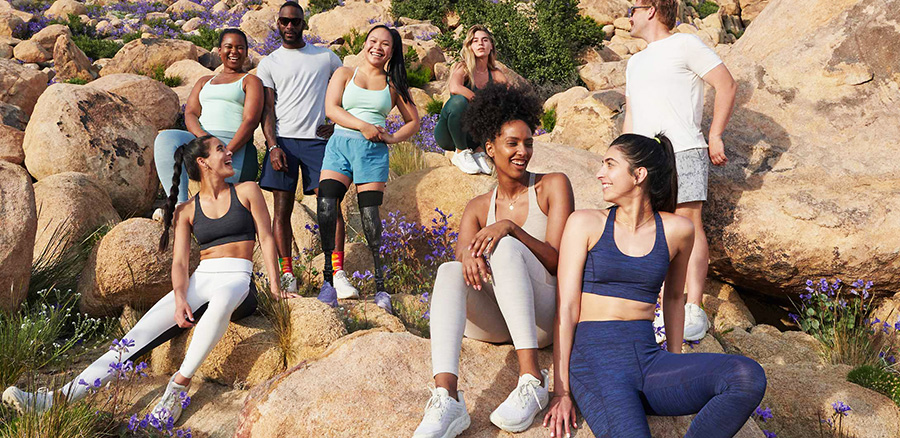 "It's exciting for us to look at the collab opportunities and showcase who we are outside of the end-product. We're working on more now. Our goal, ultimately, is to be as inclusive as possible. Sometimes it means making a more approachable shoe that speaks specifically to the consumer that wants to take that next step forward," said Colin.
Run specialty has been, and always will be, a spot where Hoka leans in heavily. Short and long-term goals are making sure that they have the sharpest tools in the shed when it comes to offering products to the consumer—knowing that they need to be in the Top 3 shoes to get out of the backroom to get on a customer's foot. Hoka's approach to design is to make sure every detail on all of their shoes delivers what the customer would hope to be stepping into and giving them that experience.
Sustainable best practices have always been a critical focus for Hoka and parent company, Deckers. From the materials in the shoes to manufacturing process, sourcing and transportation, to getting the shoes where they need to go. It's part of the brand's daily vernacular and in how they build the product. That said, Hoka's goal is to put measurable things on the table.
In Fall 2020, several new product offerings will allow Hoka to do just that, but they also want to take a methodical approach. Said Colin, "What we don't want to do is try something drastic that then has to be abandoned down the line. We want to make sure that any influence we have from a sustainable nature is something that gets "sustained" and something that becomes part of our DNA of how we create the product."
Photos courtesy Hoka One One