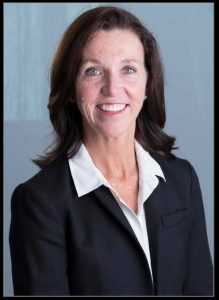 Cathy Pryor, senior vice president of operations at Hibbett Sports, made history on June 1 when she officially began her three-year term as NSGA chair of the board of directors.
Pryor is the first female to lead the NSGA board since the association was founded in 1929 and takes over for David Labbe (Kittery Trading Post), who will remain on the board as past chairman.
Pryor has been with Birmingham, AL-based Hibbett since 1988. She took Hibbett from 25 to more than 1,100 stores across the U.S.
"Cathy has been a great asset to the NSGA Board and we are truly pleased to have her help set the direction for the Association," said Matt Carlson, NSGA president and CEO. "We are thrilled that Cathy will continue to share her tremendous passion and vision for our industry in such an important role."
Pryor has been on the NSGA Board since 2012. She has served on the executive committee as treasurer/chair-elect since 2016 and was chair of the Sporting Goods Industry Hall of Fame Committee from 2015-17.
"It is a tremendous honor to support NSGA and the sporting goods industry as NSGA's board chair," Pryor said. "I have been privileged to work with some great leaders in our industry on the NSGA Board. It is also exciting to follow in the footsteps of Mickey Newsome (1988) and Jeff Rosenthal (2011) and help Hibbett make history as the first company to have three NSGA Chairmen."
Pat Donnelley (Donnelley Sports) has been elected as treasurer/chairman-elect and David Lynn (Dunham's Sports) and Mick Montgomery (Denver Athletic) were newly elected to three-year terms on the board.
"David and Mick are excellent additions to a board that has displayed tremendous dedication to help NSGA navigate a very challenging time in the sporting goods industry," Carlson said. "We are excited about the energy and expertise David and Mick are bringing to the NSGA board."
Lynn joined Dunham's in 2015 and has been the company's president since August 2018. Before becoming president, Lynn served Dunham's as senior vice president and head of finance, planning and control. He oversaw all finance, accounting, business intelligence, analytics and merchandise control functions at the company.
"I am excited to have the opportunity to share my expertise with NSGA and help make our industry better," Lynn said. "It is an honor to continue the great tradition of Dunham's involvement with NSGA that includes former Chairman Ken Meehan (2013-14) and Board member John Oehler."
Montgomery is the President and founder of Denver Athletic, which is headquartered in Englewood, CO. He briefly pursued a pro baseball career after he was drafted out of high school by the Baltimore Orioles and then started his career in the sporting goods industry as a road salesman for B&H Sports. Montgomery and his brother bought a B&H franchise and a few years later in 1985, Mick started Denver Athletic to focus on custom uniforms, equipment and team sales.
"I am beyond humbled to be selected to the Board of Directors of NSGA," Montgomery said. "I'm looking forward to the opportunity to advocate for our members, to help the team dealer side of the business and to support the industry I love."
Donnelley joins the NSGA Board's Executive Committee. He is the Owner/Partner of Donnelley Sports, a team dealer which has been in business since 1975 and does business in Idaho and Nevada. He will serve on the Executive Committee with Pryor and Labbe.
"Pat's expertise and enthusiasm for the industry has been a tremendous asset to the NSGA Board," Carlson said. "It is great that he will have an increased role with NSGA."
Past Chairman Randy Nill (Nill Bros. Sports) and Oehler reached the end of their terms on the NSGA Board.
"We want to thank Randy and John for their dedication and service to the NSGA Board," Carlson said. "We look forward to continuing our relationships with them and their businesses because their knowledge is invaluable."
Photos courtesy Hibbett Sports