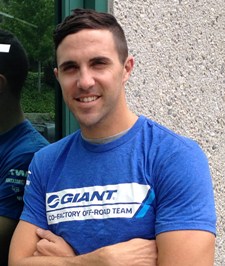 Giant USA has hired Nick Fisher as a new account executive to work with Giant and Liv retailers in Utah, western Wyoming, and southeastern Idaho.
Fisher, who is pictured to the right, was previously the sales representative with Scott USA in Utah.
"Nick has a proven track record of smart, aggressive growth with Scott," said Karsten Hagen, Giant USA's Regional Manager-Northwest. "He also gained a keen insight to retail operations through his management and purchasing experience at Diamond Peak Mountain Sports in Eden, UT. And because he's a national champion in XC, he understands what it takes to focus on a goal and win!"
In 2012, Fisher won the USA Cycling Mountain Bike Cross Country National Championship in the Men's Cat 1 Senior 25-29 division. After a short training period at Giant USA headquarters, Fisher is now meeting retailers in his territory.