Affordable equipment, no lift tickets and winter solitude on your favorite trails – snowshoeing has it all.
Writer: Carly Terwilliger
When you move to Colorado, the starter kit for outdoor experiences comes with hiking shoes, a mountain bike and skis or a snowboard. But one of your first add-ons should be a good pair of snowshoes and a willingness to breathe the frosty air while you crunch through stunning trails that can be shoulder-to-shoulder during peak hiking season.
"It's easy and pretty safe to enjoy solo outings, relative to skiing, climbing and mountaineering activities," said Sarah Courtney, category manager, winter products at MSR. "So if you find it difficult to always round up trip partners, you can still get fresh air and exercise in winter." Courtney added that of course it's always safer to have a buddy, especially in avalanche-prone areas, but like hiking alone solo snowshoeing can be peaceful and rewarding in addition to being a great way to get moving in the winter months.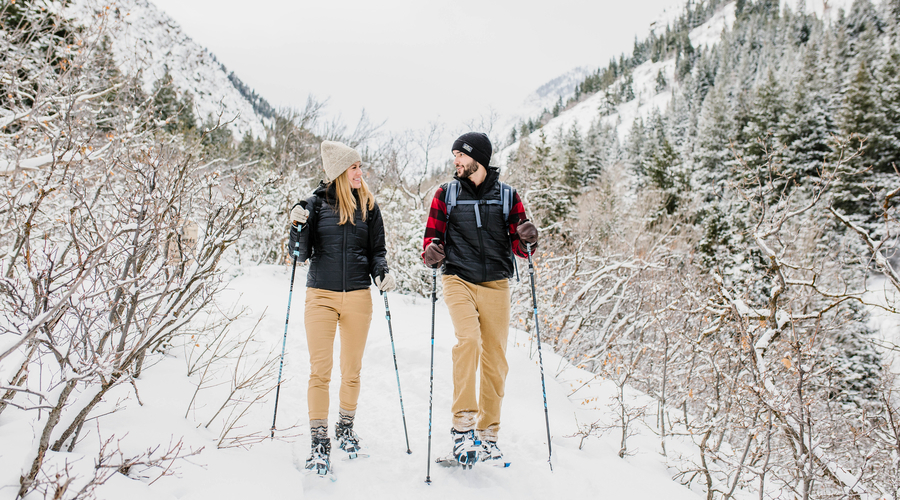 Yukon Charlie's VP of Sales Greg Lomen agreed that snowshoeing is a "fun, inexpensive outdoor winter activity" that is "growing in the urban markets." The Colorado-based brand is seeing "a great deal of families using this as a fun afternoon activity," as well as "active women who want to get outdoors" and social media-addicted millennials. "Snowshoeing looks great on Instagram," Lomen pointed out. "It's hard to take a selfie snowboarding and actually look good. Snowshoeing creates very 'postable' content for social media."
While the core demographic, according to Courtney, is between the ages of 26 and 45 and currently contains more men than women, the activity is poised for a popularity boom. "We are working to reach out to new customers, as we recognize our traditional MSR customer is evolving quite a bit," she said. "It's a much more diverse bunch, and there is a lot of value put on the company behind the products." As in every corner of the outdoor market, "people want their money going to companies that stand for something and have a story to tell."
New consumers are certainly on the way, but in the meantime the core is thriving. The activity has already been embraced by "trail runners that wanted to run and hike on the same trails" they enjoy during snow-free months, said Vermont-based Dion Snowshoes Founder Bob Dion, who is a competitive snowshoe racer and was listed as one of the "10 Legends of Trail Running" by TrailRunner magazine. "But now it's triathletes and bikers as well." Also new to the tribe are "backcountry enthusiasts such as snowboarders, skiers and snowmobilers," said Lomen from Yukon Charlie's.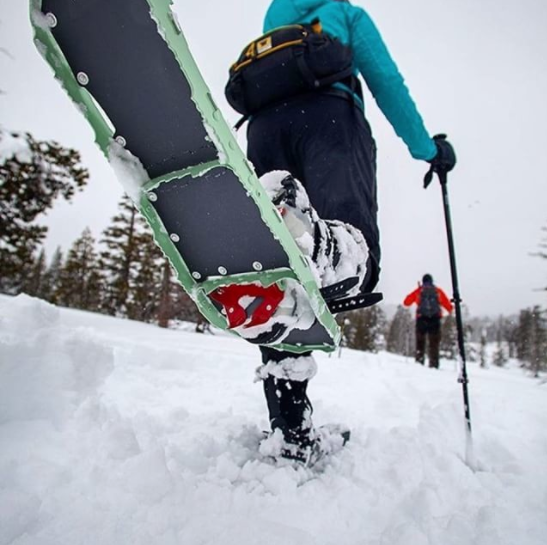 With all this going for it, why aren't even more people flocking to the snowy trails? Snowshoes are easy to find, both in brick-and-mortar retailers and online juggernauts like Amazon and Backcountry. "I believe this is partially about just knowing where to go – good trails that are safe and navigable in winter," opined Courtney. "And also just awareness of the of the sport – it's not quite as glamorized as skiing, so people don't really appreciate it or know about how it's a great way to get exercise in winter without all the commitment and skills required of skiing and snowboarding."
Also, just like any sport that requires equipment, one bad outing with crappy gear can put a damper on the whole experience. "People buy cheap equipment that breaks or doesn't work properly," said Dion, "and they don't like it. We try to get them to try good quality loaners, or rentals at events, before they buy the wrong equipment." The right equipment is crucial and more often than not comes with top-notch customer service.
MSR, for example, manufactures in Seattle and stands by its warranty, said Courtney. "We also offer a great repair service that works hard to keep things out of our landfills and extend the life of our already highly durable products." Translation: buy one pair and enjoy them for several seasons, with no additional buy-in needed.
We'll leave you with Lomen's pithy, enthusiastic exhortation to join him and the rest of the snowshoeing community on the trails this winter: "You need to have snow. Travel to Colorado!"
Photos courtesy Yukon Charlie's and MSR