Gauging Bike-Consumer Sentiment At Interbike Fall Cyclofest 2016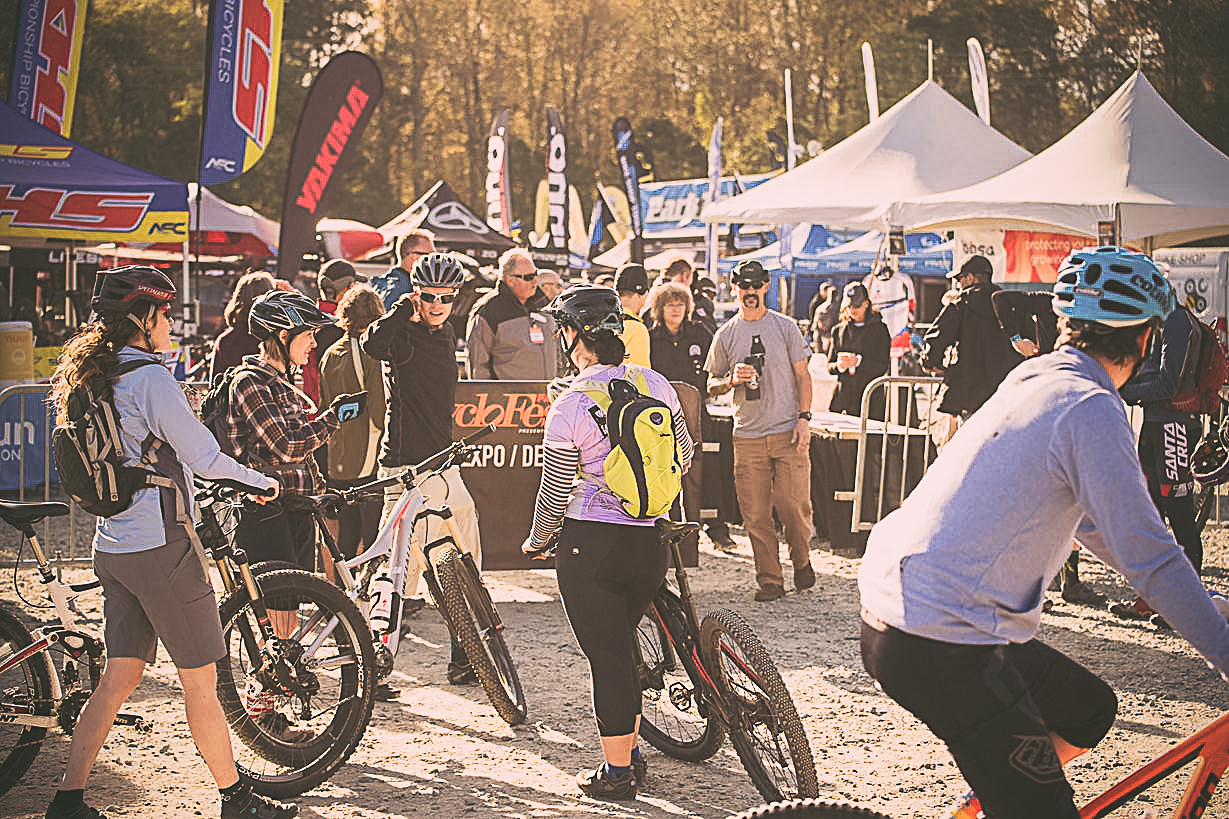 SGB reports from the event last weekend in Charlotte, NC.
Beautiful weather, an unprecedented selection of demo bikes and the best mountain biking trails in the region drew thousands of core cyclists to the first Interbike Fall Cyclofest in Charlotte, NC this past week.
The consumer end of the event, held over the weekend, aims to become an East Coast version of the Sea Otter Classic, which draws about 65,000 to a racetrack near Monterey, CA every April for a weekend of racing, test riding and product exhibitions.
East Coast Riding
Interbike Fall CycloFest was held at the U.S. National Whitewater Center (USNWC), home to 25 miles of mountain biking trails, a man-made whitewater rafting channel, 40-foot climbing tower, zip lines, canopy tours, rope courses, outdoor specialty store, and a significant live music venue. To generate additional traffic to the event, Interbike worked to bring the third race in North Carolina Cyclo-Cross's (NCCX) season to the site October 22. More than 300 cyclists from as far away as Michigan and Pennsylvania were registered to race at the event.
By 3:00 p.m., Trek had sent its fleet of 40 mountain bikes on 100 test rides, or about twice what it does at a single dealer event, said Field Marketing Rep. Tom Jenkins. "I'm happy with that," he said.
Interviews conducted Saturday indicated the crowd consisted primarily of core mountain biking enthusiasts and cyclocross racers. Women — many decked out in cyclocross or mountain biking togs — outnumbered teens and kids.
Scoping New Gear
Of 10 consumers we interviewed in the exhibition area, all owned at least one mountain bike, while seven owned two or more bicycles and five competed regularly. Most had learned of the event through the 300-member Tarheel Trailblazers – Charlotte's Mountain Bike Club – NCCX, the USNWC or their local bike shop. Many said they planned to spend money on their hobby during the coming holidays.
Among them were Tarheel Trailblazers' Matt Leach, 30 and Eric Aho, 33. The Charlotte residents ride four to five times a week, often at the USNWC, and estimated they spend $2,000 to $3,000 a year on gear. "I'm here to look at all the new bling and technology and also experts I could talk to specifically at Shimano and SRAM about their hydraulic brakes," said Leach, who owns an Intense mountain bike.
"I'm here for the touch and feel," said Aho, who owns a Santa Cruz mountain bike. "The stuff I'm interested in buying most shops don't carry."
Both ended up riding a Levo, the first e-mountain bike Specialized has made available in the United States, even though neither came to the event planning to demo an e-bike."It was way more fun than I expected it to be," said Leach. "But I would never have it as my primary bike."
Despite concerns that pedal assist bikes might cause more erosion than conventional mountain bikes, there were waiting lists to demo e-mountain bikes at the Specialized, Trek and Haibike tents for much of Saturday.
Kevin Tighe and Brittany Forlidas, both in their 20s, were cruising the booths after they competed in a cyclocross race. Between them they own a Fuji and two Cannondale bikes, which they purchased at Performance Bicycle or online. "This is my second time attending a cyclocross event, and now I think I need a second bike," Forlidas said.
Darrell McDonald, 56, was on hand with three other members of the Live It Xtreme Racing team to check out whether they should switch from Scott to Norco bikes. The team, whose more than 150 members compete in road and mountain biking, crits and triathlons, is sponsored by the Live It Xtreme Sports & Fitness bike shop in Mooresville, NC.
"To be able to walk up and ride the bike on trails I ride on all the time is great," said McDonald, who also swung by the Shimano tent to ask questions about his Dura Ace derailleurs and stopped in at Wahoo Fitness to see their newest Kickr trainer."We have a lunch ride every day at work," said McDonald, who works for Hendricks Motorsports in Mooresville. "Cycling is getting really big in NASCAR."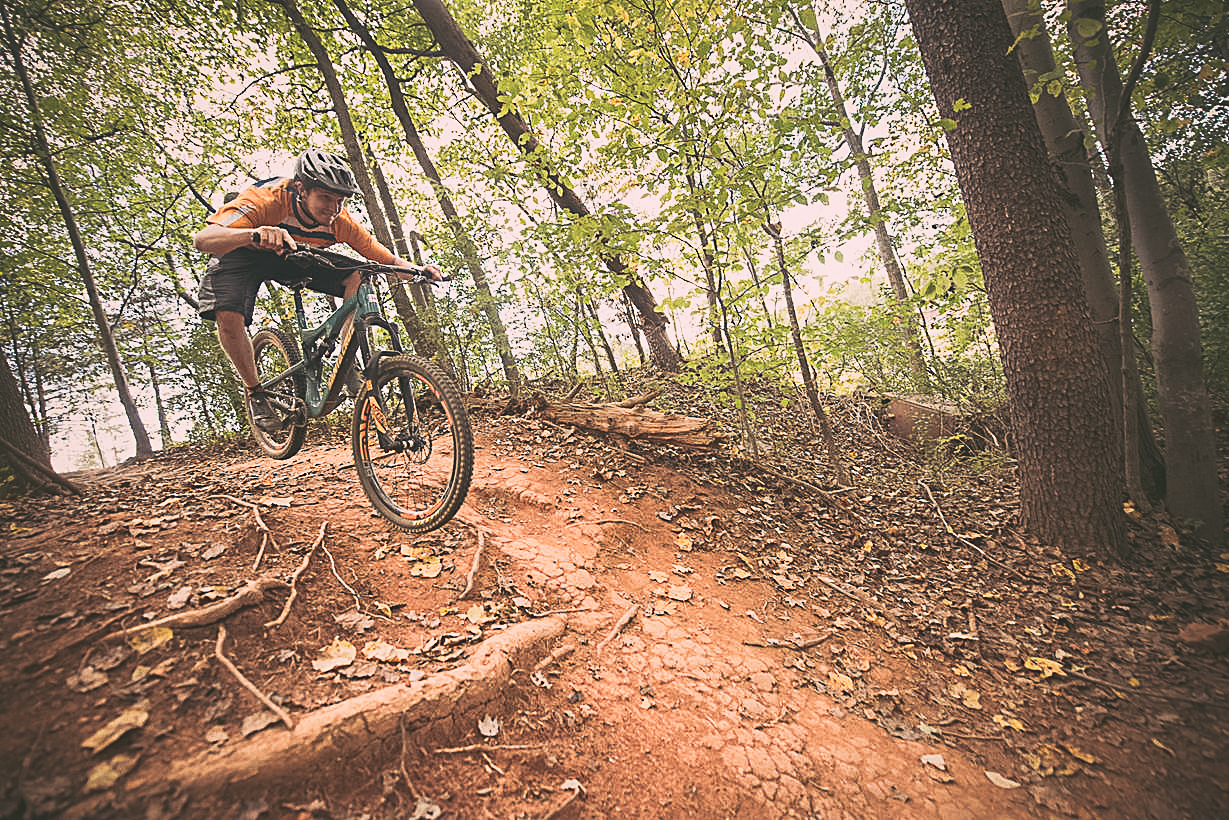 At Fox Factory Racing's booth Steve Watkins helped several mountain bikers adjust the sag in their Fox rear suspension. "I just helped a woman on a 49er with 130-inch travel who asked, can you help me set up my bike? It feels heavy," noted Watkins. "I took out a few volume spacers and sent her out. She came back and said it felt like it was 10 pounds lighter. You give someone a little help and advice and you have a customer for life."
A Female Gold 'Rusch'
About 60 women turned out for a Saturday morning trail ride with endurance cyclist Rebecca Rusch, including about 20 volunteers from the local Dirt Divas mountain biking club and the North Carolina Interscholastic Cycling League, which is working to launch the state's first mountain biking league for middle- and high-school students next spring. Rusch and SRAM added Interbike Fall CycloFest as the fourth and final stop of the SRAM Gold Rusch Tour, which offers rides and clinics for women riders. SRAM backed the tour after Rusch walked into their tent at a race for mechanical help and left feeling intimidated.
"Women feel like it's a safe and welcoming environment," said Tina Brubaker, who volunteers as a coach at SRAM's Gold Rusch stops. "We had good discussions about the lack of women-specific bikes on the high end, the challenges female mechanics are facing and working through NICA to get younger girls into the sport. It's about building a sisterhood."
Rusch has parlayed her victories in the Leadville 100 and her reputation as "The Queen of Pain" into a career as a motivational speaker and author and her presence — as well as that of the cyclocross races — generated a steady stream of traffic to SRAM's booth, said Cleve Blackwell, an independent rep who was manning the booth Saturday. "There's been a very wide range of consumers asking questions, from the person who just bought a bike to the pro rider," said Blackwell. "They want to see what's not in the bike shop, like this $3,200 wheel set. The women's thing is huge right now."
Photos courtesy Cyclofest 2016