Italy's Garmont srl has become the second major European ski, mountaineering and telemark vendor to buy out its North American distributor in recent years.
Achille Morin has bought the 50% of Garmont NA, Inc. his Garmont srl did not already own from partners John Schweizer and Bill Hill. As part of the sale, the partners also sold Morin their 5% stake in Garmont slr, which has worldwide rights to the Garmont brand.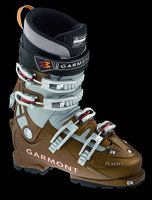 Schweizer, who served as president of Garmont NA, and Hill purchased their interest in the distributorship in 1996.
"Today, Bill Hill and I completed a transaction to sell our interests in Garmont NA, Inc. and Garmont srl to our friend and business partner Achille Morlin," Schweizer wrote in an e-mail sent to industry friends and associates Wednesday. "We have had a very satisfying and financially successful 12 years running Garmont NA, Inc. and developing the Garmont, Bridgedale, 7tm and Life-Link brands. However, with the changing business environment and with diverse opinions on company direction, we concluded it was the best time to take our investment and pursue new interests. Our plan is to take a long summer vacation and then return to the business world in the fall to explore these new opportunities."
Garmont's two biggest European competitors have, or are in the process of, restructuring their businesses in the United States. Italy's Scarpa bought out its U.S. distributor Black Diamond in 2005 and Dynafit split with Life-Link Backcountry Travel in 2007. Garmont NA subsequently bought Life-Link.
In an interview, Schweizer described the parting as amicable and inevitable given the continued fall of the dollar against the euro. For more details from that interview, subscribers can read Monday's edition of The B.O.S.S. Report.