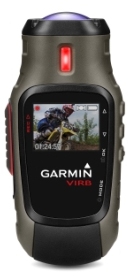 Garmin International Inc. has secured a sponsorship as the official action camera and training watch sponsor of 2014 Tough Mudder events, where it will promote its new VIRB Elite action camera and a multi-sport version of its fçnix 2 sports watch.
Garmin will introduce a new, darker color option for the VIRB Elite action camera – shown to the righ – previously only available in white. It will also have an elevated presence at each of the 37 Tough Mudder events in the United States and Australia, where the VIRB Elite and the fçnix 2 will be available for purchase. Tough Mudder markets its events as "Probably the Toughest Event on the Planet."

"Garmin has been sponsoring marathons and triathlons for years, so we're excited to branch out to a new group of competitors with Tough Mudder for a year of exciting obstacle course events," said Jon Cassat, Garmin vice president of communications. "The VIRB Elite, in a new mud-friendly color, will be perfect for capturing the crazy footage on the course, while the incredibly tough fçnix 2 is the ideal training tool to prepare athletes for the strenuous event."
The VIRB Elite can embed data such as speed, distance, elevation, and G-force into videos using the free editing software, VIRB Edit. VIRB Elite is compatible with ANT+ fitness sensors, like a heart rate monitor or power meter, and that data can be embedded into the video during the editing process. Additionally, fçnix 2 can be used as a remote for VIRB Elite, to start and stop recording and take stills.
Garmin has also upgraded the Fçnix 2 with new multisport features like advanced running dynamics and swim mode to help participants train for the Tough Mudder's rigorous 10+ mile run and obstacle course. Since fçnix 2 is extremely rugged with a water rating of up to 50 meters, it can be worn during training and even during the event itself without fear of damage.

This is the first year that Garmin is sponsoring Tough Mudder.