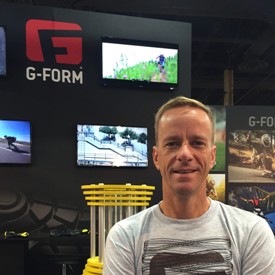 G-Form, a Providence, RI-based impact protection brand, officially named former Cannondale bicycle executive Bob Burbank as its new chief executive officer (CEO).
Burbank, shown to the right, will work closely with founder Dan Wyner, who will assume the newly formed Chief Creative Officer role and focus on new product materials and categories for G-Form.
Burbank brings more than 15 years of senior management experience and a proven track record within the cycling, outdoor, electronics, medical, aerospace and consumer products industries.
"I'm thrilled to welcome Bob to G-Form," said Dan Wyner. "With his experience in the outdoor space and proven leadership, Bob is the right person to optimize our brand growth and drive our global business goals."
Burbank said that G-Form is revolutionizing the performance and protection category.
"The incredible portfolio of products, the passionate and dedicated G-Form team, creates a balance that uniquely positions the brand for success," said Burbank. " I am honored to be leading this team and helping athletes around the world push their limits while being protected."
Most recently, Burbank was the senior vice president of IBD and Global General Manager for Cannondale. Burbank was instrumental in driving the financial turn-around of the Cannondale brand by doubling top line growth and substantially improving profitability from 2010 to 2014. During Burbank's tenure he expanded the brands breath of bike lines and added complimentary categories including helmets, apparel and P&A.
In addition, Burbank improved the overall business performance of CSG by executing cost structure reductions, reduced complexity of the product line and improved availability of core products. Prior to joining Cannondale, Burbank was the vice president of product development and quality services for Burton Snowboards. While at Burton, Burbank lead product development in categories such as footwear, protection, apparel, hard goods and soft goods from concept design through industrialization, while leading a global staff of (200+). His key areas of responsibility included product development, manufacturing, quality, strategic sourcing (USA & Asia Pacific) and compliance.
G-Form LLC is a pioneer in the advancement of impact protection technology for athletes. The company's proprietary materials and composites combine high-level impact protection with comfort, style, and complete freedom of motion. G-Form protective equipment is used by extreme athletes across multiple categories, including MTB, BMX, skateboard, snowboard, soccer, and professional stunt. G-Form also makes protective cases for consumer electronics and has several exclusive OEM partnerships.