With the rise in popularity of living the outdoor lifestyle comes the innovation of tools needed for such adventures.
Writer: Travis Poulin
Most avid campers have some sort of kitchen box with utensils needed for outdoor cooking. These boxes can get heavy and bulky as necessary items for outdoor eating are added. Many companies have tried to condense some of these utensils into lightweight, multi-functional tools that are compact, lightweight and useful.
Backcountry and multi-day trips are adventures where it's crucial to have multifunctional tools. Most backpackers constantly count grams to find what they need to eliminate from their packs without removing any necessities. The more tools backpackers are able to have condensed into one unit, the better off they will be, but there are certain necessities needed for camping and cooking on any adventure.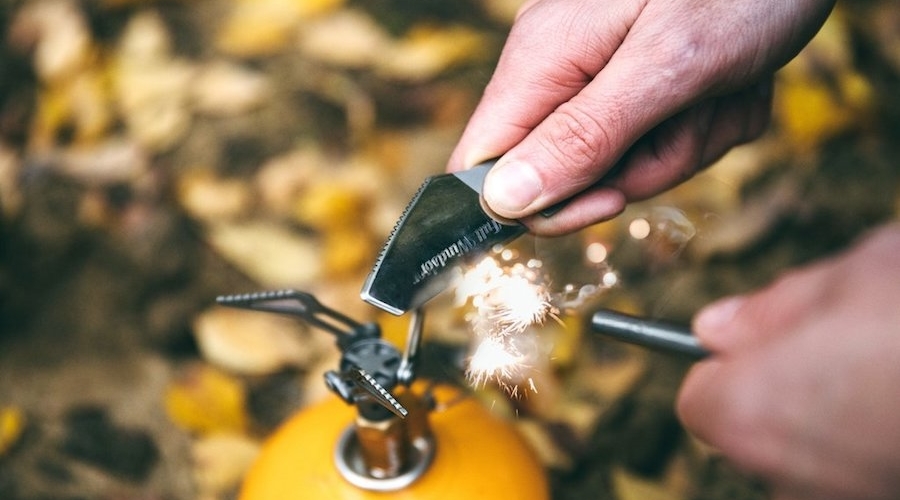 Camp
A new style of multi-tool will debut at  Outdoor Retailer Summer Market. The tool may be the perfect utensil for both car camping and backcountry adventures. Full Windsor – a United Kingdom company that is relocating to the U.S. this year – will be releasing the Muncher, a sleek multi-utensil made from a single piece of titanium. The Muncher weighs 20 grams and, though it may appear simple, features 10 tools in a single piece of titanium.
The 10 in 1 multi-tool includes a spork, serrated knife, fire flint, peeler, can opener, bottle opener, pry bar, box cutter, cord cutter and a flathead screwdriver. The tool is three inches long with a lot of functionality built into one small package.
Chris Dickey, of PurpleOrange PR, said the tool was a long time in the making. "Full Windsor started out as a bike tool manufacturer, but as they started to take longer bike trips they realized they needed multiple-function single-tools. They wanted to distill multiple complex functioning tools into one streamlined design, and they finally did." The Muncher's carrying case is equipped with a flint and carabiner.
The Full Windsor Muncher project raised $268,539 on Kickstarter from 4,553 backers to get the invention on the market.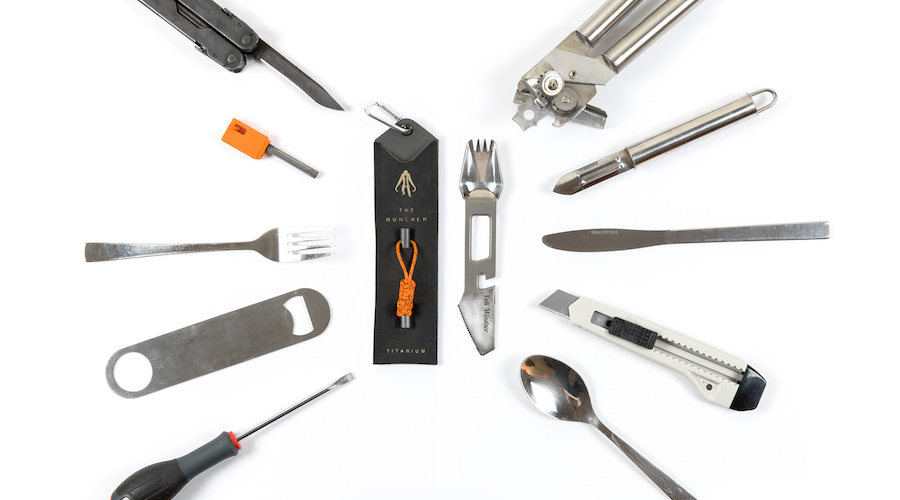 Bike
Bikes are very much like cars – you never know what is going to go wrong at the worst possible time. Having proper tools is crucial when going on long bike rides if you do not want to end up walking for miles. The rise of "bikepacking" (long distance, multi-day bike trips where the rider self-supports with all gear on the bike) has made the importance of compact multi-tools even more important. Having the ability to conduct a field repair on a bike is critical in the remote areas bikepackers travel.
Full Windsor also has a line of bike tools. The company makes two bike tool designs: the Nutter and the Breaker, each with special functions for field repairs.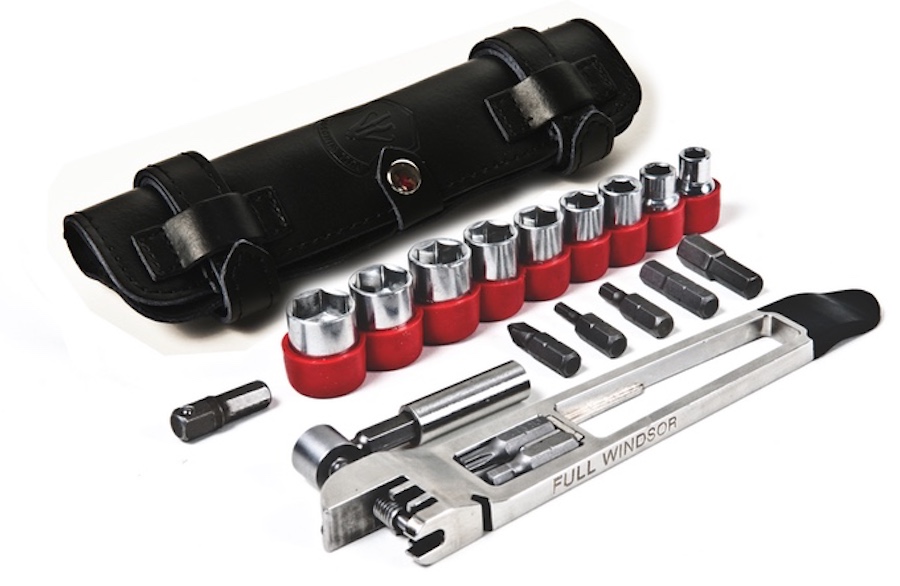 The Nutter features a tire lever, box head spanner, spoke key, multiple hex tool bits, two screwdrivers, a T25 torque key, tool bit extender and, of course, a bottle opener. The Breaker is a similar tool, but includes a chain-breaker tool.
"Multi-tools are essential for bikers," Dickey said. "These guys are traveling to the middle of nowhere on their bikes and they have to be able to fix the many things that can go wrong."
Photo courtesy Full Windsor