FuelBelt launched a redesign of its Helium hydration products, race belts and hand helds earlier this year and also introduced its first line of reflective products to coincide with the brand's 20th anniversary.
Writer: Thomas J. Ryan
The redesigned hydration and race belts are made from Helium Hex-Foam – specifically designed air channels to increase breathability and performance. The belts are the lightest in the category and bounce-free. The expanded Helium line includes Ultralight, Ergo and Uno Hydration Belts – and Storage Belts, Race, Stretch Race, Sport Pack and Slim Pack. The Neon collection includes reflective film bands; nylon flare wrist, arm and ankle bands; clip-on fire light; fire flare band; and an ergonomic, unisex mesh vest.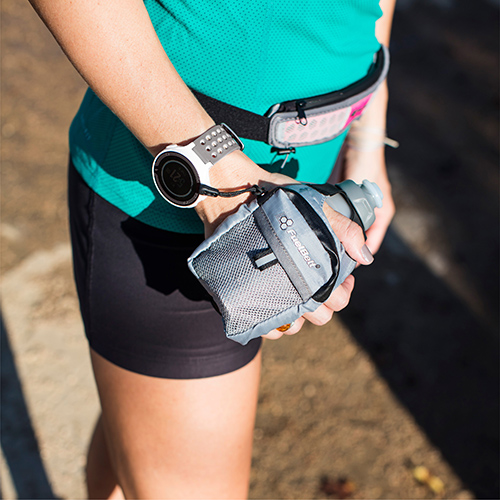 The anniversary collection follows Implus' acquisition of FuelBelt in 2015. We caught up with Vinu Malik, founder, Fuelbelt and SVP, Implus (pictured below).
What inspired the redesign of the Helium Running and Hydration Belts? The Helium collection was designed several years ago, so with the resources and team in place through Implus, a redesign of the popular collection presented itself. We focused on making our hydration gear as light as possible, using new materials while focusing on comfort. Our water-resistant waistpacks are also very popular as are our redesigned handhelds. Our focus continues to be on improving the runners experience.
What feedback have you received from runners around hydration products and how is that reflected in the changes and updates? Comfort and lightweight have been key drivers for FuelBelt. As the pioneer of the original multi-bottle belt design, we need to exceed the expectations of our customers. Celebrating our 20th anniversary this year brings additional opportunities to roll out new products to celebrate our longstanding heritage as a pioneer and category leader. We feel we have been able to build our legacy into the 2017 FuelBelt collection.
How is the Hydration category performing? The category remains cyclical. It's always a hot topic beginning in the late spring and lasting through the fall marathon season. Our focus remains on our customers and building long term value for our brand. As the endurance market gets more crowded, it's more important than ever to keep our brand out front.
Why did FuelBelt move into the reflective category? The purpose of FuelBelt products is to keep runners as prepared to run anywhere at any time. We first introduced reflectivity and visibility into our storage and hydration products to have the best equipment for a run in the evening that keep visible markers that move consistently to alert others where runners are.
What makes the Neon line unique? We designed the Neon line to feature the same qualities as our Helium line, with fit and comfort being a priority. The vests and bands provide visibility while also remaining lightweight and form-fitting, so they don't shift around. This goes back to our main focus on runners and their experience and preparedness.
How are you planning to celebrate Fuelbelt's 20th anniversary? We launched the FuelBelt line and branding at the Boston Marathon this year, in tandem with Marathon Sports – our original partner for the brand. As we continue to expand the new line, we also have new ambassadors from "walks or runs" of life that are coming on board. Our mission is to continue to expand the benefits of hydration, storage and visibility past the triathletes and serious runners to run the full range from beginner to expert.
How has the merger of FuelBelt and Implus gone? Implus worked very hard to continue the new brand design with the heritage and innovative edge that FuelBelt was built on. With the new line of products, we have been able to expand to a larger customer base that can utilize some of the best features in hydration and storage at a value price.
Photos courtesy FuelBelt