Forzani's second quarter was boosted by strong sales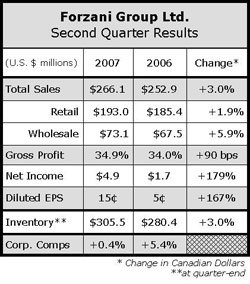 of footwear and hardgoods and improved gross margins spurred by more efficient inventory management. Wet weather and flooding in Western Canada slowed down sales for the month of June, but July bounced back, more than offsetting any declines. While both the FGL corporate banners and the franchised banners saw positive sales developments, the franchise stores out-paced corporate on a comp-store basis.
Corporate comp store sales were up 0.4%, and Franchise were up 6.1%. Wholesale sales of $80.3 million were 5.9% ahead of last year's second quarter due to stronger sales from FGL's Gen-X division.

The franchise business was the strongest in terms of sales due to the specialty banner business in fitness, golf and outdoor. FGL will be accelerating growth golf and fitness categories over the next six months, and launching a more aggressive expansion plan in these areas in 2008. The general sporting goods banners continued to exceed their previous year's performance due to investments in technology over the past few years.

Key category performances in the quarter included footwear, bike, racket sports, golf, skate, exercise and athletic clothing areas, all with strong comp sales and growth performances. The footwear business continues to lead comp sales with increases in the running, outdoor, junior women's and casual categories. The multi-banner concept that combines several specialty banners in one strip mall continues to "exceed benchmarks." Management said that this concept will be will be a fundamental strategy to the future development in FGL's Franchise business.

Management said they would have like corporate comps to be higher and will be working to improve that number in the back half. Sport Chek led the way in comp sales in corporate banners. The the number one province was Saskatchewan with British Columbia in second.

Footwear was the strongest category in terms of comp store sales increases. Management said that they saw a very strong cross-training, running business, and cleated business. sandal sales were slowed by a reduces sales of Crocs, but management could not determine if this was due to reduced demand or poor buying choices.

Apparel was the weakest category at FGL's corporate banners. While technical apparel remains strong for FGL's banners, other categories are weak. To fix the slow-down in apparel, FGL will be testing new merchandising concepts at key locations throughout the winter. These concepts will be mixing apparel and outerwear in marquis locations in the store. Consolidated gross margins were 90 basis points above last year, on the strength of continued margin expansion in the Corporate and Franchise businesses. The majority of the gain was due to corporate inventory management.

Corporate store operating expenses as a percent of retail revenues were 27.8% against the prior year's 27.4%, 40 basis points higher. G&A expenses were 7.6% of consolidated revenues, 70 basis points below last year due to reduced accruals for year-end performance-based compensation and slightly reduced advertising expenses related to the timing of the ad calendar. This added up to triple digit earning gains for the quarter.

Looking ahead, management believes that their footwear business will continue its momentum and that they have a "tremendous opportunity" in outerwear due to weak sales in Q4 of last year.