Citing a healthy athletic cycle in the overall market, Foot Locker, Inc. reported earnings of $52.0 million, or 33 cents per share, in the fiscal third quarter ended Oct. 30 against a loss of $6.0 million in the year-ago period.

Excluding after tax impairment charges of $22 million in Q3 last year, earnings more than tripled in the latest period compared with earnings of $16 million, or 10 cents per share, in the prior-year period. Earnings were well above Wall Street's consensus estimate of 17 cents a share.
A 5.4% sales increase to $1.28 billion for the quarter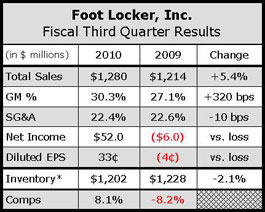 was led by an 8.1% comparable store sales gain. Excluding foreign currency fluctuations, net sales increased 7.0%. By month, comps increased mid- to high-single-digits in August before accelerating to high-single digit-gains in both September and October.
The sales momentum enabled the company to focus on reducing the number of promotional events, leading to a higher-than-expected merchandise margin rate for the quarter. Improvement was reportedly seen across its businesses.

On a conference call with analysts, company Chairman and CEO Ken Hicks said the stronger U.S. sales performance is being helped by a strong athletic cycle. "The demand for athletic footwear was very good across most categories, including technical and lightweight running, toning, and marquee basketball," said Hicks. "There were a number of important introductions throughout the season which sold well. Our key suppliers are also doing a good job in providing new, more compelling apparel assortments."

U.S. stores are also benefiting from better execution, Hicks said. Inventory is much better aligned with demand than it has been for several years and a push to broaden its range of shoes and apparel is expanding the customer base. Initial steps to improve supply chain management are also allowing store associates to spend more time with customers. Finally, some stabilization in the external environment and stepped-up marketing efforts are supporting top-line growth.

While both footwear and apparel both saw increased sales, "more importantly, we are generating strong profit increases in both categories through higher sales and margin rates," said Hicks.

Foot Locker Chairman Sees Benefit from Current Healthy Athletics Cycle…
Combined U.S. comps increased in the high-single-digits, with a positive sales increase in each of the retailer's brick-and-mortar banners. U.S. athletic footwear sales increased in low-double-digits, with strong gains in men's, women's, and kids. Average footwear selling prices in the U.S. increased mid- to high-single-digits, while transactions increased in low- to mid-single-digits. The increased selling prices reflect a lower markdown rate and a favorable mix towards higher-priced footwear, a trend also seen this spring.

In men's footwear, strong sales increases were generated in both technical and lightweight running shoes. Demand for marquee basketball accelerated during the third quarter after being "somewhat soft" during late spring and early summer. The kids' business was said to be particularly strong during the BTS season, led by running and casual footwear. Women's generated good gains in both technical and lightweight running. The toning category was "relatively soft during back-to-school, but turned positive later in the quarter," said Hicks.

U.S. apparel comps increased in the low- to mid-single-digits, a sequential improvement versus the second quarter. This marked the second consecutive quarter increase in apparel sales and margins following several years of declines. Said Hicks, "While we're making good progress, it will take us longer to get our apparel assortments right than it has on the footwear side of our business."

Hicks said each of the U.S. store divisions made a "very significant contribution" to total company profit gain. Strong sales and gross margin rate increases, coupled with tightly managed expenses, led to "very strong flow through from incremental sales to incremental profits."
He attributed the gains to early results from work to more clearly define brand banners as well as increased productivity of assets.

International comps increased in mid-single-digits and profits improved over 25%. Europe generated a mid- to high-single-digit store sales increase, with solid sales gains in both footwear and apparel. Footwear gains in Europe were broad-based across many categories, including men's running, basketball, casual, and kids' footwear.
Apparel increased double-digits in Europe. Solid comp gains were recorded in most large European markets, including France, Italy, Germany, and the U.K.

Canada generated a low- to mid-single-digit comp sales increase while profits improved on a "strong division profit margin rate." A flat sales performance in the Asia Pacific region was an improving trend versus the spring season. The region cycled past the government stimulus package in Australia that was provided to the consumer last year, which apparently made spring comparisons challenging.

Direct-to-customer comps increased mid- to high-single digits. A "solid sales increase" was generated at Eastbay and Hicks said they were generating very strong sales and profit growth through the store-branded Internet sites.

Gross margins improved 320 basis points, significantly higher than planned, to 30.3% of sales. Merchandise margins improved 190 basis points due to the reduction in the level and the number of days that the company ran promotional events. Reduced in-store inventory shortages also helped improve full-price sales.

Better buying and occupancy expense leverage contributed another 130 basis point of the margin improvement.

SG&A expenses increased $13 million versus the year-ago quarter, primarily reflecting increased divisional and corporate incentive compensation accruals, while being reduced 20 basis points.
Inventory at the end of Q3 was down 2.1% versus the same time last year.

Looking to the fourth quarter, Hicks expects basketball to be a positive as the lineup of marquee products "looks to be very strong." New launches from Nike and Adidas "are off to a good start" and basketball introductions from Under Armour and Reebok with the Zig line is expected to bolster the category. "Finally, the buzz around LeBron, Wade, and Bosh and the Miami Heat is already bringing increased media exposure to basketball, which is another positive for the fourth quarter and 2011," said Hicks. "We believe that all of these emerging factors position the industry for a strong athletic cycle that can be sustainable over the longer term."

Fourth quarter comps are expected to increase in mid-single-digits and gross margins are expected to improve 250 to 300 basis points although the year-ago holiday period included a $14 million pretax inventory write-down to meet the company's revised aging standard. Excluding last year's write-down, gross margins are projected to improve by 150 to 200 basis points. SG&A is expected to increase $10 million to $15 million but still come in flat as a percent of sales. The company did not give an EPS estimate.