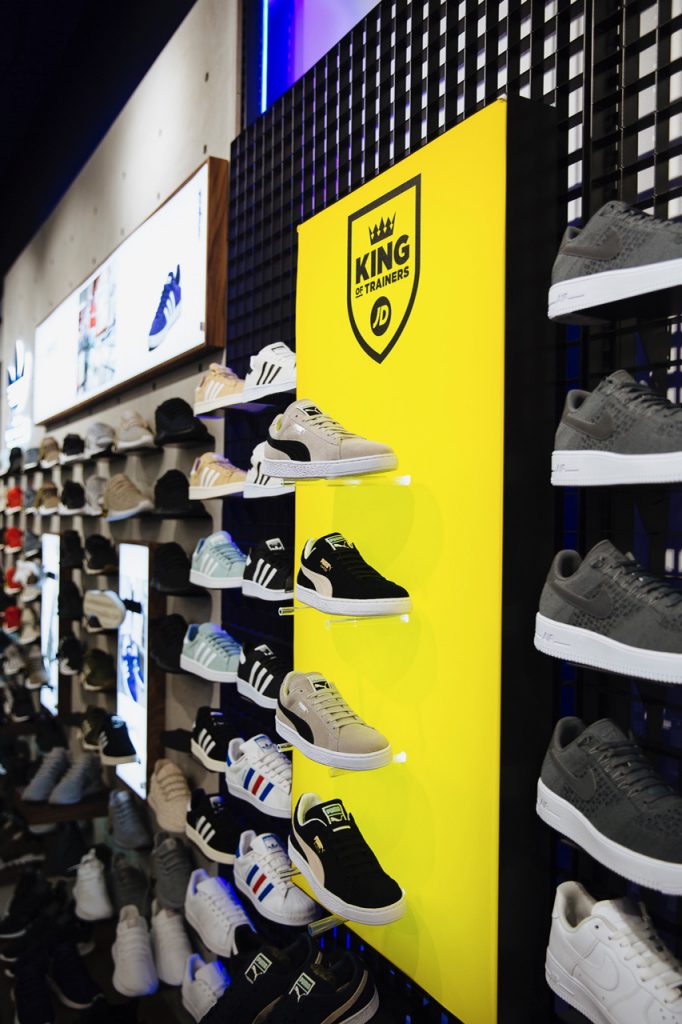 By Thomas J. Ryan
JD Sports, the U.K.-based sports fashion retailer, delivered stellar results in the first half as EBITDA (earnings before taxes, interest, depreciation & amortization) rose 37 percent on a 12 percent same-store gain at the company's core Sports Fashion banners. Just as encouragingly, same-store sales at Finish Line grew 5 percent including both physical stores and online in a continued promising start to its U.S. entry.
On June 18, 2018, JD Sports acquired The Finish Line, Inc. for $558 million (£400.5 million).
In the company's first-half statement, JD Sports said the Finish Line chain in the U.S. delivered an "encouraging performance." Operating profit before exceptional items on a comparable accounting basis reached £34.7 million ($38.2 mm) in the 26 weeks through August 3. Finish Line's operating profit was £4.8 million in the year-ago period, which reflected seven weeks of results post the closing of the acquisition.
The 5 percent same-store gain on a pro forma 26-week basis reflected a 3 percent gain in in-store comps and double-digit growth in online sales. JD said Finish Line "continues to exploit its clear strength" in e-commerce.
JD was "also satisfied" with the progression on gross margin, improving by 50 basis points on a pro forma basis to 42.9 percent. JD said Finish Line is starting to "see the benefits of the work to bring enhanced rigor to the buying and merchandising disciplines."
JD added in its statement, "Overall, we remain pleased with our acquisition of this business and are confident that the business, which remains under the joint leadership of the Finish Line CFO and JD's Global Retail Director, has a clear strategy and is well-positioned for profitable development."
Updating several already outlined strategies, JD said it believes it can deliver "sustained improvement" in the performance of Finish Line by focusing on four pillars:
Improving sales densities: JD said it has commenced a trial which is focused on driving additional sales of apparel in stores through extended ranges. This project, which requires a modest capital investment in stores, is being supported by a number of key commercial personnel from the core JD business. JD said in the statement, "We are encouraged by the initial performance of these new ranges which are now in more than 20 stores."
Improving product margins: JD said it continues to support Finish Line's management team "with a focus on buying disciplines and the intense management of markdown, leveraging from JD's strength and experience in these key commercial areas." JD said it's "pleased with the early progress," marked by the 50 basis point improvement in product margins.

Exiting underperforming stores

: JD exited a further 10 Finish Line stores (excluding Mall of America which was transferred to JD) and 29 Macy's concessions in the first-half. A similar number of Finish Line store closures is expected in the second half. As of August 3, there were 518 Finish Line stores and 321 in-store shops in Macy's compared to 556 and 375, respectively, at the time of the acquisition.

Appropriate scaling of central overheads

: JD said it will continue to work with the Finish Line management team on various initiatives, including incentive schemes, to improve profitability.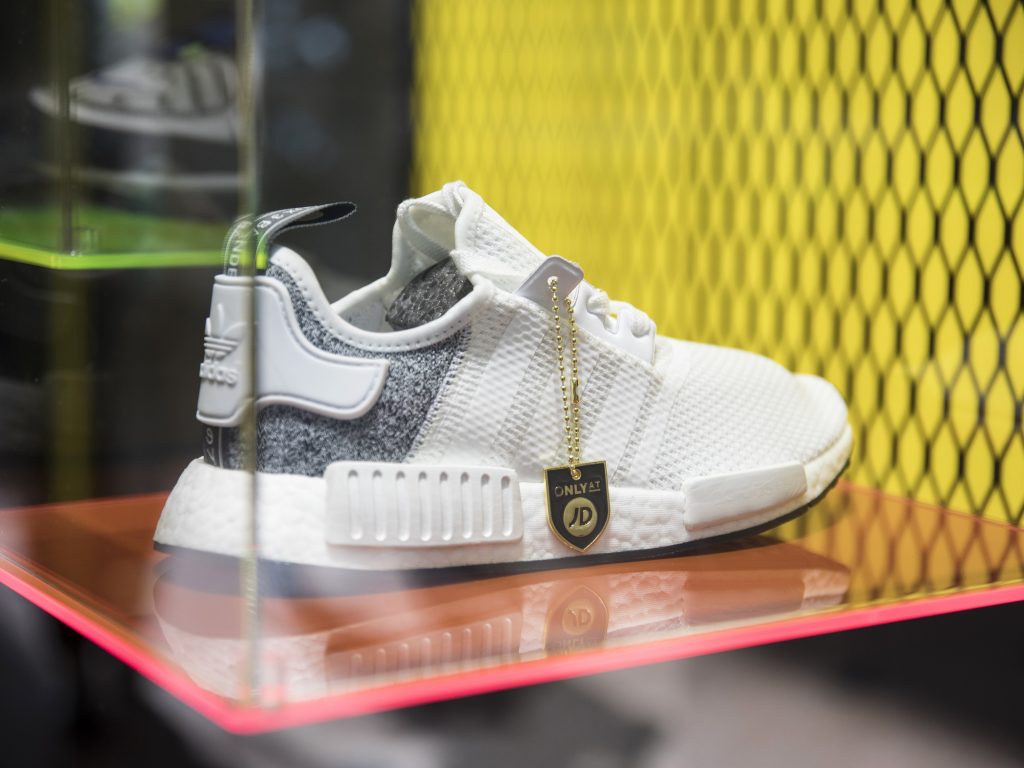 In a test in sync with Finish Line's turnaround efforts, JD continues to test its flagship JD Sports concept in the U.S. The concept is more fashion-forward and carries significantly more apparel in its mix than Finish Line. The big news was that a JD Sports store in Times Square in New York City is scheduled to open in 2020.
Currently, six JD Sports stores are open in the U.S., including the recent conversion of the former Finish Line store in the Mall of America at Bloomington, MN. A U.S. online store supporting JD Sports was launched in May.
"These initial stores were deliberately chosen as we believed they would give us the greatest width of intelligence both geographically and demographically thereby helping us to shape our future strategy," said JD. The company said it may convert an additional small number of Finish Line stores to JD in the second half to gain additional insights although the company noted that much depends on if it is able to gain landlord consent in enough time before holiday selling.
"We anticipate further significant developments for JD in 2020 as we begin to open stores organically in the major metropolitan areas with work starting recently on the fit-out of a flagship store in Times Square, New York which is currently scheduled to open in Spring 2020. We remain encouraged by the early performance of the apparel ranges which are now becoming increasingly representative of the JD offer."
At the end of the quarter, JD operated 728 JD Sports locations including 394 in the U.K. and Ireland, 275 in Europe, 53 in Asia, and 6 in the U.S.
Analysts covering JD in the U.K. saw the healthy 5 percent comp by the Finish Line as a sign that JD's new strategies, including injecting more apparel into the mix, were helping differentiate the chain. Wrote Greg Lawless at Shore Capital in a note, "This bodes well for the future as the company broadens the appeal of the stores with clothing alongside the existing footwear.
At Peel Hunt, Jonathan Pritchard said JD's product range, including a greater focus on apparel, is starting to emerge inside Finish Line's updated stores. He added, "More crucially, better-branded lines are arriving in core Finish Line outlets."
Apparel accounted for just 6 percent of Finish Line sales, according to the Finish Line's last annual report as a public company. That compares to a mix of around half apparel sales at the U.K.'s JD banner. The UK stores carry a wide variety of fashion and outdoor apparel beyond sports brands. Brands include Emporio Armani, Levi's, Hugo Boss, Lacoste, Columbia, The North Face, Quicksilver, and Ellesse.
Pritchard also saw the planned Times Square opening as a sign that JD sees strong growth potential for its banner in the U.S. but intends to pursue growth in both chains (fascias). Pritchard wrote in a note, "It's clear that JD sees itself as a more edgy and urban brand than Finish Line and store rebadges/openings will follow accordingly. It's definitely set to be a dual-fasciaed-approach."
Companywide, JD's revenue increased by 47 percent to £2.72 billion in the half due to the Finish Line acquisition. The 12 percent comp gain at its Sports Fashion banners was supported by "highly encouraging growth" of more than 10 percent in the core UK and Ireland Sports banners. EBITDA on a comparable accounting basis jumped 37 percent to £235.2 million ($259 mm) and profit before tax and exceptional items on a comparable accounting basis increased 36 percent to £166.2 million ($183 mm).
Peter Cowgill, executive chairman, said, "Against a backdrop of widely reported retail challenges in the UK, it is extremely encouraging that JD has delivered like-for-like sales growth of more than 10 percent with an improved conversion reflecting consumers increasingly positive reaction to our elevated multichannel proposition where a unique and constantly evolving sports and fashion premium brand offer is presented in a vibrant retail theatre with innovative digital technology. JD also continues to gain momentum in Europe with a further double-digit increase in total like-for-like sales and a net increase of 23 stores in the period. We are pleased by the continued positive trends to date in the second half in Sports Fashion while recognizing the tougher comparatives ahead."
Cowgill said that even with the ongoing uncertainty in the U.K. with Brexit and excluding the company's transition to IFRS 16, a new accounting standard for leases, the company is on track to deliver profit before tax for the full year at the top end of market expectations. Concluded Cowgill, "We remain encouraged by our prospects for further growth."
Photo courtesy JD Sports