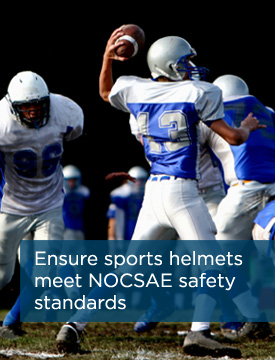 The Federal Trade Commission has broadened an eight-month probe into potential restraint of trade by the football helmet manufacturing industry and the National Operating Committee on Standards for Athletic Equipment (NOCSAE), a non-profit organization that develops standards for their products, Sports Executive Weekly has learned.
NOCSAE, pronounced "NOXY" by industry insiders, is currently working with outside counsel to respond to a request for documentation received from the FTC in the last month, NOCSAE Executive Director and Legal Counsel Mike Oliver told Sports Executive Weekly Friday afternoon. Oliver said the agency asked for documents pertaining to NOCSAE's certification process for third-party add-on products to football helmets as well as its ban on the use of certified test results in comparative product advertising.
"We are a little puzzled by the request because we dont understand how what we have done implicates the market or the FTC," said Oliver. "Unless there is stuff going on behind my back, everything we have done has been about promoting standards that will protect the safety of the athlete. That's all we care about."
The FTC would not confirm the investigation, but others who said they have been contacted by the agency in the last month said the probe appears to focus at least in part on what role NOCSAE certifications play in determining what equipment football leagues, coaches, athletic directors and parents purchase. One industry source, who requested anonymity, characterized it as a restraint of trade investigation focused on whether NOCSAE and football helmet manufacturers have engaged in anti-competitive behavior.
NOCSAE is a non-profit, standards setting body governed by a board of directors comprised of representatives from the NCAA, National Federation of State High School Associations and trade associations representing sporting goods manufacturers, coaches and trainers. It has long held that any change or modification in the configuration of a helmet's shell or liner material can affect its performance, possibly exposing the individual responsible for liability.
Sports Executive Weekly subscribers can read the full article here.