By Thomas J. Ryan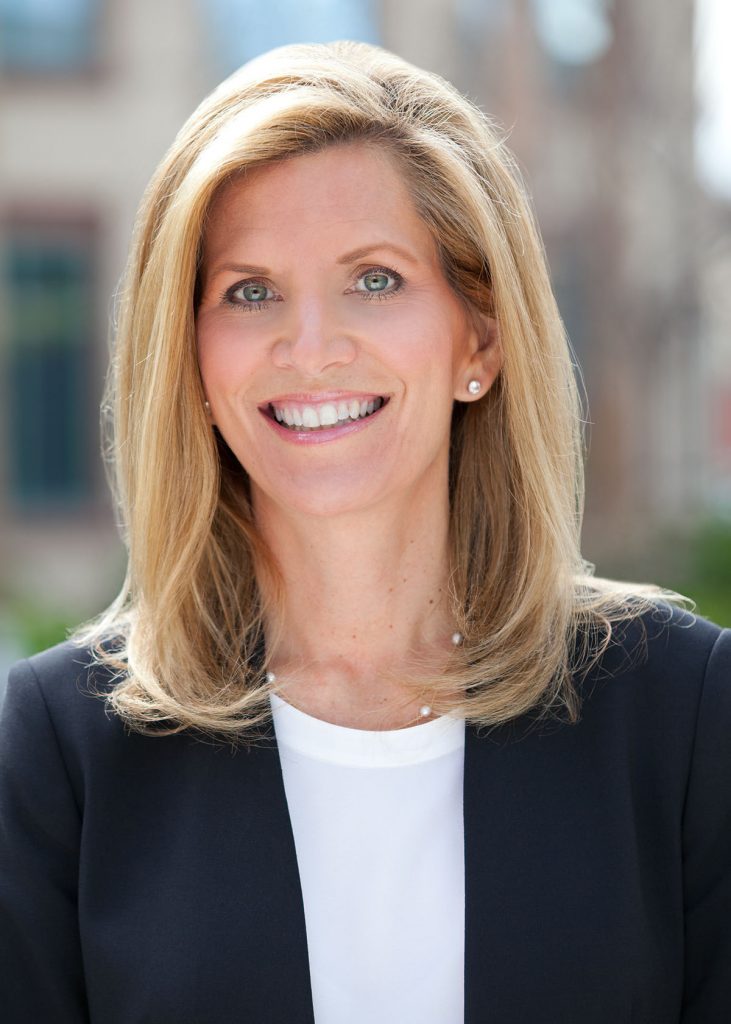 In her first formal presentation with Wall Street at Caleres' Investor Day, Molly Adams, president of Famous Footwear, right, discussed the shoe chain's strong connections with active families and big opportunities ahead in the sport leisure category. The majority of her talk, however, detailed how her experience working at Walt Disney is helping Famous transform from a "House of Brands" to a "Branded House."
Adams joined Caleres to lead Famous on May 29, 2018, replacing the retiring Rick Ausick. Previously, she was EVP, global merchandising and product development at The Walt Disney Company, heading two multibillion-dollar business areas.
Her experience at Disney taught her the importance of the brand and its relationship to customers.
"I've been raised to believe that there's nothing more important than the brand and the consumer. Some good product is a nice bonus," said Adams. "But at Disney, we work all day, every day thinking about how to use the power and the magic of the brand to improve the guest experience at every touchpoint. We never break the spell."
With 185 million shoppers visiting a Famous store annually and a store experience that's "trusted and loved" by a wide range of consumers for style, service and value, Famous had some "great foundations" supporting the business. But she added, "We really weren't acting like a brand, and I thought that was exciting."
Since she joined, Famous has shifted all investments and strategies to be consumer-facing and focused on supporting its new brand positioning, "Everyone deserves to 'Feel A Little Famous.'"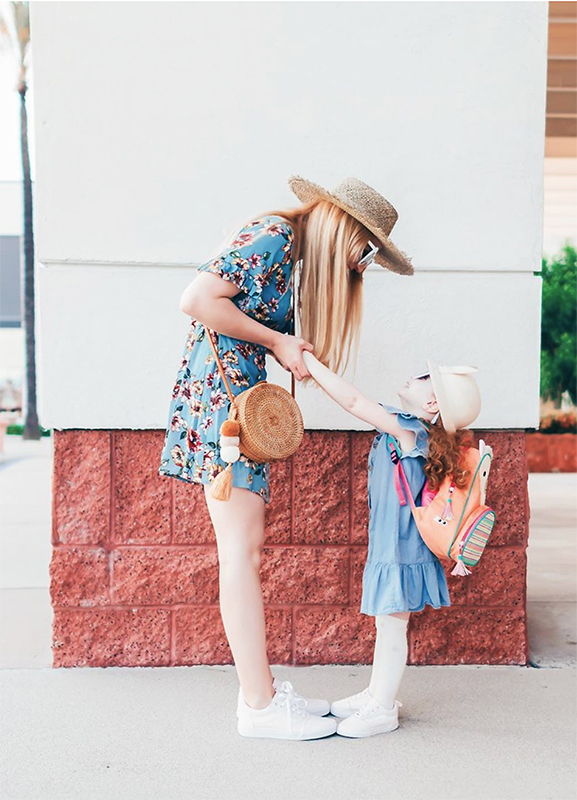 Already-engaged customers offered an opportunity to deepen those relationships according to Adams, "but what was missing was this: We didn't have a consistent brand with experience across all of our touchpoints. So our vision became to be my favorite place to shop for shoes by creating this consistent voice."
The priority has become to bring consistent messaging across three areas: merchandising, marketing and consumer experience.
In merchandising, the focus remains on the "active family and this broad audience that really love Famous." SKUs overall have been reduced but depth increased in key items in recognition "these things that have broad appeals where we can sell big numbers," said Adams.
A focus on adding higher AURs (average unit retailers) and more premium styles and iconic brands have helped drive back-to-school sales. More premium brands are expected to arrive this fall. A chart listing some popular brands included Birkenstock, Crocs, Blowfish Malibu, Nike, Timberland, Converse, Vans, Circus by Sam Edelman and Dr. Martens.
Incorporating store and consumer data points have fed localized assortment strategies in a couple of markets. Those markets are outpacing the rest of the chain and more localization tests are ongoing.
Also among newer merchandising strategies, Famous is looking to leverage its strength in athletic and athletic-inspired shoes. Said Adams, "This part is interesting because we've always been known as a place to buy athletic shoes, and we have all the top brands in athletic shoes. But as we add more non-athletic shoes and a fresh new curated assortment for this customer that's more fashionable, we have a great opportunity in the sport-leisure category."
She pointed to NPD point-of-sale data identifying sport-leisure among the strongest trending footwear categories and how nearly 40 percent of Famous' sales come from sport-leisure categories already. Said Adams, "They're outpacing the growth of our other categories. So, this is right in our sweet spot, a natural authentic extension of what we're already most known for."
In marketing, Famous returned to radio and TV for back-to-school as part of a bigger consumer-facing outreach to back the new "Feel A Little Famous" campaign. Social media approaches have been elevated with a "new look and feel" to match the overall massaging. Said Adams, "We're doing everything we can to strengthen our brand voice and connect with these customers wherever they are."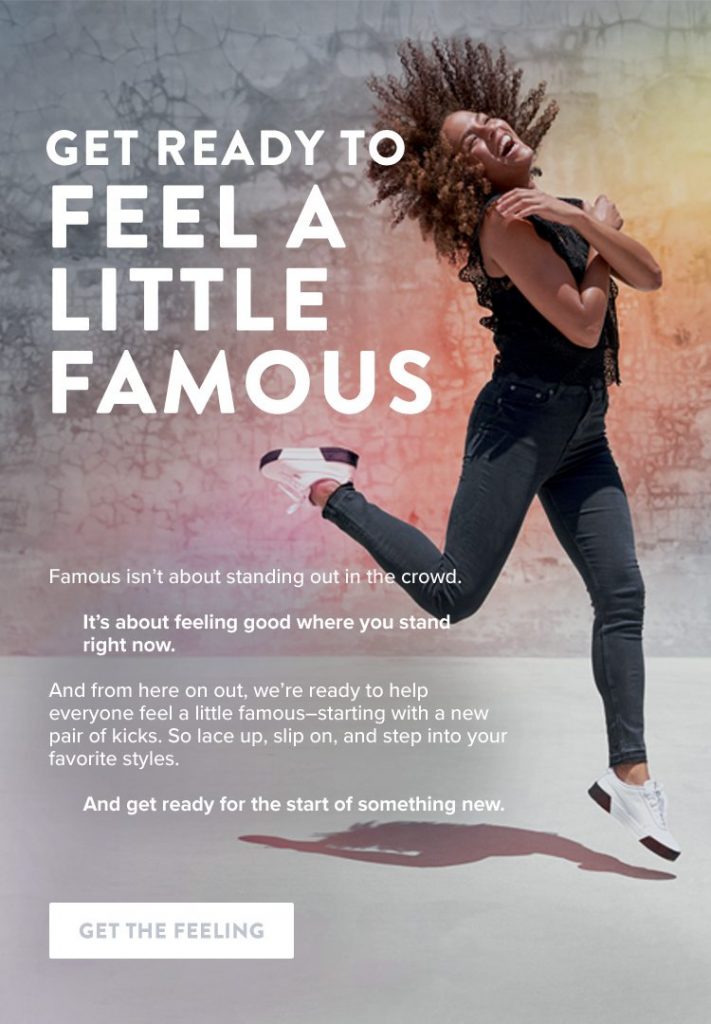 The Famously You rewards program was relaunched this past spring and key metrics—including new members; more Superstar (highest-spend) members, improved retention, higher average spend, greater frequency of visits, members shopping multiple channels, and members spend as a percent of sales—are all exceeding internal expectations.
"It's still evolving," added Adams. "There's some new benefits and phase two and three to come, but we feel like this is something else that really helps us connect with these customers."
Finally, elevating the consumer experience is about creating a "consistent, seamless brand experience" across all channels although famousfootwear.com remains the primary sales growth vehicle for Famous. Said Adams, "That's not new news to anybody; that's where all the growth is happening. But that said, we're still doing just fine in our stores."
A new e-commerce platform will be launched in January with new capabilities and new customer experiences. Changes to assortment, pricing and distribution have been made with more coming to support famousfootwear.com's profitability that still lags behind store margins.
Stores still remain important for Famous in part because they support famousfootwear.com. Said Adams, "We have a very tight connection where our online business and our stores are interdependent or we do better online, where we have stores. We have a very high crossover now of people who buy online, pick up in-store or buy online, exchange in-store and all that sort of thing. So, that is really working for us."
The focus with stores continues to be optimizing count. Some markets may be repositioned and find fewer stores but other stronger markets may see additional stores and some new markets may be entered to support online selling.
Refreshing stores also remain a priority with a focus again on bringing a "consistent brand experience and brand voice" to all locations. Said Adams, "Our associates are amazing. They're passionate, they're knowledgeable, they're committed, but the stores themselves, some of them are tired. So, we are accelerating to refresh on some of our stores so that we can get those stores looking like we like them to look to best represent the brand sooner rather than later."
Famous, which currently has about 970 locations, has been opening close to 50 stores annually in recent years, but that will be reduced to 25 to 35 stores in the near term as investments in remodeling existing locations are ramped up
Adams concluded in her presentation, "We're committed to growing sales and profit. We are focused on this consumer, the obsession that everybody's talking about really permeates in Famous. I mean, it's every single week, we look at what's selling, who is that person, where is she wearing that, what else does she wear, and where is she going—just constantly thinking about her and what we can do to be more important to her—and the strategies are in place to deliver both this vision and improved financial results."
Overall, Caleres set its 2022 financial targets as follows:
Revenue: Low single-digit compound annual growth rate (CAGR) through 2022;
EPS: Double-digit CAGR through 2022; and

ROI

: Greater than 15 percent through 2022.
Famous Footwear is expected to be flat to up low-single-digits on average over the three years. The Brand Portfolio segment, which includes Sam Edelman, Naturalizer, Allen Edmonds, Vionic, Dr. Scholl's, and Franco Sarto, is expected to be up low- to mid-single-digits. Both segments are expected to increase EBITDA margin expansion by 100 basis points over the three-year period.
Photos courtesy Famous Footwear