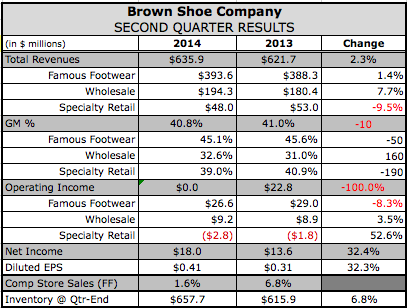 "This good performance was delivered despite a choppy retail landscape, which ranged from a strong May to a more subdued June, and then finally in July improving somewhat," said Diane Sullivan, CEO, president and chairman, on a conference call with analysts.
At Famous Footwear, sales rose 1.3 percent to $393.6 million. Same-store sales were ahead 1.6 percent against a 6.8 percent climb last year. Gross margins were 45.1 percent, down from 45.6 percent. Operating earnings slumped 8.3 percent to $26.6 million.
Famous' performance was boosted by a 27 percent gain in canvas, a category Sullivan said "maintained its hot streak" with consumers continuing to shift to lifestyle versus performance footwear.
"We've increased our canvas inventory to meet this demand," said Sullivan. "And as a result, total Famous Footwear inventory for the second quarter was up 2.5 percent. This was in line with last year's peak, and for the third quarter, we're already below last year's inventory level."
Among other categories, Sullivan said sandals had a "very respectable" season with flat sales and Famous "actively managed inventory and resisted promotional activity" in the category. Women's sandals were up 1.4 percent in the quarter, with July seeing 5.5 percent improvement, helping total spring sales fall in line with last year's. Sandal margins saw an improvement in the quarter.
Athletic was up "almost mid-single-digits" at Famous. Kids and men's, hampered by weakness in the sandal business, was down slightly. Women's non-athletic, both on the dress and casual business, saw the most challenging sales.
Sullivan noted that back-to-school is off to a solid start. Same-store sales are up 1.8 percent, following a 5.6 percent improvement in BTS sales last year and 5.5 percent in 2012.
For BTS, Famous continues to target a more narrow but deep selection of items backed by marketing efforts around those items, which include exclusive style and colors only available at Famous. Its omni-channel strategy – including its mobile app that has nearly 1 million downloads less than a year after its introduction – is also helping reach BTS shoppers.
Famous Footwear improved its trailing 12-month revenue per square foot to $212. Famous closed or relocated 16 stores in the quarter and opened 17, and overall was operating 24 fewer stores versus the same time last year. It expects to open 50 stores in 2014, and close 60.
At its Wholesale Operations segment, sales rose 7.7 percent to $194.3 million. Gross margins improved to 45.6 percent from 32.6 percent. Operating profits jumped 50.5 percent to $28.9 million.
For the Healthy Living platform, wholesale sales of $106.6 million were up 1.7 percent in the quarter, while Contemporary Fashion wholesale sales of $87.3 million were up 17.1 percent.
The Contemporary Fashion gain was driven by Via Spiga, Vince, and Sam Edelman, all up at least double digits. In the Healthy Living area, sales were up low-double-digits in Dr. Scholl's, up mid-single-digits in LifeStride, up double-digits in Ryka, and down slightly in Naturalizer.
The gains at Dr. Scholl's were driven by growth in flats and athletic styles, offsetting "spotty women's sandal sales." Men's, which account for approximately 40 percent of Scholl's sales, "did especially well in sandals, and with casual and sport leisure styles as well," said Sullivan.
In Specialty Retail segment, which includes the Naturalizer chain, sales were down 9.5 percent to $48.0 million. The loss widened to $2.8 million from $1.8 million in the same quarter a year ago.
Consolidated gross margin decreased by 20 basis points to 40.8 percent. SG&A expenses were down 130 basis points to 35.9 percent of sales. For the quarter, operating margins improved 120 basis points year-over-year to 4.9 percent.
Inventory at the end of the quarter were up 6.8 percent. Wholesale inventory was up 22.9 percent, while Famous' inventory were up 2.5 percent.
With the better-than-expected second quarter performance, Brown slightly raised its annual guidance range to $1.50 to $1.60. Previously, it predicted earnings in the range of $1.47 to $1.57. In 2013, it earned $1.41 a share.
For the third quarter, Russ Hammer, CFO, said that while the company is ""generally pleased" with the BTS selling season to date, it's still a slower growth versus last year. As a result, third-quarter EPS is projected to be up mid- to high-single-digits year over year.