Shares of Nike, Inc. are down about 12 percent in mid-day trading Friday after the company reported better-than-expected results for the first quarter ending August 31 on healthy demand but warned that gross margins would remain under pressure through the year as promotions would be required to clear bloated inventories. 
Inventories ended the quarter ahead 44 percent year-over-year, including 65 percent in North America, its largest market. The hike is attributed to elevated in-transit inventory from ongoing supply chain volatility.
"This quarter, it became clear to us that conditions in North America are shifting once again," said CFO Matt Friend on an analyst call. He said earlier orders from retailers driven by consumer demand and less predictable delivery timelines led to broad, elevated inventory levels across retail.
"Then transit times began to rapidly improve with signals that further improvement may be coming," added Friend. "At the same time, consumers are facing greater economic uncertainty, and promotional activity across the marketplace is accelerating, especially in apparel. As a result, we faced a new degree of complexity."
The 65 percent surge in North America inventory included 85 percent in in-transit inventory, reflecting a combination of late delivery for the past two seasons, plus early holiday orders on target to arrive earlier than planned and a prior year impacted by factory closures in Vietnam and Indonesia.
"As a result, we are taking decisive action to clear excess inventory, focusing on specific pockets of seasonally late products, predominantly in apparel," said Friend. "While we expect this to have a transitory impact on gross margins this fiscal year, we believe this cost will be far outweighed by the benefit of clearing marketplace capacity to align seasonally relevant product, storytelling and retail experiences for the consumer."
The company's "uniquely strong" demand across its three brands, Nike, Jordan and Converse, helped Nike's top-line results in the first quarter to arrive ahead of plan, more than offsetting foreign exchange headwinds. The gains benefited from the additional product available for consumers to buy across the marketplace, once again led by digital growth; however, positive retail traffic occurred in stores and online.
Friend said Nike saw "high full-price realization on fresh seasonal assortments and key product franchises." Month-to-date retail sales in September were up double-digits versus the prior year, following a strong back-to-school season.
Going forward, a strong innovation pipeline is expected to continue to stoke demand for Nike, said Friend and John Donahoe, president and CEO. Plans include a complete redesign of its women's apparel offerings, a refresh of its signature basketball line, a renewed focus on serving everyday runners across price points, and sportswear collaborations. Said Friend, "Over the next 18 months, we'll drive consumer energy through new product and storytelling, in essence, doing what Nike does best."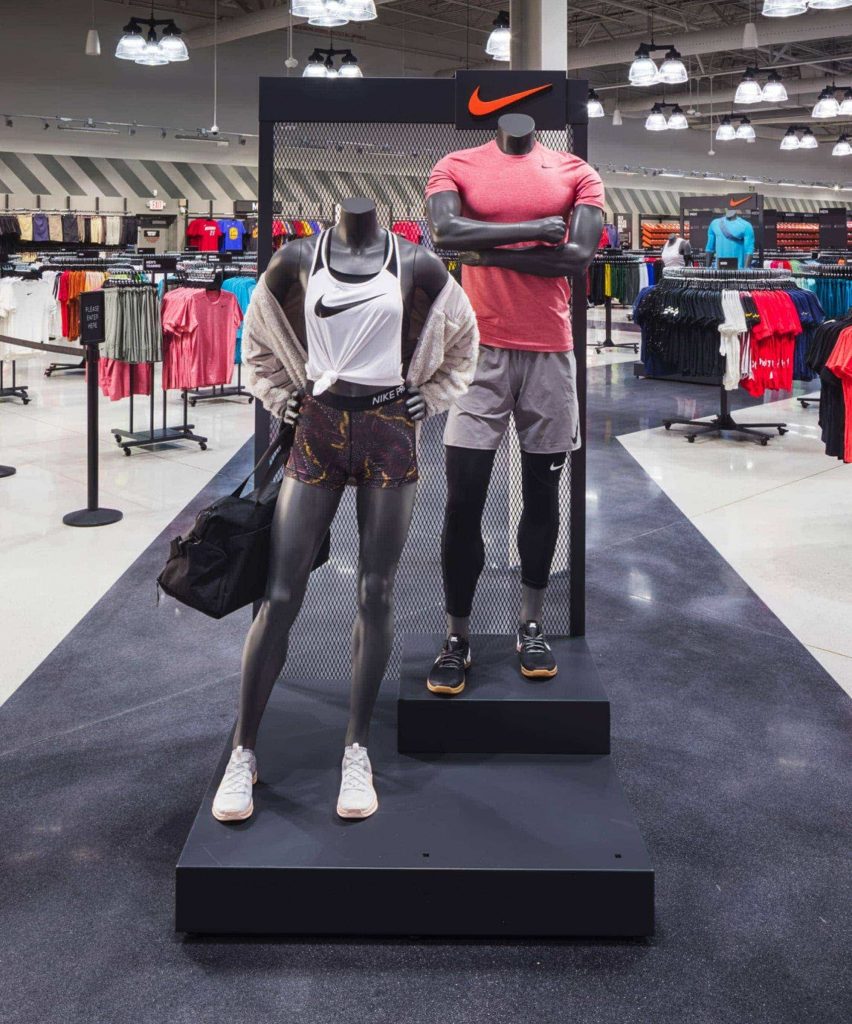 Gross Margin Guidance Slashed For Fiscal Year
Nike now expects an 800 basis point hit from foreign exchange headwinds for its fiscal year ending May 2023 versus its prior guidance of negative 400 basis points.
Nike continues to expect currency-neutral revenue growth of low-double-digits versus the prior year, equating to reported revenue growth of low-to mid-single-digits versus the prior year, assuming the 800 basis points of currency headwinds.
Gross margins for the year are now expected to decline between 200-to- 250 basis points (negative 50 basis points to flat previously). The erosion reflects approximately 150 basis points from higher markdowns and higher off-price mix to liquidate elevated inventory, a second straight year of more than 100 basis points of headwinds from elevated freight and logistics costs and 70 basis points of foreign exchange pressure.
SG&A expense is still expected to increase in high-single-digits as brand and digital investments are only partially offset by tighter expense control and limited headcount growth across the business.
For the second quarter ending November 30, revenue is projected to grow low double-digits on strong consumer demand despite 900 basis points of foreign exchange headwinds. Gross margins are expected to decline approximately 350-to-400 basis points versus the prior year, primarily due to aggressive discounting of out-of-season product. The second quarter also compares to last year's record level of full-price realization and includes headwinds from freight, logistics and other supply chain costs, as well as foreign exchange.
"As we look toward the rest of our fiscal year, we are confident in our strategy and in our opportunity ahead," said Friend. "While we expect circumstances to remain dynamic, we are optimistic as we continue to make progress toward our long-term financial goals. Our brand momentum is strong."
First-Quarter Currency-Neutral Revenues Climb 10 Percent
In the first quarter ending August 31, revenues for Nike increased 3.6 percent to $12.7 billion and were up 10 percent on a currency-neutral basis. Sales were ahead of Wall Street's consensus estimate of $12.29 billion.
Revenues for the Nike Brand were $12.0 billion, up 3.5 percent on a reported basis and ahead 10 percent on a currency-neutral basis, led by double-digit currency-neutral growth in North America, the EMEA and APLA, partially offset by declines in Greater China.
Nike Direct sales were $5.1 billion, up 8 percent on a reported basis and up 14 percent on a currency-neutral basis. Nike Brand Digital sales increased 16 percent on a reported basis or 23 percent on a currency-neutral basis.
Wholesale revenues increased 1 percent on a reported basis and were up 8 percent on a currency-neutral basis, with growth due to improved levels of the available supply of inventory for partners.
Revenues for Converse were $643 million, up 2.2 percent on a reported basis and up 8 percent on a currency-neutral basis, led by double-digit growth in North America and Europe, partially offset by declines in Asia.
Gross margin decreased 220 basis points to 44.3 percent. The decline was primarily due to elevated freight and logistics costs, higher markdowns across the marketplace in North America and unfavorable changes in net foreign currency exchange rates.
S&A expenses increased 10 percent to $3.9 billion. Demand creation expense was $943 million, up 3 percent, primarily due to the normalization of spend against sports marketing and brand campaign investments. Operating overhead expenses climbed 12 percent to $3.0 billion due to wage-related expenses, strategic technology investments and increased Nike Direct costs.
Net income declined 21.7 percent to $1.5 billion, or 93 cents a share, just ahead of Wall Street's consensus estimate of 92 cents.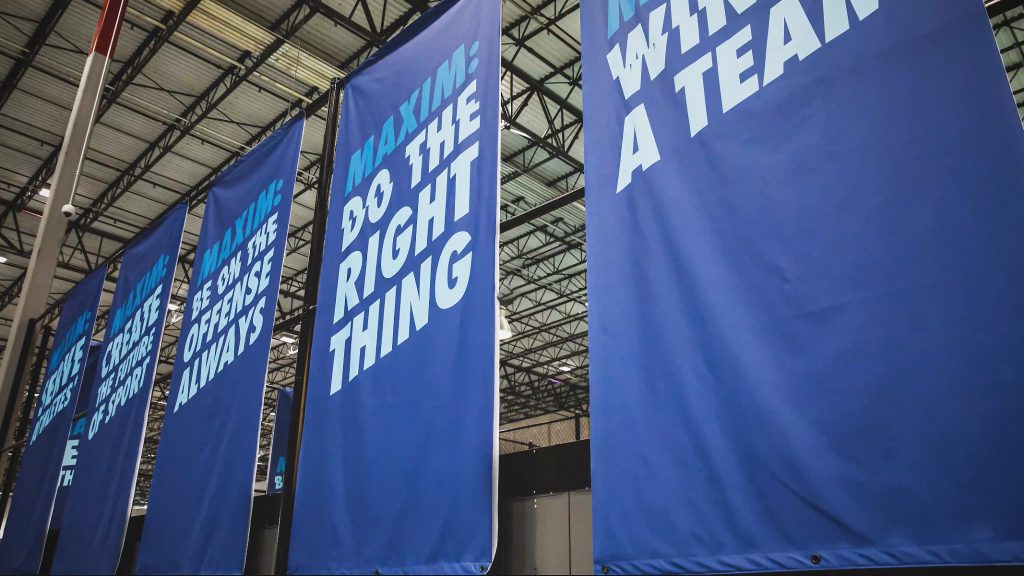 North America Q1 Revenues Expand 13 Percent
By region for the Nike Brand, North America Q1 revenue grew 13 percent while EBIT declined 4 percent. Nike direct grew 13 percent versus the prior year, outpacing the broader market with double-digit in-store and digital traffic growth. Nike Digital grew 19 percent, fueled by member demand and the Nike app. Wholesale revenue grew low double-digits with strong growth from strategic partners, including Dick's and JD Finish Line, as well as its authenticated partners.
"Nike continues to lead as the No. 1 cool and No. 1 favorite brand in North America," said Friend. "We're driving momentum across key consumer and sport dimensions, including positive consumer response to the Pegasus 39, Invincible 2 and Infinity 3 in performance running, high sell-through and full price realization across key footwear franchises, such as Air Force 1, Dunk and the Air Max 270 and broad-based growth across men's, women's, kids, and Jordan on improved inventory supply."
Increased promotional activity occurred in the region during the quarter, and the broader marketplace is expected to be promotional at least through the end of the calendar year. Friend said, "We expect that total inventory in North America peaked in Q1, and we anticipate seeing sequential improvement over the year as we rebalance supply and continue serving strong consumer demand. As we prioritize a healthy pull market, we are confident that our brand strength and decisive actions position us well to compete and to capture market share."
EMEA Q1 Currency-Neutral Revenues Jump 17 Percent
EMEA delivered record results, with revenue up 17 percent on a currency-neutral basis. EBIT grew 11 percent on a reported basis, with broad-based growth and strong gross margin expansion driving the most profitable quarter in EMEA history despite significant foreign exchange headwinds. 
Nike Direct grew 20 percent on a currency-neutral basis, and Nike Digital jumped 46 percent. Running delivered solid growth with strong consumer response to the Pegasus 39, Invincible 2 and the Peg Trail 4. The region benefited from Nike's most successful Mercurial launch and the UEFA Women's European Championship.
Said Friend, "Since fiscal 2019, EMEA gross margins have expanded by more than 500 basis points, with Nike Digital increasing its penetration from 7 percent to 20 percent, nearly tripling its share of EMEA Nike Brand revenue; this is another great proof point for how our consumer-led digital transformation is accelerating Nike's growth and profitability."
China's Q1 Currency-Neutral Revenues Decline 13 Percent
In Greater China, revenue declined 13 percent on a currency-neutral basis, and EBIT declined 23 percent on a reported basis. Nike Direct slid 2 percent on a currency-neutral basis, with a 5 percent decline in Nike Digital. While COVID-related disruption had a meaningful impact on store operations and retail traffic, business performance and inventory management are ahead of plan as supply and demand are recalibrated.
"Brand strength is our competitive advantage, with Nike setting the pace as Chinese consumers' No. 1 cool and No.1 favorite brand, further extending our lead among teams," said Friend. In product, strong sell-through came from the Alphafly Next Percent 2, the Pegasus 39, the G.T. Cut 2, and other performance products. Jordan saw strong year-over-year growth, driven by the Luka 1 launch and executions around Jordan's 25th Anniversary campaign.
"With Gen Z member demand growing more than 25 percent versus last year on Nike's digital platforms and the newly launched localized Nike app already leading as the No. 1 brand shopping app, we're more encouraged than ever about Nike's opportunity to serve Chinese consumers with distinct, premium and localized experiences," said Friend. "As mentioned last quarter, we are taking a cautious near-term approach in Greater China, given the ongoing risks of COVID-related disruption," said Friend. "However, our brand and business momentum gives us increasing confidence that Nike's unique value proposition will fuel long-term growth in Greater China."
APLA Q1 Currency-Neutral Revenues Jump 16 Percent
In APLA, Q1 revenue grew 16 percent on a currency-neutral basis, and EBIT grew 4 percent on a reported basis. The performance marked the APLA's third consecutive quarter of double-digit currency-neutral growth, led by Southeast Asia, India and Korea. Nike Direct grew 30 percent on a currency-neutral basis, led by 29 percent growth in Nike Digital and 31 percent growth from Nike-owned stores.
"Our Member Days offense continues to accelerate member engagement, tripling repeat buying versus the prior year," said Friend. "Women's continues to deliver outsized growth, with momentum in performance running, footwear, bras, and sports style innovation footwear like Air Max. Performance fueled strong growth in men's with the launch of Pegasus, Infinity and Invincible in running and the Mercurial in global football. In addition, we have now transitioned our businesses in Argentina, Chile and Uruguay to a distributor model."
In his comments, Donahoe said Nike is starting to see product innovation that reflects a shift two years ago to a new consumer construct around men's, women's and kids. He said, "The impact it's had is remarkable."
He added, "We're also excited about how we'll be connecting this product to the consumer. Today, we're working toward being more seasonally relevant across the full assortment. So the energy we're creating from an innovation standpoint, when combined with how we plan to story-tell and connect it to the marketplace gives us immense confidence as we look ahead."
He highlighted the successful launches in the quarter of Air Zoom Mercurial, Air Max Scorpion and the Nike Forward apparel platform. He also detailed how Nike continues to benefit from its connection to sport through its numerous player and league endorsements, calling out recent accomplishments by Serena Williams, Carlos Alcaraz, A'ja Wilson and Eliud Kipchoge.
Finally, Donahoe called out progress with the digitally-led One Nike Marketplace go-to-market approach that led the Nike commerce app achieving its highest traffic in history during Q1. Nike is also working closer with key wholesale partners as part of One Nike Marketplace, including linking Nike Membership benefits to third-party retailer apps as part of its Connected Stores loyalty program. Zalando and JD Sports in the EMEA region were added this week to the Connected Stores program, joining Dick's Sporting Goods in the U.S. and TopSport and Pou Sheng in China.
Donahoe noted that on Wednesday, the first in-person, Nike Partner Summit held in over two years drew 24 of its top retail partners, representing 76 countries.
"The summit was a great opportunity for us to accelerate into the future together with a unified vision and belief in partnership and collaboration," said Donahoe. "And it was clear that our partners were excited to get the sneak peek at our upcoming product, as well as getting a deeper dive in our strategy. Nike will continue investing to deliver the very best brand in the industry to elevate our collective game with the right product experiences and unmatched storytelling through content and insights to help us win with the consumer. These strategic partnerships are truly win-win with plenty of opportunities still ahead."
Photos courtesy Nike