In its first Investor Day in its 84-year history, Columbia Sportswear Co. outlined a broad strategy to increase sales by 9 percent to 11 percent and EPS by 12 percent to 15 percent on a Compound Annual Growth Rate (CAGR ) from 2022 to 2025. The gains are expected to be led by footwear, international expansion and digital sales growth.
"Since going public in 1998, we've delivered over 1,100 percent total shareholder return, outpacing the S&P 500," said Chairman, President and CEO Tim Boyle at the meeting held at Columbia's headquarters in Portland, OR. "We've achieved this through continuous innovation and a lot of hard work by outstanding people. We've grown four amazing brands, but we've never really given you a deep dive into our strategy, something that goes way beyond the limited format of a quarterly call."
Boyle noted that Columbia, across its four brands—Columbia, Sorel, Mountain Hardwear, and Prana—is well-positioned to benefit from several market tailwinds, including the popularity of outdoor activities. 
"The pandemic increased interest in outdoor activities globally, and we're well-positioned to capitalize on this trend," said Boyle.
He noted that the global outdoor apparel and footwear markets are estimated to be roughly $40 billion and included in the over $160 billion active category.
Boyle also pointed to other tailwinds, including increased attention on health & wellness, the benefits of being active, and the broader casualization trend spurring growth in lifestyle apparel. Said Boyle, "Activewear has exploded in popularity. From workplace attire to social activities, the world is becoming less formal. All this fuels growth in the active category."
Boyle and his management team did a deep dive into Columbia's heritage, product innovations and go-to-market strategies, with all well-positioned for healthy growth over the next few years.
Boyle said Columbia brand's "differentiated innovation, its value proposition and outdoor heritage uniquely positions the brand to capitalize on the popularity of outdoor activities."
Columbia is expected to add over $700 million in net sales by 2025.
A number of executives were brought out to discuss the Columbia brand's opportunity, including Joe Boyle, EVP, Columbia Brand President; Pri Shumate, SVP, Columbia Chief Marketing Officer; Dean Rurak, SVP, Columbia Brand Chief Product Officer; Haskell Beckham, Senior Director of Innovation; and Tim Sheerin, SVP, Global Wholesale.
"Our mission here at Columbia is to unlock the outdoors for everyone," said Joe Boyle. "Our ambition to be the number one outdoor brand in the world."
On the product side, the Columbia brand benefits from its focus on visible technology and commitment to innovation that's marked by the brand's 240 patents. Seventy percent of Columbia brand's revenue in 2021 came from at least one of its branded technologies, such as Omniheat Infinity, OutDry Extreme or Omni-Shade.
Joe Boyle noted that innovation across both apparel and footwear is driven by seeking to solve problems around warm, dry, cool and protect, such as sun protection. Activities the Columbia brand looks to offer solutions around include hike, trail run, snow and fish & hunt.
The Columbia brand also has an "everyday outdoor" opportunity with many customers having an affinity for wearing the brand for everyday occasions, particularly its popular PFG fishing apparel range.
Boyle noted that he led the development of the Columbia cap, which was only doing close to 100,000 units annually in 2014 and sold over 4.8 million in 2021.  The growth has been helped by break-through moments such as Ohio State University linebacker Steele Chambers wearing a Columbia brand cap at the recent Rose Bowl.
Shumate said the Columbia brand ranked as Forbes' "most trusted" brands and its heritage is helping bring younger and more diverse customers to the brand. The brand is seeking to connect with consumers "at a more emotional level" to reach younger generations. Go-to-market strategies are also focusing on activities, such targeting anglers, hikers or skiers, for a more community-based approach. Brand experiences are also being emphasized, starting with digital.
From a distribution standpoint, Joe Boyle noted that the Columbia brand focuses on being accessible and is doubling-down on its positioning within key wholesale partners. The brand's top-50 wholesale partners represented 75 percent of wholesales sales for the brand and that's expected to expand further in coming years.
Boyle sees Sorel "emerging as the next footwear force with year-round function-first fashion footwear." Sorel is expected to be its fastest-growing brand, generating a 20 percent to 22 percent three-year CAGR, fueled by its year-round product offering and brand momentum.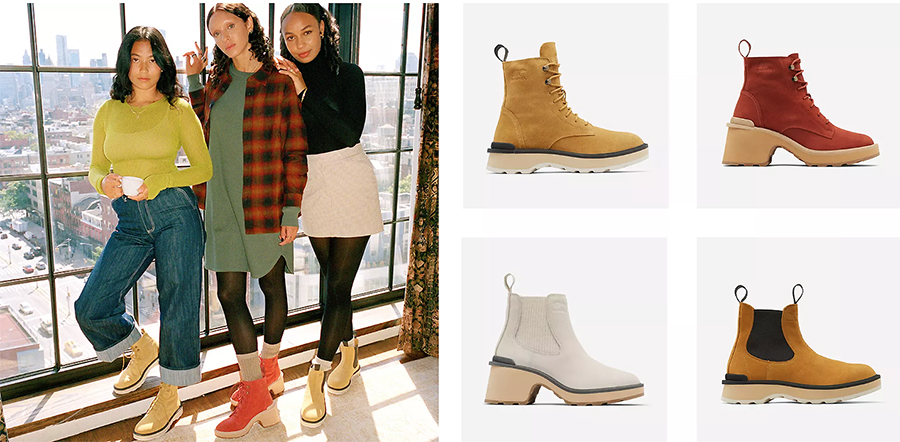 Mark Nenow, president, Sorel said the brand, traditionally known for its winter boots, continues to benefit from expanding its range to support year-round offerings, including gaining traction in sneakers, sandals, heels, wedges as wells more-fashionable boots.
The brand also connects with female fans with an "unstoppable" mantra by embracing four traits: purposeful, audacious, relentless and creative. He describes the Sorel customer as "fiercely independent."
Nenow added that Sorel is positioned at the intersection between function and fashion, benefits from "relentless product creation," and will be close to becoming a $1 billion brand by 2025.
Mountain Hardwear, which is expected to see growth in the range of 9 percent to11 percent on average between 2022 and 2025, has accelerated growth as it has refocused on performance apparel and gear.
At the meeting, Troy Sicotte, president, Mountain Hardwear, said the company is looking to continue to benefit from its "authenticity" in being "laser-focused on the mountain." Category focus includes mountaineering, climbing, ski & snowboard, trail, and a new category for the company, camp. Sicotte described the campground as "the gateway to the mountain."
Growth for Mountain Hardwear, which celebrates its 30th anniversary in 2023, is expected to be driven by continued innovation, raising awareness by leveraging its athletes and 700,000 followers on social media and improving access to the brand. Toward improving access, Mountain Hardwear is selling in 100 Dick's Sporting Goods stores to help the brand reach newer and younger consumers.
Boyle added that Prana underwent a brand refresh to build on its roots in yoga and climbing.
Monica Mirro, president, Prana, discussed how the brand has repositioned to take advantage of the "active wellness" opportunity. She noted that Prana is one of the few brands to benefit from the tailwinds in yoga and the outdoors with its roots in climbing. She said yoga is "exploding in popularity, and climbing is hitting its net wave of growth."
Growth strategies for Prana include making a great product, building the brand and developing a balanced omnichannel distribution. Forty percent of Prana's sales come from Prana.com. One marketing highlight for the company includes Aquaman and Game of Thrones star hosting "The Climb" on HBO Max with Prana ambassadors Chris Sharma and Meagan Martin.
Across brands, Boyle said product innovation remains its primary focus to drive growth, pointing to Columbia's heritage for bringing differentiated, functional and innovative products to market.
"We are a growth company," said Boyle. "Our overriding strategic priority is to accelerate profitable growth. The foundation of this growth is creating iconic products that are differentiated, functional and innovative. From the first fishing vest our founder Gert sewed more than 60 years ago to the first Interchange jacket to hit the market, we've pioneered new products to solve problems since our company's founding."
Columbia is also committed across brands to investing in marketing to spur brand awareness and build brand loyalty. Boyle said that from 2017 to its expected marketing spend in 2022, demand creation investment has increased by over 70 percent. He said, "We've been able to make these investments while continuing to improve our operating margin."
Another strategy for the company is investing in capabilities to deliver a better shopping experience for consumers and better serve its wholesale partners.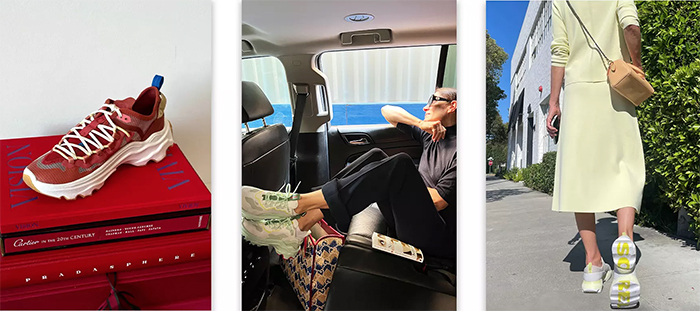 "Our company culture is built on relentless improvement," said Boyle. "We strive to enhance consumer experiences. And, in this vein, we're investing across our technology platforms and supply chain to enhance our capabilities. We're also focused on ensuring that our product's physical presence reflects the quality we design into them wherever consumers choose to shop. We call this 'Amplify Marketplace Excellence.' We'll lead with digital while continuing to invest across our channels and geographies. This company was founded as a wholesale company; that's our heritage and will remain the priority for the company."
Boyle also said Columbia continues to benefit from its talent, long commitments to sustainable production and core values in environmental and social causes.
"Our company culture and our success are driven by our core values," said Boyle." Compete to win. Relentless improvement. Remember Gert's quote, 'It's perfect now; make it better.' A culture of honesty, respect and trust. And most importantly, doing the right thing."
Overall highlights of Columbia's three-year financial plan include:
Net sales are expected to grow at a three-year CAGR of 9 percent to 11 percent, compared to the midpoint of its 2022 financial outlook, reaching $4.5 billion to $4.7 billion in 2025.

By brand, growth on a CAGR basis from 2022 to 2025 is expected to be 7 percent to 9 percent for the Columbia brand, 20 percent to 22 percent for Sorel, 9 percent to 11 percent for Mountain Hardwear, and 5 percent to 7 percent for Prana. 

By 2025, Sorel is expected to expand to 14 percent of the company's sales from 11 percent in 2022, while Columbia's brand penetration slides to 79 percent from 82 percent. Mountain Hardware and Prana are expected to account for 3 percent and 4 percent of sales, respectively, by 2025.

By product category, footwear sales are expected to expand 15 percent to 17 percent on a CAGR basis from 2022 to 2025. Columbia brand footwear sales are expected to grow 15 percent to17 percent, while Sorel is expected to show CAGR growth of 20 percent to 22 percent. Apparel, accessories and equipment growth are expected in the range of 7 percent to 9 percent. By 2005, footwear is expected to expand to 29 percent of sales from 24 percent, while apparel, accessories and equipment shrink to 71 percent from 76 percent.

By geography, growth on a CAGR basis from 2022 to 2025 is expected to be 8 percent to 10 percent in the U.S., 2 percent to 14 percent in Canada, 11 percent to 13 percent in the EMEA, Europe direct up in the mid-teens; 9 percent to 11 percent up in the LAAP, and mid-teens growth in China. By 2025, international is expected to expand two percentage points to 35 percent of sales. Canada is expected to remain at 8 percent of sales, LAAP to grow to 14 percent of sales from 13 percent, and the EMEA to 13 percent from 12 percent.

By channel, growth on a CAGR basis is expected to be 9 percent to 11 percent in wholesale, 13 percent to 15 percent in DTC e-commerce and 6 percent to 8 percent in DTC brick & mortar. By 2025, wholesale is expected to continue representing 55 percent of sales, DTC brick & mortar to shrink to 25 percent of sales from 27 percent and dtc.com to expand to 20 percent from 18 percent.

Operating margin is expected to expand to approximately 14 percent of net sales in 2025.

EPS is expected to grow at a three-year CAGR of 12 percent to 15 percent compared to the midpoint of 2022, reaching $7.35 to $7.95 in 2025.

Annual Total Shareholder Return (TSR) is projected in the range of 13 percent to 17 percent, including net sales growth, margin expansion, dividends and share repurchases.
Inflationary pressures, the ongoing COVID-19 impact and supply chain disruption are the headwinds expected to restrain sales in the near term. Spring 2023 orders support modest year-over-year wholesale net sales growth for the first half of 2023.
"Personally, my own growth ambitions for the company are much higher," said Boyle of the company's three-year forecast. "My focus will be to accelerate growth above and beyond this financial plan. We're projecting broad-based growth across all our branch channels, categories and regions. We see meaningful growth opportunities across our business, with growth led by footwear, international and digital businesses. We know that the near-term operating environment has uncertainty. Growth will never be perfectly linear. But our confidence in our long-term growth opportunity does not waver."
Photos courtesy Sorel