As autumn slowly yields to winter and consumers' minds gravitate to winter goods, in particular outerwear, retailers and manufacturers are still consulting their Ouija Board to see what kind of sales season it's shaping up to be 18 months into the pandemic.
Everyone knows more people have been clamoring to get outside during the pandemic, fueling a boom in hardgood and apparel sales. But while hardgood sales boomed early, outerwear lagged behind; consumers, it seems, were buying the gear they needed to head outside, but were largely making do with the apparel they had.
All that changed about six months ago, said Grassroots Outdoors Alliance executive director Rich Hill, "when people started taking their sweats off and going back to work."
These topsy-turvy buying patterns, as well as supply chain issues plaguing the outerwear sector, have made it difficult for manufacturers and retailers to gauge what will happen with outerwear heading into 2022. Some brands have braced for it, seeing the upside and continuing to invest in inventory, while others have cut back, fearing a slow-down. And all are facing supply-side issues.
SGB Executive went to a retailer and manufacturer in the outerwear sector—FlyLow and Evo Gear—for their take on the category this fall, and how inventory levels seem to be factoring in.
Retailer Evo, which operates eight brick and mortar stores and an online store, is heading into the season as they would an early-season ski slope where they're not sure of its stability, but still wanting to dive in.
"Last year we were cautiously optimistic that the demand we saw in summer would translate to winter categories, regardless of resort operations," said Rachel Thomas, Evo's technical outerwear buyer. "Our approach to outerwear was to chase inventory from brands with historically strong sell-through after getting hit with significant reductions in our order volume due to production delays and cancellations. We were able to chase enough inventory to exceed our original preseason order volume once other accounts started pulling back and submitting order cancellations."
Surprise items, she added, include price-point outerwear. "It's been one of the bright spots with the uptick in new and returning ski and snowboard users," she said. "Family participation has been a focus as well for us, which has fueled demand for kids' product early in the season, and women's outerwear overall has seen strong demand as well. Also, men's three-layer shells offering versatility for both resort and backcountry have been a bright spot in our inline assortment."
Finally, she added that the pandemic has also leveled the playing field a bit with some of the smaller brands. "With strong performance from our overall outerwear assortment, we've also seen wins from some of our historically smaller brands who were fortunate enough to be in a strong inventory position," she said. "In turn, this has led to surprising growth and sell-through from some traditionally smaller brands."
FlyLow is a small brand illustrating this. Ever since the tsunami hit Japan and disrupted YKK zipper production, said founder and CEO Dan Abrams, shown right, it's been moving its production dates forward.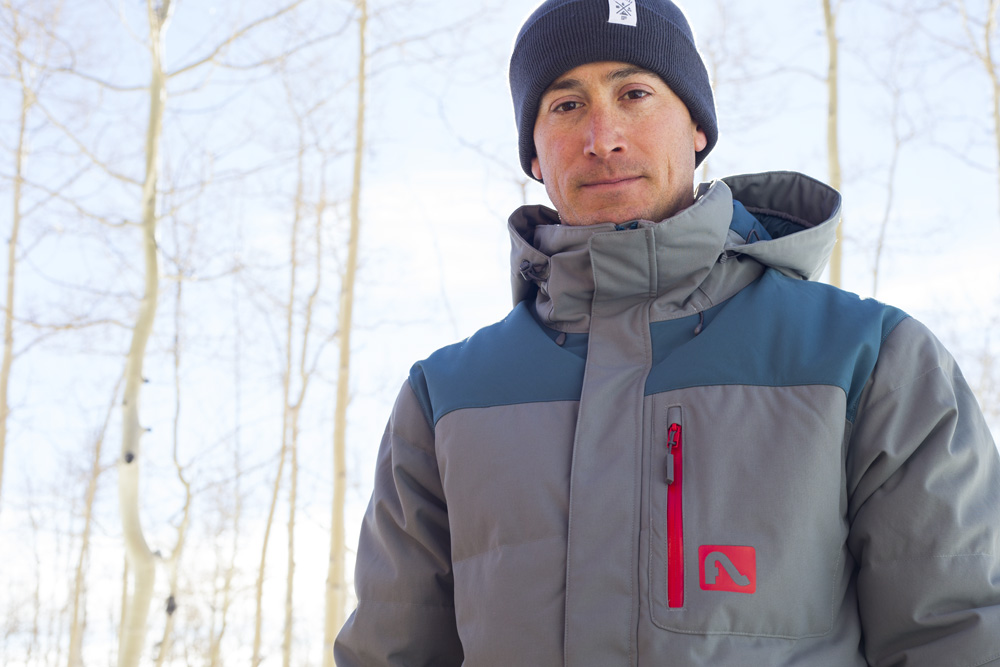 "At the onset of the pandemic we were lucky to not cancel or modify any of our production for fall 2020, as it would have cost the same amount to make 80% of the inventory as it was to make 100% and it would have delayed delivery," he said. "So, we delivered on time for the most part in 2020 and were able to supply our independent retailers with all of the inventory we promised — a statement not all brands can make."
A year later, a lot has changed but there are still hurdles.
"As we looked forward to this fall, we knew we needed to, again, move production deadlines up and we began buying fabric for this fall as early as October 2020, two months earlier than ever before," said Abrams. "In the end we were looking pretty good for this fall but then the supply chain debacle began to exacerbate and COVID lockdowns, in particular in Vietnam, started to come back. Fortunately, we foresaw the shipping issues and were willing to absorb the cost of air freighting 60% of our inventory, just enough to cover our retailers' wholesale orders through mid-October ship dates and some web inventory to cover cash flow needs. We also just happened to have 95% of our production in Northern Vietnam and other areas that didn't get locked down with restrictions until after our production was complete."
In the end, the company was almost spot on with its production timing and shipping, despite experiencing some sea freight shipments taking over four months to arrive, five times longer than normal. "We're delivering on time this season when it seems some other brands are struggling," Abrams said. "And we're prioritizing the independent retailers that hold our industry together when some brands are exclusively selling their inventory direct-to-consumers."
As far as what he's seeing from retailers this fall, he says it's a tough road. "There's a sense of panic buying happening right now in the outdoor industry and for good reason," he said. "If shops don't have inventory to sell, how can they cover their expenses? We've been having to temper their demands to get more inventory for the past month. If we wanted to, we could liquidate all of our remaining inventory at full wholesale margin by November 1, as other brands are struggling to deliver. I wish we could do that and just ski all year, but in this pandemic economy we have to manage inventory very carefully."
As such, he added they're trying to mitigate inventory risk for this season, without leaving any money on the table. "We've built inventory to cover the retailer's preseason orders and then added a percentage more of inventory for wholesale reorders, pro sales, shop employee purchase, uniforms and our direct sales," he said. "If we tamper with that mix we won't have the cash flow to cover our expenses and the forecasted growth for next year, which is looking quite strong."
He feels it's a toss-up as to who has fared better during all of this, larger companies or smaller brands. "Smaller manufacturers like us have less to make and less to ship, which may help us relatively, but it doesn't solve the larger issue of not having enough gear in time for stores to distribute," he said. "Larger brands can absorb more losses, can increase pricing without worry, and can even shut down for three months and still be, well, larger and just fine."
Photos courtesy EVO, FlyLow